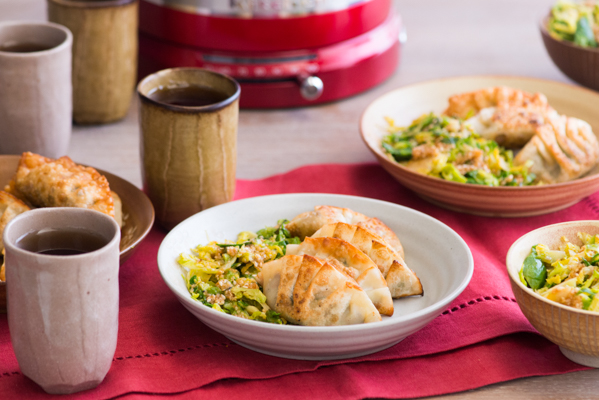 When I lived in New York years ago, coworkers of mine discovered that I'd never had sushi and set out to indoctrinate me into its delicious graces. Sushi wasn't huge then the way it is now, but the market across the street sold passable rolls that I tried one lunch day.
I promptly fell in love. Fast forward a few weeks and a good friend who was horrified that I was eating supermarket sushi began introducing me to his favorite sushi restaurants. One by one, I discovered there was a lot more to Japanese food than raw fish on beds of seasoned rice (though, who can deny the goodness of sushi?). Since then, Japanese cuisine has won a coveted spot as one of my very favorite cuisines.
When KitchenAid asked me to "Learn Japanese" through food and tea, I was psyched to play with two favorite dishes: Gyoza and Goma-ae, creating fresh spins for springtime.
But first, let's start with the tea
Japanese tea comes in many varieties, but much of the popular varieties fall into the green tea category, an antioxidant-rich form of tea. Matcha, Sencha, Kukicha, Bancha and Hojicha are all examples of Japanese green tea.
When brewing any type of tea, it's important to ensure that you brew at the proper temperature for the specific variety – and don't over-brew it. Tea becomes bitter when it's brewed too hot or too long.
For this challenge, I used the KitchenAid® Pro Line® Series Electric Kettle to brew tea. It's perfect for making the ultimate cup of tea since you can set the settle to brew to the appropriate temperature. For instance, Sencha is best brewed at 70°C, so all you have to do is slide the temperature gauge to 70 and you are ensured the perfect cup. Once the water is hot, pour it over the tea and let it steep for about one minute. Then remove the leaves. Other Japanese teas like Bancha and Kukicha should be brewed at 80°C.
I steeped a cup of Kukicha, which is made from tea twigs and stems, and also a cup of Hojicha, which is made from steamed and roasted green tea leaves. These flavorful teas don't need sweeteners or add-ins to be enjoyed, but I do enjoy a little honey and lemon in my tea – it's soothing.
To go with my tea, I whipped up two Japanese dishes with a fun Spring twist.
First, I made gyoza, which is a type of Japanese dumpling with either a meat- or vegetable-based filling. For this, I made a filling with baby kale, scallions, carrots and shiitaki mushrooms flavored with ginger, soy sauce and sesame oil. I cooked the mixture so that it reduced down.
Then I divided it evenly among round dumpling wrappers.
Gyoza are pleated, which is a technique that looks harder than it is. And seriously, how pretty are well-pleated little dumplings?
Here's how to do it: moisten the edges of the dumpling wrapper. Then, fold it into a half-moon and press the top center together. Working with one side at a time, gently fold the top portion of the wrapper toward the center (the back should remain flat), pressing together as you go. Repeat with the other side. The more you practice, the easier it is.
Once the gyozas are all filled and pleated, you fry them in batches. Let them get good and crispy all around. Then serve them with a little more soy sauce for dipping – if you want.
For my second dish, I made goma-ae, a Japanese side dish that's made with veggies (often green beans) and a sesame dressing. But since Brussels sprouts are still very much in season here, I decided to make my goma-ae with sautéed Brussels sprouts.
The sesame dressing is made with lightly ground sesame seeds (I did it in my mortar and pestle). Just use the pestle to grind the toasted sesame seeds until they are broken and a little powdery. Then add sugar and grind that together. Then, soy sauce, sake and sesame oil are added as well and ground it. It makes a toasty, sweet dressing that pairs so well with the sautéed Brussels sprouts.
All together, these dishes and the tea make for a delicious lunch – perfect for sharing with friends. Why not invite some over and learn Japanese too?
Kale and Mushroom Gyoza
Makes 4 servings
INGREDIENTS
2 1/2 cups baby kale
1/2 cup shredded carrots
1/2 cup chopped shiitake mushrooms
3 scallions, chopped (white and light green parts only)
1 tablespoons soy sauce
1 tablespoon dark sesame oil
1/2 tablespoon grated fresh ginger
16-18 round dumpling wrappers
1/4 cup olive oil
DIRECTIONS
In a medium mixing bowl, stir together the baby kale, shredded carrots, scallions, soy sauce, sesame oil and ginger.
Heat a 10-inch skillet over medium heat until it's good and hot. Pour in the contents of the bowl. Cover, and cook for 2 minutes. Uncover, stir well and let the mixture continue to cook for 2-3 minutes until most of the liquid is evaporated and the veggies are wilted. Remove from heat. Let cool slightly.
Divide the kale mixture evenly among the 16 dumpling wrappers, spooning it into the center of each one. Moisten the edge of the wrappers and bring the two sides together. Pleat the wrappers toward the center, working down one side and then the other, pressing hard to seal. Continue until all gyozas are sealed.
Heat the olive oil over medium heat in a skillet with tall sides. Add the gyoza in batches and cook for 1-2 minutes per side, flipping once or twice to ensure that all sides turn golden brown. Remove to a paper towel lined plate.
Serve, with additional soy sauce for dipping if desired.
Print
Brussels Sprouts Goma-ae
Makes 4 servings
INGREDIENTS
1 tablsepoon olive oil
10 ounces Brussels sprouts, shredded
1/4 cup toasted sesame seeds
1 tablespoon granulated sugar
1 tablespoon sake
1 tablespoon soy sauce
1 tablespoon dark sesame oil
DIRECTIONS
Heat the olive oil in a large skillet. Add the Brussels sprouts and sauté, covered, for 8-10 minutes until crisp-tender. Remove from the burner and transfer the Brussels sprouts into a large mixing bowl.
Using a mortar and pestle, grind the toasted sesame seeds until slightly crushed. Add the sugar and grind together with the sesame seeds. Add the sake, soy sauce and dark sesame oil and grind together with the sesame mixture. Pour over the Brussels sprouts and toss well to coat.
Enjoy immediately.
Print
*The Contributor of this post has been compensated by KitchenAid for this post, but this post represents the Contributor's own opinion.*