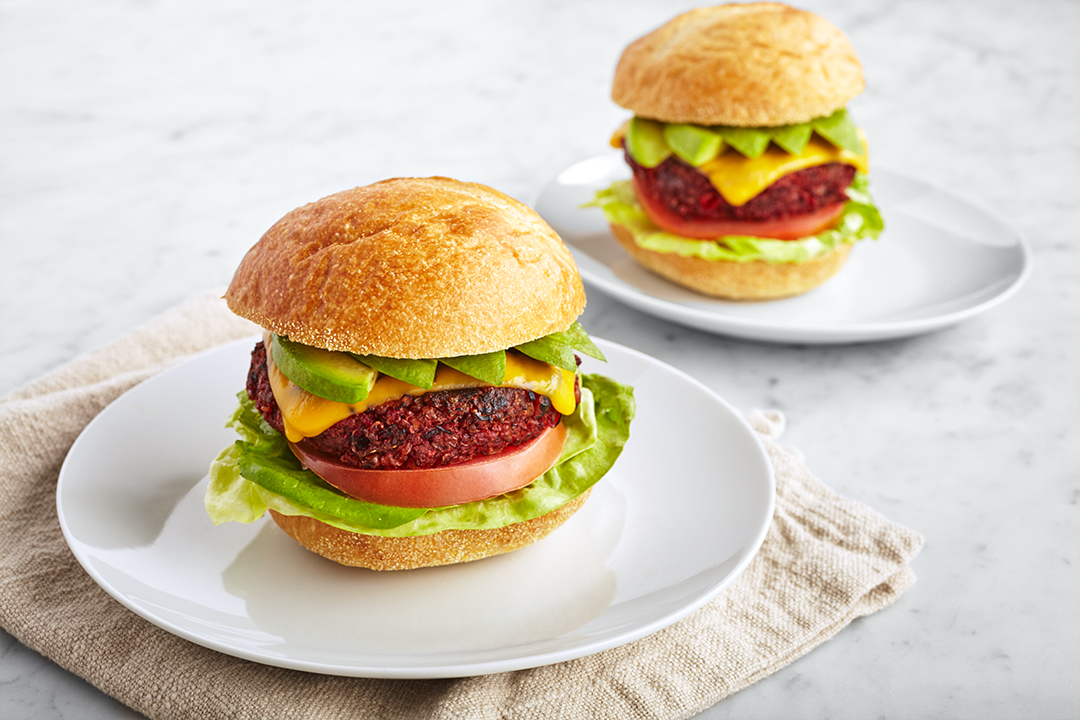 Juice Pulp Veggie Burgers
Makes 6 burgers
SCRAPS
Juice pulp
INGREDIENTS
2 beets, peeled and cut into chunks
1 large carrot, peeled
1 bell pepper (any color), cut into chunks
1 medium sweet potato
2 tablespoons olive oil, plus more for cooking
1 medium red onion, finely diced
1 tablespoon tomato paste
2 garlic cloves, minced
1 tablespoon smoked paprika
1 tablespoon chili powder
2 teaspoons ground cumin
2 teaspoons ground coriander
1 teaspoon Worcestershire sauce (optional)
1/2 cup canned white beans, drained and mashed
1/2 cup walnuts, finely chopped
3/4 teaspoon sea salt
1/2 teaspoon freshly ground black pepper
2 eggs
1/2 teaspoon baking powder
1 cup cooled quinoa, cooled
3/4 teaspoon sea salt
1/2 teaspoon freshly ground black pepper
For serving
Avocado
Cheese
Mustard
Mayonnaise
Lettuce
Tomato
Greens
Buns
DIRECTIONS
Attach the KitchenAid® Juicer and Sauce Attachment with Low Pulp Screen to the power hub on the KitchenAid® Artisan® Mini Stand Mixer. Push the beet, carrot, bell pepper, and sweet potato through the feeding tube. Measure 2 cups of juice pulp and set aside.
Heat the olive oil in a large skillet over medium heat. Add onion and cook until soft, about 5 minutes. Add tomato paste, garlic and spices and cook, stirring constantly, until fragrant, about 1 minute. Stir in Worcestershire, white beans, and walnuts. Season with salt and pepper. Transfer the mixture to a bowl to cool.
Add the juice pulp, eggs, baking powder, quinoa, salt, and pepper. Using your hands, mix thoroughly. Form 6 patties (about 1/2 cup each) and place on a parchment-lined baking sheet. Freeze for 10 minutes.
Heat about 1 tablespoon of olive oil in a large skillet over medium heat. In batches, cook the patties for about 4 minutes per side, adding more olive oil between batches. Transfer the cooked patties to a platter and let rest for about 5 minutes before serving with condiments of choice.
Print