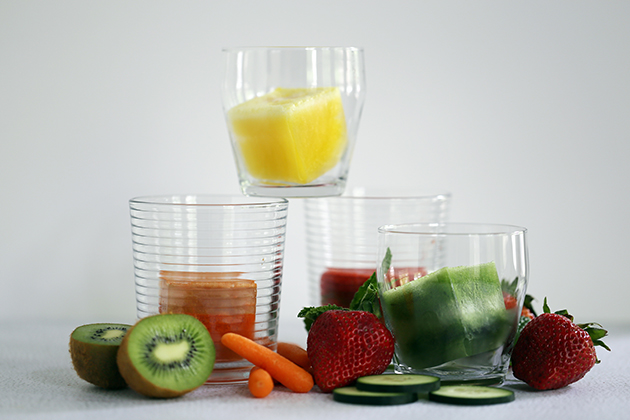 I'm giving myself a mama medal for this one. Do you ever give yourself one of those? I've managed to combine my children's love of helping me in the kitchen into a fun way of keeping them hydrated, especially as the temperatures begin to climb. Little do they know I'm getting more fruits and vegetables into their bodies; they think I'm simply being a fun mom. Thus, the medal.
In our home, our little ones drink milk at breakfast and dinner and have a water bottle that they use for the rest of the day. Juice is a rarity and is viewed as a treat. So when the KitchenAid® Easy Clean Juicer showed up on my counter, they were immediately questioning what I was going to do with it. I explained that we were going to make fun, colorful – mama speak for full of fruits and veggies! – ice cubes for their water bottles, and they were immediately on board.
We headed to the grocery store and filled our cart with a rainbow of produce and then spent a morning with our new KitchenAid® Easy Clean Juicer, juicing and creating flavor combinations. As the name implies, this juicer was not only more quiet than previous juicers I've used, but it was hands down the most easy to clean! No more dreading pulling a juicer out of the depths of my cabinet knowing it would be harder to clean than actually use. This KitchenAid® Juicer has true kitchen staying power! My children loved seeing it in action and guessing which fruits and vegetables would create the most juice and what color the juice would be. Who knew that it would become such a great family project?
We've tried infusing our water before with whole fruit pieces previously but the amount of flavor it imparts is minimal. My thought was if we used cubes of actual juice as the cubes melted the flavor would be more intense. And I was right!
Here are a few of our favorite flavor combinations – hopefully they'll inspire you to create your own!
Pineapple – Straight up pineapple juice with a chunk of pineapple hidden inside. I love a cube of this in my own water bottle as an afternoon treat on my way to pick my oldest daughter up from school.
Apple + Carrot – A sneaky way to add a bit of vegetable in with the typical apple juice. We mixed the Granny Smith variety with our carrots as we liked the more tart flavor.
Strawberry + Kiwi – I'm bringing the fab flavor of the 90s back! I froze a layer of strawberry, added a layer of kiwi and then another layer of strawberry for a fun striped ice cube. Delicious and pretty!
Cucumber + Mint – A version of spa water, in ice cube form, including a slice of cucumber and a mint leaf. Super refreshing.
So what are you waiting for? Grab the nearest fruit or vegetable and make some fun and flavorful ice cubes!
Juice Infused Ice Cubes
INGREDIENTS
Assorted fruits and vegetables of your choice
DIRECTIONS
Determine what fruits and vegetables you'd like to use for your juice infused ice cubes. The ice cubes can be as simple as a single juice or you can do layers of individual fruits and vegetables. Make sure to include actual pieces of fruits or vegetables within the cubes. The sky is the limit!
Set the level of pulp before juicing to your desired preference. I selected low pulp as I wanted mainly juice and more clear cubes so you could see the pieces of fruit and vegetables I included.
Juice your fruits and vegetables. After juicing, I recommend pouring each into a container such as a measuring cup with a spout so that you can easily pour them.
Pour juices into an ice cube tray and freeze.
To store, pop ice cubes from tray and place each flavor of cube into a freezer safe zip top bag so that you can easily retrieve them as needed.

Print
*The Contributor of this post has been compensated by KitchenAid for this post, but this post represents the Contributor's own opinion.*