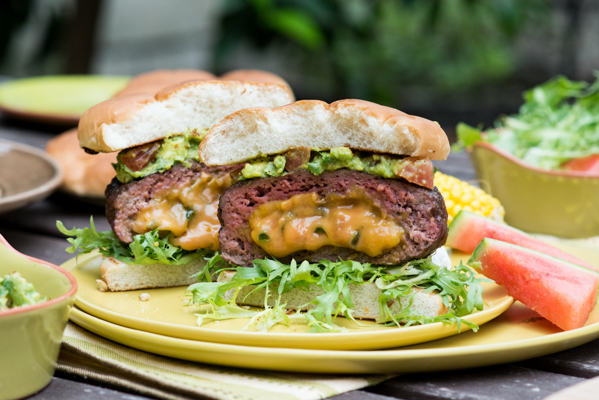 During the peak of Summer, the last thing we want to do is to turn on the oven. Save those casseroles, oven-roast dishes and anything that requires heating up the house again for those long winter months. It's the beautiful and long summer days that we want to live outside, entertain and eat grilled foods with friends and family. We relish in devouring summer inspired dishes because great food is easily attainable al-fresco on our KitchenAid® 4 Burner Gas Grill with Side Burner.
Highlights of our summer grilling menu are burgers in as many different variations as possible. From beef burgers, to pork burgers, chicken burgers and even tofu burgers, we've pretty much made almost every variation possible. It wasn't until we traveled to Minneapolis for a photo shoot a few years back that we discovered an even more addictive version of the burger: The Juicy Lucy.
The Juicy Lucy (or Jucy Lucy – depending on which place you go to) is a genius take on the hamburger where it's stuffed with cheese and grilled until the cheese is melting from the inside and oozes amazing cheesy goodness when bitten into.
We've made the juicy lucy burgers on a number of occasions, but this time we amped it up a bit, thinking outside the box and being a little more daring with flavor.  This time, there's the always-favorite cheddar cheese that we have hidden in the middle of the thick beef patty, but we spiced it up with fresh jalapeño. If you're already a fan of spicy jalapeño poppers, than this burger is for you.
Melty, spicy and wonderful spicy jalapeño cheddar is like the hidden treasure chest inside a perfectly grilled beef burger patty. It's juicy, spicy, decadent and extremely luxurious to bite into such a delicious patty. But wait, there's more. We wanted to make it even more of a hot-mess. Are you ready for this?
To make the burger even more wonderful and have our palates screaming for joy, we decided to add some guacamole. But it's not just any guacamole. Complimenting the heat of the jalapeño cheddar, we added a touch of chipotle to the guacamole, making it a perfect balance of heat and smokiness.
Behold, what you have in front of you is a burger that goes beyond what you can get at any fast burger joint. What makes it so fabulous is that the KitchenAid® 4 Burner Gas Grill with Side Burner cooks the burgers to the perfect texture and the cheese and jalapeños are cooked to even more perfection on the inside.
Beyond all this celebration of summer grilling, there is one warning to eating this burger. You must be patient.
Once the burger comes perfectly cooked off the KitchenAid outdoor grill, count to about 100 and let the burger cool down a bit. Why? Because the cheese is so melty hot in the middle that you just might burn your tongue. So yes, the molten core of spicy jalapeño cheddar can be lethal if you're an impatient eater.
So you definitely don't want to rush into biting into the burger because you want to make sure that your tongue is in perfect condition to maybe even eat a second burger. Or three. And oh, don't forget a nice refreshing beverage or two because cooking outside during the dog days of summer isn't perfect without a delicious beverage!
Happy summer!
Jalapeño Cheddar Stuffed Burgers with Chipotle Guacamole
Makes 4-6 servings
INGREDIENTS
For the burgers
2 pounds ground beef
6 ounces cheddar cheese, sliced
1-2 jalapeños, seeded and chopped
Kosher or sea salt, to taste
Fresh cracked black pepper, to taste
Vegetable oil, for brushing grill grate
Hamburger buns
Optional – greens of choice, tomato, pickles, and additional slices jalapeños
For the guacamole
3 medium avocados, seeds removed and scooped out
1 teaspoon fresh lime juice
1/4 cup cilantro, chopped
1/2 teaspoon ground chipotle, or to taste
1/4 teaspoon smoked paprika
Kosher or sea salt, to taste
Fresh cracked black pepper, to taste
1/2 medium tomato, seeded and chopped
DIRECTIONS
Preheat the KitchenAid® 4 Burner Gas Grill with Side Burner on high. Scrape the grill clean and smooth.
Divide the ground beef into 4 or 6 portions, depending on how large you want the burgers. Divide each portion into even halves. Flatten each half into equal sized patties.
Lay a few slices of cheese in a single layer in the center of a patty. Add the chopped jalapeños to taste. Top with another few slices of cheese. Lay the matching meat patty on top and pinch the seams closed (make sure to seal the seams well or else the cheese will ooze out while cooking). Repeat with the remaining patties. Season the patties with salt and pepper and set aside.
Make the guacamole. In a bowl, mash the avocado with a fork until it is nearly at your desired consistency. Stir in the lime juice, cilantro, chipotle, smoked paprika, salt, and pepper. Gently fold in the tomato.
Brush the grill grates with oil. Grill the burger patties until browned and cooked to your preferred doneness, about 3-4 minutes per side for medium rare. Toast the hamburger buns if desired. Serve with desired burger fixings and top the burger patties with the chipotle guacamole.
Print
*The Contributor of this post has been compensated by KitchenAid for this post, but this post represents the Contributor's own opinion.*