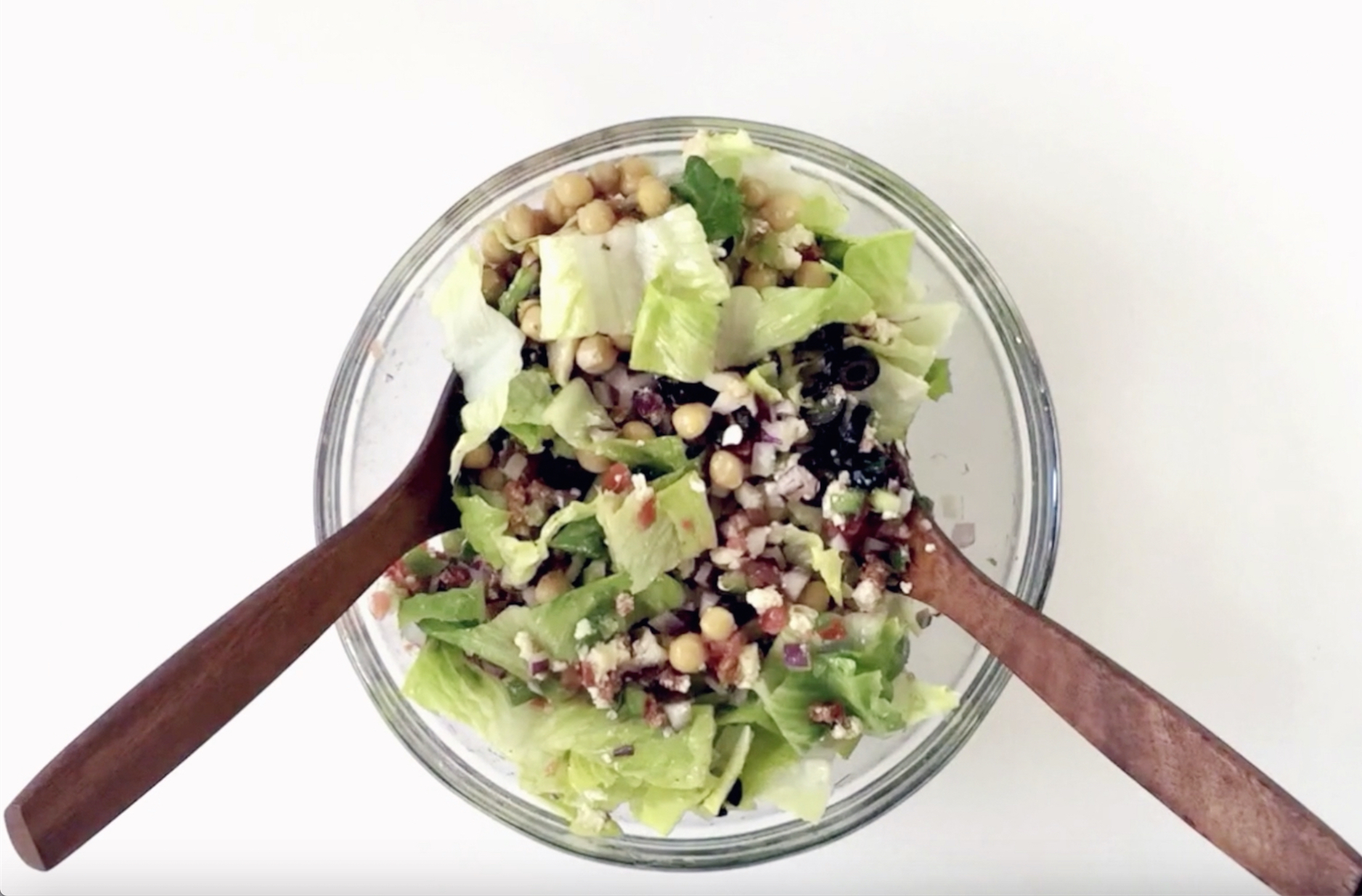 Italian Chopped Salad with Red Wine Vinaigrette
INGREDIENTS
For the salad:
2 hearts romaine lettuce, roughly chopped
3 Roma tomatoes, halved
1 small red onion, peeled and quartered
1 green bell pepper, seeded and quartered
1 (8-oz.) ball fresh mozzarella cheese, frozen
6 oz. hard salami or pepperoni
1 (15-oz.) can garbanzo beans, drained
1 (6.5-oz.) jar marinated artichoke hearts, drained
1/2 cup sliced black olives
For the vinaigrette:
1/2 cup red wine vinegar
2 teaspoons minced garlic
1 1/2 teaspoons dried oregano
2 teaspoons sugar
1/2 cup olive oil
DIRECTIONS
Make the salad:
Attach the KitchenAid Food Processor Attachment with the dicing disc and blade to the stand mixer. Add the chopped lettuce to a large bowl then place the bowl beneath the food processor attachment. Turn the stand mixer to speed 4 then add the tomatoes, onions and bell peppers through the feed tube. Increase the speed to 10 then add the salami and mozzarella to the feed tube.
Add the garbanzo beans, marinated artichoke hearts and sliced black olives to the bowl and toss together with the Red Wine Vinaigrette (recipe follows).
Make the vinaigrette:
In a small bowl, whisk together the red wine vinegar, minced garlic, dried oregano, sugar and olive oil until combined. Taste and season the vinaigrette with salt and pepper.
Print