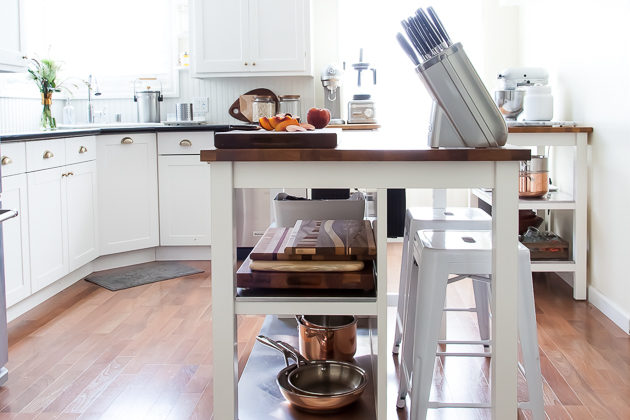 We bought our first house late last fall and moved in while I carried a 6-month baby bump. When we went on the housing market, it became apparent that the kitchens in our price range would be original from the 1940s featuring a 1970s linoleum "upgrade," and definitely with outdated appliances with virtually no counter space.
Somehow, we lucked out with an enormous kitchen that had been partially updated just 10 years ago, with some original elements left to give it that 1940s charm. In a competitive housing market and with a little bit of renovation, we somehow ended up with the kitchen that was meant for us.
From the flood of light coming in from the corner windows over the sink to the built-in open shelves to the large layout, the kitchen in our new home had all the bones we'd need to make it just perfect.
The first thing we did was add an island with stools. It's my favorite aspect of our new kitchen. It nearly doubles our counter space giving us the perfect spot to keep our extra sharp KitchenAid® Cutlery Set. It also adds open-shelf storage to showcase and store our most beautiful kitchen pieces like the cutting boards my dad made and our KitchenAid® Tri-Ply Copper Cookware Set.
The best part is that guests can sit around while I cook, making the kitchen truly the center of our house. We got an inexpensive island, but my husband added a homemade copper towel rack to give it a little extra personality.
The most significant change we made was upgrading to KitchenAid® stainless steel major appliances. The KitchenAid® appliances are the icing on the cake, sewing the kitchen together and elevating the design. While updating the appliances, we finally got the microwave up off the counter by adding upper cabinets and a KitchenAid® Convection Microwave. This Microwave doubles as a hood, and it has a fan that automatically turns on when it's getting too smoky (or, if like me, you're completely oblivious to the smoke filling the kitchen when frying up dinner). Plus, it saves us valuable counter space and looks gorgeous!
We also added a hex backsplash above our new KitchenAid® Gas Convection Slide-In Range.
This Gas Convection Slide-In Range has touch-screen controls on the front for a clean design aesthetic that's super functional. I also love the cast-iron grates and stainless steel top that make the stove so easy to clean.
I especially love the textured handles on both my spacious new KitchenAid® French Door Refrigerator and stealth-quiet KitchenAid® Dishwasher that don't show any smudges from grimy hands.
Keeping with that 1940s charm, the upper cabinets in the rest of the kitchen are low, without enough space to fit modern appliances underneath. As someone who spends most of my day in the kitchen, I need those appliances handy, so we added two little kitchen carts just for these appliances, which also double as extra counter space.
The first is my smoothie and drink nook, where my husband makes no less than 2 liters of sparkling water a day. With how much sparkling water he makes, there's no way I could keep my KitchenAid® Sparkling Beverage Maker hidden away, so I love that it's stylish enough that it doesn't detract from our kitchen design. It's also quiet enough that it doesn't wake or scare the baby when my husband is making a batch of fresh sparkling water. We also just got the KitchenAid® Pro Line® Series Blender and I love that it purées cooked veggies into baby food, while heating them up in the process.

Next is my baking corner, completed by my trusty KitchenAid® Stand Mixer. This is probably one of the most used tools in my kitchen, and I use my various attachments to make everything from homemade chestnut flour pasta to blackberry basil ice cream.

With all these upgrades, I'll happily spend an entire day in my new kitchen. Alanna and I are gearing up to shoot some recipe videos for KitchenAid with my kitchen as the backdrop – stay tuned!
*The Contributor of this post has been compensated by KitchenAid for this post, but this post represents the Contributor's own opinion.*