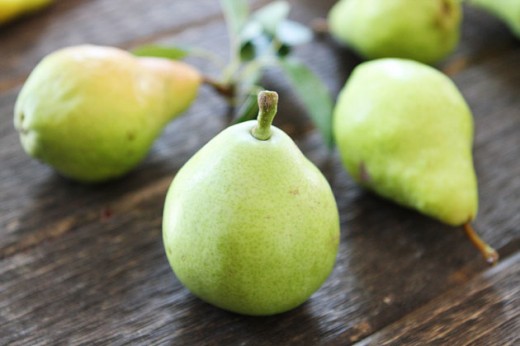 Pears are a delicious fall treat and come in a variety of flavors and textures. With so many different assortments and with their increasing versatility in daily cooking and baking, they can be a superb and mouth-watering addition to your diet all wrapped up in one sweet and juicy package.
Try using pears in a tasty salad, as an addition to your morning oatmeal,  grilled, or plain with a squeeze of orange juice on top. Pears, being luscious as well as satisfying and healthy, will be the kind of fruit you will want to have around all the time! So don't waste any more time, grab up some pears and start enjoying this favorite fall fruit.
The Basics:
Pears have an appealing aroma and develop in flavor and texture after picking. There are a range of pears commonly found in your local grocery store and all typically have a round body with a tapering neck. Pears can be found in colors ranging from shades of red, yellow, green and brown. They are a very sugary fruit and the sweetest know natural sugars are found more in pears than in any other fruit.
In Season:
Pears are typically grown in the Pacific Northwest and since there is such a variety, they can be harvested from September to December and in some cases through April. Pears, like any other fruit are best eaten in season but can still be enjoyed when used outside of their growing season.
What to Look For:
When choosing pears, make sure that they are firm to the touch, with no bruising or soft spots, but not too hard. Their skin should be smooth and without blemish, scarring, or signs of mold. Pears are normally harvested before they are ripe, so more often than not you will find them in your local market unripe and will need to let them ripen for a few days at room temperature before consuming. If you are looking to find a pear that is riper, try gently pressing the top of the pear, near the stem; do not squeeze the whole fruit. If the flesh gives a bit it is probably ready for eating, but if when pressed it feels squishy, it is definitely overripe and should be avoided unless you are planning on strictly using it in a cooked recipe rather than eating it raw.
Nutrition:
Pears are a wonderful and healthy fruit to consider adding or increasing in your diet. They are an excellent source of vitamin C and potassium, are about 100 calories per serving and are a great and delicious source of energy. They are sodium free, cholesterol free, and fat free. The skin actually contains half of a pear's total dietary fiber and has been shown to have anti-inflammatory and anti-cancer agents; as well as helping to reduce diseases such as heart disease and type 2 diabetes. In fact, pears are considered highly digestible and have a decreased allergic response and are often recommended as being one of the first foods to be introduced to an infant because of these two factors.
How to Store:
Unripe pears can be stored on your counter at room temperature for a few days or to quicken the ripening process you can place them in a paper bag and keep them at room temperature until ripe. Be sure to turn your pears often to prevent any bruising as well as check the necks of the pears often by gently pressing with your thumb to see whether it yields to any pressure. If it gives, then it is ready to eat. Do not attempt to store unripe pears in the refrigerator as this will severely delay the ripening process. Ripen your pears at room temperature then store them in the refrigerator. When storing them in the refrigerator, leave them loose and give them plenty of space from other food products, as limited exposure to oxygen will continue to increase the ripening process. Never store pears next to any strong smelling foods as they tend to absorb other smells. Pears should last in the refrigerator for up to five days. When you are ready to consume your pears, simply run them under cool water and pat dry. There is no need to peel the skin of pears as it contains half of the fruits fiber content and is a health benefit.
Freezing unprocessed pears is not recommended. The fibers of the pear as well as the juice will separate when thawed leaving an unappetizing result. However, you can freeze a cooked or processed pear that has had sugar added, such as pear sauce or pear pie fillings. Be sure that the pears that you are freezing are in a tightly sealed container to prevent freezer burn. Once ready to use, place container in refrigerator and let thaw completely.
Helpful Tips:
If you find you have overly ripe pears on your hands, it is recommended that they only be used in cooked recipes rather than eating them raw. Try incorporating them into smoothies, sauces or purees.
Once you have cut a pear you can add a few tablespoons of lemon, lime or orange juice to help prevent your slices from turning brown. Or you can dip them in a mixture of 50% water and 50% lemon juice.
Try using an apple corer to cut your pear
To speed up the ripening process, try storing your pears next to another ripening fruit, like bananas, and the ethylene will help to speed the process.
If cooking with pears, peel them before using since their skin will grow tough when heated.
Looking for pear recipes? Give these a try:
Pear, Brie, and Honey Quesadilla from Two Peas and Their Pod
Rosemary, Pear, and Brie Popovers from Doughmesstic
Canned Pear Sauce from Reluctant Entertainer
Lamb Chops with Curried Pears from Steamy Kitchen
Pear, Apple, and Currant Crisp from Three Many Cooks
Roasted Apple, Pear, & Parsnip Soup from Two Peas and Their Pod
Caramel Roasted Pears from White on Rice Couple
Pear Galette from Two Peas and Their Pod
*The Contributor of this post has been compensated by KitchenAid for this post, but this post represents the Contributor's own opinion.*