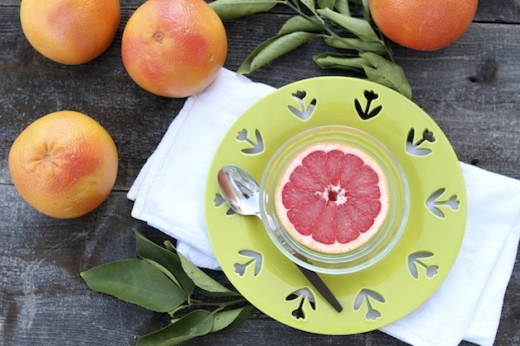 It's citrus season and with all of the oranges and clementines flooding the grocery stores and local farmers markets, don't forget to make some room for a few sweet and sour grapefruits. For many of you, grapefruit is a breakfast staple in your home, and for good reason. Packed full of vitamins and antioxidants, sliced or squeezed, grapefruit is the perfect choice for a healthy breakfast.  A grapefruit a day keeps the doctor away! Apart from its traditional uses, try using it to flavor or garnish food or use its slices to liven up a bowl of cereal or a traditional garden salad. Grapefruit is the perfect balance between sweet and sour, making it hard to refuse. No matter how you slice it or peel it you just cannot go wrong with a juice dripping and mouth-watering grapefruit.
The Basics:
Grapefruit can typically be purchased all year long and can be found in several color varieties including: pink, red and white. The flesh of a grapefruit is sour to semi-sweet and succulent with a tart fragrance. The interior of grapefruits can vary as much as their skin color, from white, to champagne in color and even deep red.  The pulp is tender and full of juice with a mild acidic flavor. Grapefruit can range from 10-15 centimeters in diameter; twice the size of a medium sized orange.
In Season:
Grapefruit season is from November to April although they can be found year round in most grocery stores. They are much sweeter during their prime season, so try some while they are at they're peak.
What to Look For:
When purchasing grapefruit be sure to choose ones that have shiny and smooth skin. They should feel heavy for their size and firm when pressure is applied.  They should be slightly oval in shape with a flat bottom and a slightly compressed top. Avoid grapefruit that has dull or wrinkled skin and feels soft when pressed. Try choosing the seedless variety of grapefruit to ensure thinner skin and more pulp. If you are looking for a variety packed with the most health benefits, try choosing the red ones, as these have higher levels of lycopene and antioxidants.
Nutrition:
Grapefruit contains no sodium, fat or cholesterol and is loaded with vitamins A and C, which is crucial for producing collagen that will help keep your skin smooth and healthy. Grapefruit contains a high number of antioxidants, especially the red varieties, and eating one grapefruit a day can help to decrease bad LDL cholesterol. Compounds found in grapefruit can also help burn fat and stabilize blood sugar. Drinking 6 ounces of grapefruit juice a day may help avert certain types of cancerous growths from developing and has been shown to decrease harmful compounds from affecting the body. Grapefruit contains large quantities of water and fiber that will help to keep you satisfied and full and has been shown to aid in weight loss.
How to Store:
Grapefruit are ripe when they are picked; so there is no need to let them ripen on your counters before enjoying them. That being said, you can leave your grapefruit at room temperature for about 1 week or 2-3 weeks left in the refrigerator. Grapefruit are susceptible to being bruised just like most fruit so give them plenty of space wherever you decide to store them.
To store grapefruit juice for later use, squeeze the juice into ice cube trays and let it fully freeze. Once frozen transfer the cubes into an airtight container or baggie and leave in your freezer for up to 3 months.
Helpful Tips:
Cut a grapefruit in half and sprinkle with a teaspoon of sugar before rubbing on your elbows or knees to remove dark patches. Be sure to steer clear of your face as the acid can irritate a sensitive complexion.
Use a juiced grapefruit dipped in sea salt to rub on your bathroom or kitchen fixtures to dissolve dirt and grime and to disinfect and scour. Be sure to rinse the fixtures afterwards.
If your grapefruit is too bitter, sprinkling it with salt will make it taste sweeter.
To be sure that your grapefruit hasn't been hanging around the grocery store too long, give it a scrape with your finger nail to make sure that the essential oils released smell bright and citrusy.
Grapefruit recipes you might enjoy:
Blended Grapefruit Lime Smoothie from KitchenAid
Spinach and Quinoa Salad with Grapefruit and Avocado from Skinnytaste
Broiled Grapefruit from Two Peas and Their Pod
Grapefruit Sorbet from How Sweet It Is
Savory Pink Grapefruit Salad from Healthy Green Kitchen
Pink Grapefruit Sandwich Cookies from Brown Eyed Baker
Pink Grapefruit Yogurt Cake from Two Peas and Their Pod
Grapefruit and White Chocolate Macarons from Desserts for Breakfast
*The Contributor of this post has been compensated by KitchenAid for this post, but this post represents the Contributor's own opinion.*