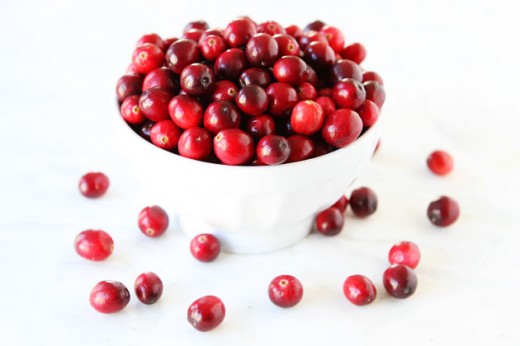 The cranberry season is a short one but always comes in time to add festive hue and flavor to our favorite holiday meals. But don't let the short season discourage you from incorporating these tart and tangy flavored berries into your life all year long. You can always rely on unsweetened cranberry juice, dried or frozen cranberries to help satisfy your craving. Use them in a variety of sauces and pie recipes or add them to salads or as a healthy snack mixed with other fruit. So grab some fresh, dried or frozen cranberries and try branching out to use these sharp berries in sauces and savory dishes.
The Basics:
Cranberries are an extremely tart, hardy berry that is large in size, scarlet red and glossy in appearance. They mostly grow in the northern part of the United States and are typically grown on low trailing vines on top of bogs but can still be found growing as wild shrubs in certain countries.
In Season:
Fresh cranberries are in season from October through December but can always be found year round, dried, frozen or canned.
What to Look For:
Cranberries are often packed and sold in plastic bags or cans but you may be able to find fresh cranberries in season, especially if organic, available in pint containers in your local market. When choosing fresh cranberries, pick berries that are plump, deep red in color and firm to the touch. Shriveled berries or berries with any brown spots should not be purchased. Though not recommended to try in a store, you can tell if a cranberry is ripe or not by whether it bounces. A ripe cranberry will always bounce.
Nutrition:
Cranberries are high in vitamin C and fiber, have anti-inflammatory, anti-cancer and cardiovascular benefits, aid in immune support and have been proven to help prevent urinary tract infections. Although cranberry juice is the most commonly consumed form of this fruit, it is typically produced by adding large amounts of sugar and is sans skin, which is actually what contains the bulk of beneficial nutrients.
How to Store:
Before storing your cranberries you will want to throw away any berries that are discolored, leathery, tough, shriveled or soft so that any decaying does not spread to any other berries. Fresh cranberries can last much longer than most berries and can be stored in the refrigerator for up to 1 month if kept in a tightly sealed container. Cooked cranberries will also last up to a month in the refrigerator as well. If a liqueur is added to the cooked cranberry mixture then they will be able to last up to a year in the refrigerator.  Once you are ready to use your cranberries, run them under cool water. If freezing your cranberries, wash and dry them before spreading them out on to a cookie sheet in a single layer and place in the freezer until fully frozen. Place your frozen berries into an airtight container and return to the freezer. You can freeze cranberries for up to several years. Once you decide to thaw your berries, any juice should be drained and they should be used immediately.
Helpful Tips:
Try using tart cranberries as a substitution for vinegar or lemon juice in salad dressings.
Cranberries are a great way to add vibrant red color to your favorite recipes like breads, puddings or muffins.
If growing your own cranberries try drying them for a healthy and delicious snack. To do so, pour enough boiling water over about 12 ounces of cranberries to submerge them. Let them sit in the water until the skin pops. Drain the berries and coat them with sugar or corn syrup, if desired. Transfer the berries to a cookie sheet and freeze for 2 hours. This will promote faster drying times. Place your frozen berries in your dehydrator for 10-16 hours or heat your oven to 350 degrees and place the cranberries, on the cookie sheet, in your oven. Turn the oven off and let them sit overnight.
To help counterbalance the acid from cranberries, add 1/4 teaspoon of baking soda when cooking them and you will find that you will end up using less sugar when baking with them.
You can re-hydrate cranberries by soaking them in hot water for 15-20 minutes.
The juice from a cranberry can easily stain. If you are trying to remove a stain from clothing, immediately flush the stain with cool water. Mix together 1 tablespoon of white wine vinegar and 1/2 teaspoon of liquid laundry detergent with 1 quart of cool water. Soak the article in the solution for a minimum of 15 minutes. Rinse with water and place in laundry.
Try stringing fresh cranberries and hanging them from a tree and watching the variety of birds that come to feast on them.
Looking for Cranberry Recipes? Give these a try:
Fresh Cranberry Orange Sauce from Two Peas and Their Pod
Cranberry Margaritas from Gimme Some Oven
Cranberry Orange Juice Bread from Just a Taste
Hibiscus Cranberry Sauce from Love and Olive Oil
Cranberry Coffee Cake from Two Peas and Their Pod
Butternut Squash Cranberry Gratin from Running to the Kitchen