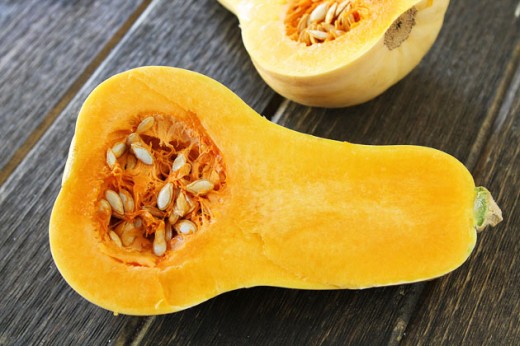 Butternut squash is among the most popular winter squash varieties and for good reason. It has a nutty and full flavored flesh that can stand up to high temperatures and picky palates. Butternut squash is a perfect addition to any autumn meal. It can be simmered, sautéed, baked or grilled. Once cooked, you can mash it, puree it or try folding it into your favorite pasta or risotto dish. And since it can be stored for up to 3 months it can be an easy last minute go to for a healthy and hearty meal for the family.
The Basics:
Butternut squash is a type of winter squash that has a buttery and slightly sweet taste that can be compared to a pumpkin. It has an hourglass or pear-like shape with a spherical bottom. It is typically an even yellow-beige cream color with a vibrant orange dense fleshy pulp and is very heavy. A cross section of the lower part of the squash will reveal a hollow cavity with meshy fibers and seeds resembling that of the pumpkin. Almost all of the parts of a butternut squash are edible form the flowers to the seeds.
In Season:
Butternut squash is best from early fall through winter. However, since many squash are grown on the South American continent, they can be easily found and enjoyed year round.
What to Look For:
Choose a squash that feels heavy for its size and is hard with a dull skin. A shinier skin will indicate that the squash was picked to early and will result in a less sweet flavor than a fully matured squash. Check to see that the butternut squash has at least 1-inch of stem and that it is still intact as this will help slow down any loss of moisture. Look to make sure that your squash does not have mold, wrinkled skin, soft spots, cuts or any other damage on the surface. Try to pick a squash that has a fat neck and a small bottom bulb. This will ensure that it has a small seed cavity and more usable flesh.
Nutrition:
Butternut squash is low in fat, high in fiber and contains about 80 calories per cup, which provides a great substitution for potatoes, which are double in calories per serving. It provides a great source of potassium, vitamin B, and folate; all of which are important in bone health, nervous and immune systems, heart health and prevention of birth defects. Butternut squash is best eaten steamed in order to gain the maximum amount of nutrients it contains.
How to Store:
Butternut squash can be stored at low temperatures of 50-60 degrees for up to 3 months. It is best to keep them stored in a cool, dark and a well-ventilated environment. Do not let water sit on or around your squash when storing. Once your squash has been cut, you can store it in plastic wrap or an airtight container in the refrigerator for up to 5 days.
When ready to use your butternut squash you should wash it thoroughly in running water to remove and dirt or residual insecticide powder or spray. If you will be sautéing the squash, use a vegetable peeler or paring knife to peel the squash. When cutting the squash use a sturdy sharp knife to cut off the top of the squash containing the stem, and slice it into to equal halves lengthwise. Remove the meshy fibrous structure with seeds. Cut your squash into desired sizes for your cooking preparation. If freezing your squash, cut into pieces before placing in an airtight container. Take note that freezing and defrosting your squash will cause it to lose its firm texture.
Helpful Tips:
Butternut squash seeds are a great source of dietary fiber and a delicious snack so don't discard them! Try cleaning and roasting them in a single layer on a cookie for 160 degrees for 15-20 minutes.
 If growing your own squash in your garden, try stuffing the squash flowers with cheese or a desired filling and baking them.
If you are baking your squash you do not have to peel it. You can cut the ends off and slice the squash lengthwise, scoop out the seeds and bake; or simply leave the squash whole, pierce a few times with a fork and bake. Either way, once your squash is done baking you can easily peel the cooked squash and then cut into pieces of desired size.
Looking for Butternut Squash Recipes? Give these a try:
Fresh Butternut Squash Ravioli in Sage Broth
Butternut Squash Mac and Cheese from Two Peas and Their Pod
Butternut Squash, Arugula, and Bacon Quiche from Gimme Some Oven
Butternut Squash Black Bean Tostadas from Two Peas and Their Pod
Butternut Squash Ricotta & Sage Crostini  from Shutterbean
Butternut Squash Risotto with Pine Nuts, Balsamic Drizzle, and Fried Sage  from Love and Olive Oil
Quinoa with Butternut Squash, Dried Cranberries, and Pepitas from Two Peas and Their Pod