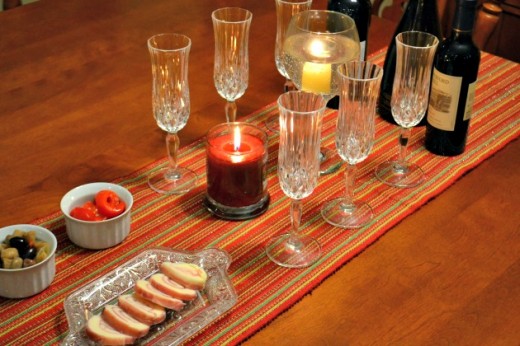 The holiday season is here and I am so excited!  I have been dreaming about the kitchen I wanted for years and I finally have it. It is filled with new KitchenAid® major appliances to make my holiday entertaining so easy. With my family's busy schedule, it seems like we entertain on the fly often. It is not uncommon for me to call friends at 4pm on a Friday and set up a little gathering for 6pm. If you have the right tools, last minute entertaining is never a problem. So let's talk about being prepared to have guests come over anytime during the holiday season.
I start with making sure I always have food on hand to serve for my guests. Appetizers are my kind of party food. If you serve a few hearty appetizers along with some cocktails and a dessert or two, it's a good party. If guests offer to bring something, don't be shy. Not only is it helpful to me, it makes my friends and family happy too.
I like to have an antipasto tray at my holiday parties. They are easy to assemble, look pretty and I have not met many people that cannot find something they like on a tray of different cheeses, meats and veggies. Served with some toasted bread, it is a very hearty appetizer. I am always prepared to make an antipasto tray and this is some of the items I keep in my refrigerator and pantry:
-Cheeses such as provolone, fresh mozzarella, Gouda, swiss cheese and Fontina cheese.
-Cured meats such as salami, prosciutto, rosemary ham and pepperoni.
-Jars of roasted peppers, pickled mushrooms, artichokes, and olives.
-Fresh veggies such as radishes, cucumbers and grape tomatoes.
The great thing is that most of these items store very well.  I also have no problem picking up some ingredients at my local grocery store's salad bar. The items on most stores' salad bars are endless.  I love my KitchenAid® refrigerator to store all these items. My deli drawer is a cheese lover's heaven.
Next I make sure I have a few cold dips and at least one hot dip.  Dips are great party food as they can be made or purchased well in advance and many taste better if they sit for 24 hours. I also keep several store bought dips in my refrigerator so unexpected company is never a problem.  Many times I will serve a hummus as my cold dip. This pairs well with whole grain crackers, tortilla chips or cut veggies. It is also a nice option for my health conscious guests.
The hot dips I make can be made in advance and popped in the microwave right before guests arrive. Whether you make hot or cold, make sure you serve a variety of things to dip with. Toasted bread, assorted crackers, breadsticks, pitas and cut up veggies are all great options.
Here are some of my favorite easy party dips to serve:
Creamy Feta and Roasted Pepper Dip
My ultimate favorite is this warm and cheesy shrimp dip. I use ingredients such as already cooked frozen shrimp, jarred red peppers and a few different cheeses. It goes great with tortilla chips which scoop up this yummy dip. I love the fact that it can be made in advance then heated up in my KitchenAid® microwave. The microwave is a perfect tool to make hot food without doing any heavy cooking when guests arrive. There are plenty of dips that can be baked in the oven and heated up in the microwave at the last minute.  It doesn't get any easier than that. During the holidays, the microwave is my good buddy.
Now that we have some food covered, it's time to talk cocktails. My favorite holiday drink is anything with Prosecco in it. Prosecco is a sparkling wine that looks beautiful with a splash of cranberry juice in it. It just screams holiday drink. A splash of any juice such as pomegranate or apricot nectar will make it special.  We always keep an assortment of wines and beers on hand for company too. I like to make things as easy as possible so I can enjoy the company of my guests. Again, if guests offer to bring a favorite cocktail or bottle of wine, by all means let them.
Speaking of wine, I have a great idea for holiday decorations. I am not a crafty person but I can spray paint an old wine bottle or two. I took a few empty bottles and spray painted them in silver. All you have to do is tie some fancy ribbon around them and you have a great table decoration.  I made these wine bottle candles and use them often.
When it comes to decorations, simple is the way I go. I love to put out a variety of festive candles. They also make the house smell so good. Another way I decorate my table is with some bright holiday colored runners. I prefer them over tablecloths so that I can show the beauty of the wood on my dining room table but still have something to make it more pretty.
No party is complete without something sweet. While I love making homemade desserts, I am not afraid to buy some sweets for the last minute party. I always keep a few boxes of chocolates or truffles in my pantry. They are perfect served in glass containers.  Another favorite of mine is berries served with whipped cream. It seems like there are always strawberries or raspberries in the grocery store at this wonderful time of year.
You don't have to be stressed to have a holiday party. Entertaining should be about eating and drinking but also spending quality time with friends and family.  Invite a few friends over and celebrate the season!
Warm Cheesy Shrimp Dip
Makes 8-10 servings
INGREDIENTS
1 cup cooked cleaned shrimp, chopped
1/4 cup chopped roasted red peppers
1/4 cup sour cream
2 TBS chopped fresh parsley
4 ounces cream cheese, cut in cubes
1 1/2 cups shredded pepper jack cheese
1 cup shredded Swiss cheese
A dash or two of hot sauce (depending how spicy you like it)
Parsley and red peppers for garnish, if desired
DIRECTIONS
In a medium size microwavable bowl, mix together the shrimp, red peppers, sour cream and parsley.
Add the cream cheese, pepper jack cheese and Swiss cheese. Mix well.
Place bowl in the microwave for about 2 minutes.
Mix again and add a dash or two of hot sauce.
Heat for another minute in the microwave. Remove from heat and let sit for a few minutes.
Pour mixture into a serving bowl and garnish with parsley and peppers.
Heat again if necessary before serving. Serve with tortilla chips, crackers or bread slices.
Note: Mixture will be a little thin right out of the microwave. It will thicken as it sits out for a few minutes.
Print
*The Contributor of this post has been compensated by KitchenAid for this post, but this post represents the Contributor's own opinion.*