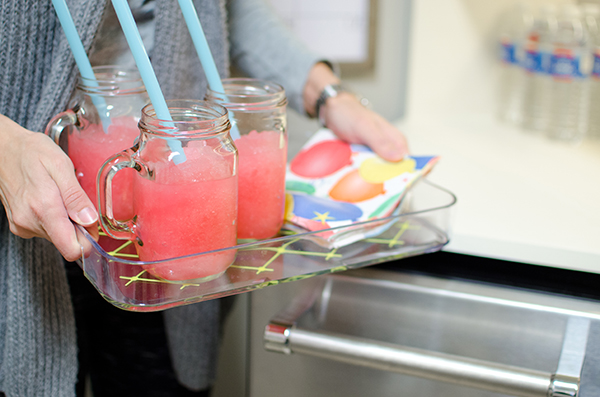 The beach house we rented last spring had a KitchenAid® Automatic Ice Maker. During that week at the beach, we realized how much we wanted one in our own home. In the south, it gets HOT so we cool down with a lot of ice. We also entertain frequently and usually need to buy bags of ice that take up too much room in our freezer.
There wasn't a spot for the Ice Maker in our kitchen, but we knew we had to find the space. Luckily, we were in the middle of remodeling our large laundry room into a shared pantry, so we incorporated the Ice Maker into the design. As an added plus, the door hinges are reversible, allowing for the Ice Maker to open the way that's optimal for your space.
How annoying is it to have to wait to fill up your ice cube trays while the last batch freezes? Or run out to the store in the middle of a party because you've run out of ice? This Ice Maker holds up to 25 pounds of ice; perfect for summers, big families, and frequent entertainers. And the ice scoop is conveniently stored inside to make filling coolers, beverage containers, or individuals glasses that much easier.
The small ice cubes are the perfect size to keep our drinks cold. We've even noticed a difference in the taste of our iced coffees! The coffee gets cold more quickly without the flavor being diluted.
We started going through mounds of ice once my kids figured out they could make slushies with crushed ice and their choice of flavored syrup. In fact, that might be one of our favorite ways to use our new Ice Maker so I'm including the recipe below.
We are extremely happy with our Ice Maker and consistently use it on a daily basis. The sleek appearance fits right into our custom pantry. I can enthusiastically say that one of the best decisions we made in 2016 was to add the Ice Maker to our home design.
Share your take on these Kool-Aid Slushies on Instagram using #MadeWithKitchenAid for a chance to be featured.
Flavored Fruit Slushie
Makes 1 pitcher
INGREDIENTS
7 ounces seltzer water or club soda
1/2 cup granulated sugar
1/2 teaspoon flavored fruit powder
3 cups ice
DIRECTIONS
Place the club soda, granulated sugar, and flavored fruit powder in a blender. Blend for 30 seconds.
Add the ice and blend for 1 minute or until desired consistency. Serve immediately.
Print
*The Contributor of this post has been compensated by KitchenAid for this post, but this post represents the Contributor's own opinion.*