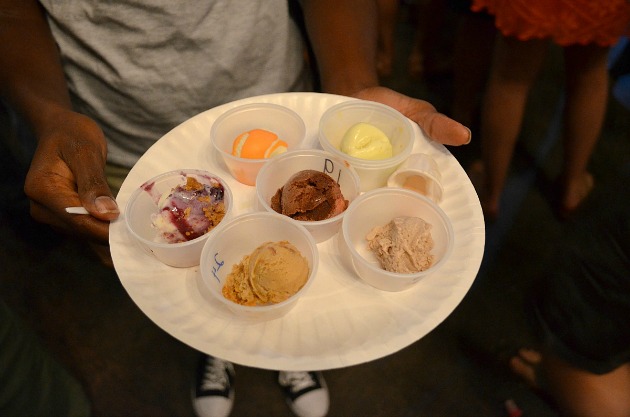 Sunday, July 27th was hot and humid in New York City, so it was with a particular kind of joy that I represented KitchenAid at the 2014 Ice Cream Takedown at Brooklyn's The Bell House.
Having attended The Chili Takedown, I was familiar with this style of competition. Dozens of New Yorkers make their best, most interesting ice cream and serve small cups of their creations to judges and attendees in hopes for first place, bragging rights, and great prizes including KitchenAid appliances.
The Bell House was packed with ice cream enthusiasts, including me! I grabbed a paper plate and worked my way down the line, trying seven or eight flavors at a time. Some were highly creative flavor combos like Black Sesame Ice Cream with Blueberry Caramel and Orange Zest while others had highly creative names like Black Mascara Tears—vanilla ice cream with a salted caramel bourbon ripple and dark chocolate toffee.
Ice cream-booze combos were also popular. Beer and a Shot was just as it sounded— ice cream with a beer chaser—and bright, refreshing Mango Mojito Sherbet was served with a healthy splash of rum. I loved all of the creativity, but when it came to choosing a favorite, I asked myself which one was so irresistible that I'd want to eat two scoops?
I particularly loved the Coquito Ice Cream, traditional Puerto Rican Christmas Eggnog churned into ice cream and served with crushed coconut sugar cookie crumbs. (I'm a sucker for anything coconut!).  I also enjoyed their creative display, which included Popsicle Christmas tree lights!
I was also very drawn to the ice cream made from my favorite summer produce—Sweet Corn Ice Cream with Blackberry Swirl and Cornmeal Shortbread—but in the end, Cherry Brick Road got my vote: sour cream ice cream with brandied cherries and graham chocolate caramel bark, an ice cream that struck a good balance between creativity and desirability.
We only had one vote, but the judges and the people made their decision. The winners were:
Judge's Choice:
1st – Bourbon Butter Pecan
2nd – Cherry Brick Road
3rd – Plumble Chocolate Rumble
People's Choice:
1st – Y Tu Mango También
2nd – Summer Dream
3rd – Coquito
I was pleased to see that two of my favorites placed high and walked away with great KitchenAid prizes. The competitors I talked to come back year after year. I enjoyed reading the blog post of one of the competitors, Angela Robles of Mind Over Batter. When asked why she competes every year she responded: "Because the organizer, Matt Timms is one of the most awesomely energetic people you will ever meet. Because it forces me to be creative. Because I get to meet new people. Because it's fast. Very fast! Because it's fun!"
Angela's right. It is fun! I I left feeling incredibly inspired to go home and make ice cream with my KitchenAid® Pro Line® Series Stand Mixer and Ice Cream Maker Attachment.
Here are some of my favorite ice cream recipes that you can try at home:
Lavender and Honey Ice Cream from The Kitchenthusiast
Saturday Morning Cereal Milk Ice Cream from 1 Fine Cookie
Stracciatella Gelato from Love & Olive Oil
Buttermilk Ice Cream with Strawberries from Joy the Baker
Peach Bourbon Ice Cream from This Girl Can Eat
Basil and Strawberry Riesling Sorbet from The Kitchenthusiast
Milky Way Ice Cream from Picky Palate
Enjoy!
*The Contributor of this post has been compensated by KitchenAid for this post, but this post represents the Contributor's own opinion.*