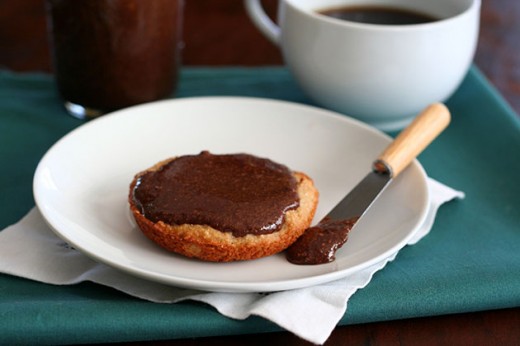 Nut butters are an easy and delicious on-the-go snack and making them at home allows you to control the added ingredients. If you're worried about hydrogenated oils and added sugars, making nut butter at home is a simple and healthy solution. All you really need are some nuts and a high-powered grinding tool like the KitchenAid® 13-Cup Food Processor. In fact, you don't even really need nuts; sunflower  or pumpkin seeds are a great alternative for people with peanut and other nut allergies.
Beyond that, the interesting flavors you can make are only limited by your imagination. Think beyond the basic peanut and almond butter and don't be afraid to play with spices and other ingredients. Try things like Maple Pecan or Chocolate Hazelnut. For this Mexican Chocolate Almond Butter recipe, I added cocoa powder, ground cinnamon and a little chipotle powder for a spicy kick.
First, you'll need to decide whether you want your nuts raw or roasted. I find that roasting brings out a deeper, more complex flavor profile. Simply preheat your oven to 350F, spread nuts out on a baking sheet and roast for 7 to 10 minutes. Keep a close eye on them, as they can quickly burn.
If you choose to make hazelnut butter, you can husk the nuts before grinding them. Let them cool for about 10 minutes, and then rub them between your fingers and most of the brown husks will fall off easily.
Once they're roasted, you can add the nuts directly to your KitchenAid® 13-Cup Food Processor and begin grinding. A minute or two on high will do it to start. When they look like coarse crumbs, add a little oil to the processor to help get a smoother consistency.
You may need to scrape the bottom and sides of the processor with a rubber spatula as the nuts become more finely ground. Grind them until they begin to liquefy.
Add in any other ingredients, such as salt, sweetener, spices or chocolate. Continue to grind until the desired consistency is achieved.
It really is remarkably easy to make your own nut butters with a KitchenAid® 13-Cup Food Processor. It's a healthy alternative to store-bought and you can adapt them to suit almost any dietary need. And when it comes to flavors, you can let your imagination run wild!
Mexican Chocolate Almond Butter
INGREDIENTS
2 cups almonds
5 tablespoons vegetable or nut oil
1/4 cup coconut sugar (regular sugar or other sweeteners would work too)
3 tablespoons cocoa powder
1 ounce unsweetened chocolate, melted
1 teaspoons ground cinnamon
1/4 to 1/2 teaspoon chipotle powder (depending on your tolerance for heat)
1/4 teaspoon salt
DIRECTIONS
Preheat oven to 350F and spread almonds out in a single layer on a baking sheet
Roast 7 to 10 minutes, until lightly browned and fragrant.
Transfer almonds to KitchenAid® 13-Cup Food Processor and process on high until finely ground.
Pour oil through spout and continue to process until smooth.
Add sweetener, cocoa powder, melted chocolate, cinnamon, chipotle and salt. Process until well combined. Transfer to a jar and enjoy on your favorite bread or toast.
Store in refrigerator.

Print
*The Contributor of this post has been compensated by KitchenAid for this post, but this post represents the Contributor's own opinion.*