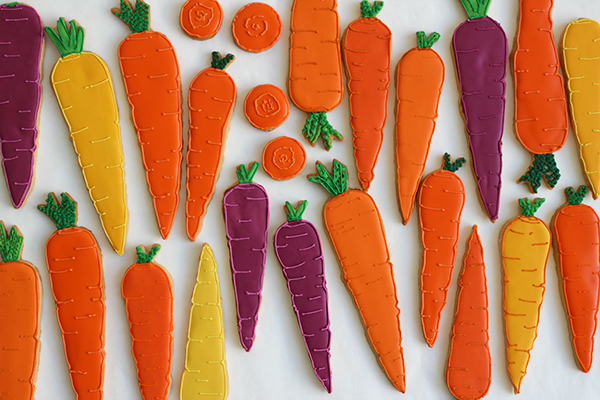 I love making cookies that look like other foods. With the holidays fast approaching, I know I'll be busy shredding, slicing and dicing lots of vegetables and other ingredients, so I thought it would be fun to replicate one of my favorite vegetables, carrots — whole and sliced — in cookie form! These are a unique addition to the dessert table and can also be great party favors.
After your carrot cookies are baked (use your favorite sugar cookies recipe or try mine here), let them cool completely. I love the way they look even undecorated! But here comes the fun part.
You'll need to prepare a batch of royal icing (try my recipe here). My KitchenAid® Artisan® Mini Stand Mixer makes this task super quick and easy. Using a piping bag filled with orange royal icing, the approximate consistency of toothpaste, pipe a line around the border of the carrots, including the little bumps and indentations a carrot might have. Outline the carrot slices too. Once finished, let the icing set for a couple of minutes.
Prepare a small bowl, about a cup or less, of orange royal icing, but this time thin it out with pasteurized egg whites or water until it is the consistency of thick maple syrup. Using a paintbrush, gently spread the icing within the orange lines on the cookies creating a flat, even coat.
Allow the icing to set for one hour or overnight. The longer you wait, the firmer the icing will be and the less you risk denting the soft surface of the cookie.
Prepare one piping bag with green royal icing and one with a slightly brownish orange. Both these icings should be the consistency of toothpaste. With the green, make squiggly lines for the carrot stems. With the brownish orange, re-outline the carrots and carrot slices and make detail lines for definition and texture. Let the cookies harden completely if they have not done so already.
Try icing some of the carrots different colors. They look so pretty and festive all together.
I'm partial to cookies, so here are some beets, radishes, onions, carrots, sliced and whole, and even a wedge of cheese in cookie form. These unique cookies are sure to make your holiday entertaining memorable!
As far as real veggies go, when I'm prepping large amounts for holiday cooking, the KitchenAid® Food Processor Attachment is a huge help and saves me so much time rather than doing it all by hand. It can shred, chop, and dice with ease with the ExactSlice™ System and make my veggies look just like these cookies — perfectly sliced!
Share your take on this Carrot Icing technique on Instagram using #MadeWithKitchenAid for a chance to be featured.
*The Contributor of this post has been compensated by KitchenAid for this post, but this post represents the Contributor's own opinion.*