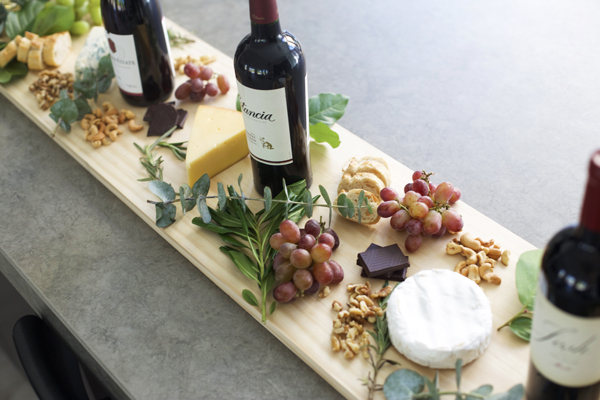 You guys! It's National Wine Day! Frankly, the amount of "National ______ Days" there are now is a bit overwhelming, but National Wine Day is definitely a day I can get behind.
To celebrate National Wine Day, I thought I would share some tips for throwing a wine tasting party. If you aren't a sommelier, the idea of hosting a wine tasting party might be a little daunting. However, I'm hoping if you follow some of these tips, you can worry less about hosting and focus more on enjoying some great wines!
Make it simple and set up one big station.
Parties can be a lot of work to host, so I'm big on making it simple. Instead of setting up multiple stations for food and wine, gather it all together on one epic antipasto board.
Grab an 8' finished wood plank at the hardware store to use as your serving board. Set out your wines. Place cheese pairings by each wine. Then scatter an assortment of cheeses, nuts, fruits, and breads across the board.
Finally, decorate the board with greenery and herbs. For bonus points, you can label the cheeses and place a description of each wine on the board.
Don't go overboard.
With a wine tasting party, it's easy to go overboard picking wines. I would stick with 6 wines: 3 white wines and 3 red wines. This will keep it simple for you, and it won't overload guests with too much information.
Set out the wine last.
Since it is a wine tasting, I would set out the wine last. You want to serve the wine at the right temperature. Having it sit out too long will compromise the flavor. Keep the wine in the refrigerator until just before guests are due to arrive. Or better yet, keep the wine in a beverage center set at the preset wine settings just before guests arrive.
I have the KitchenAid® Beverage Center. I'm not gonna lie, it's pretty awesome because it has two temperature-controlled zones to help preserve the flavor and integrity of individual wines. There's a special zone for whites and a separate zone for reds. It's just the thing for throwing a wine tasting party!
Store duplicate wines in a beverage center nearby.
It might quickly become apparent that there are some crowd favorites when it comes to the wines you're serving. It's a good idea to keep duplicate wines in the Beverage Center nearby that are ready to crack open when one goes empty.
Pair the wines with cheese.
To really impress your guests, pair the wines with cheeses. You can follow these simple matches:
—Pinot Noir + Gouda
—Pinot Grigio + Gouda
—Chardonnay + Brie
—Merlot + Brie
—Champagne + Colby
—Cabernet Sauvignon + Blue Cheese
Notice there are duplicate cheeses. Again, I'm all about simplicity when it comes to hosting.
Serve small bites.
Since it's a wine tasting party, I suggest making the wine the center of attention. On that note, serve small bites, like crackers and fruit, instead of a full meal.
Pick wines from several different regions.
I'm not a sommelier, so I would do some research when picking your wines. However, I do know that certain regions lend themselves to specific flavors in the wines. So it's fun to pick wines that are from several different regions. For example, I picked wines from Oregon, California, and New Zealand.
Set out full-size glasses.
Flights can be cute, but they can be impractical. If guests find a favorite wine, they often want to stop tasting and want to start imbibing their favorite varietal. For this reason, I suggest serving the wine tastings in full-size glasses. You could also use both flights and full glasses if you want to.
Have fun!
My final tip is to have fun! A wine tasting party is a refreshing twist on a weekend get-together.
What other entertaining tips do you have for a wine tasting party?
*The Contributor of this post has been compensated by KitchenAid for this post, but this post represents the Contributor's own opinion.*