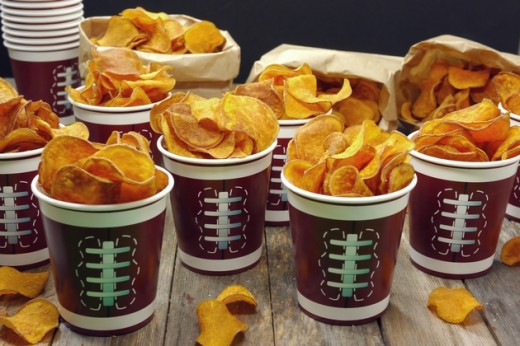 Nothing reminds us more of Fall than a good tailgate party. Seasoned tailgaters always show up prepared.  It's no secret your tailgate set-up can be as competitive as the game itself. I am always amazed by the amount of planning and sophisticated detail that goes into these energetic, urban-picnics.  Regardless of how you celebrate, a little preparation will go a long way when it comes to making your tailgate adventure a success. As with everything, love is in the details!
Don't try to do all the work yourself. Serving food at an event away from home can be a big undertaking. Get the help you need by assigning specific tasks to everyone in your group. Having one person in charge of the servingware, (plates, cups, and silverware) will help take a burden off your shoulders. Make sure to have your menu planned so you can relay what type of servingware items will be needed. For example, if you are having chili, bowls and spoons are a necessity.
Plates and cups is not the only task you can easily assign to someone else. You will need lots of drinks depending on how many hours and people are going to be there. Come up with a plan that includes all of your guest's dietary needs. Is this strictly a beer event or do you have wine drinkers in the crowd? Will there be children to provide for? Does there need to be diet or low-sugar drinks available? And don't forget the water, hot chocolate and coffee. Once you know everyone's requirements, communicate that to the person assigned to the beverages. You can get as fancy as you choose with glassware, whether it be mason jars or cute plastic tumblers, I will leave that up to you.
Tailgates are notorious feasts with lots of barbecued meats and heavier types of offerings. Indulging in good food is one of the reasons we love these types of gatherings. However, it is nice to have a healthy option available for those who might need a break from their third helping of cheesy buffalo dip. Little veggie cups filled with ranch dressing are easy to put together once you arrive.  The sliced veggies are trouble-free to transport and the serving presentation is appealing. Even the kids will reach for these.
While it's so easy to buy premade chips for your game day celebration, surprise everyone with some homemade sweet potato chips. These are such a treat and can be made up at home before you leave for the game. Serve them in festive paper cups or alongside your favorite dip. No one is going to pass these up.
I have never had success at making potato chips until I used my KitchenAid® Pro Line® Series 16-Cup Food Processor." The ExactSlice System lets me get the potatoes thin enough for frying. Thicker slices tend to burn since they must be cooked longer.  I can't tell you how much I love this feature and I use it for making so many different things.
The KitchenAid® Pro Line® Series 16-Cup Food Processor." allows me to process a large amount of sweet potatoes all at once. As you can see, 5-6 sweet potatoes filled the whole bowl perfectly. They are now ready to be fried.
A large, high-sided, heavy-bottomed pot, with a candy thermometer, is the perfect vessel for frying the chips. A deep-fryer works great too. The chips are so thin it's not necessary to have the oil higher in temperature than 320 degrees F. The oil temperature does fall when you add the potato slices so you'll want to bring it back to 320 degrees F in between batches.
The perfect tailgate always includes an over-the-top sandwich. What makes this sandwich so appealing is the Caesar salad spread. It is easily whipped up in the bowl of your KitchenAid® Pro Line® Series 16-Cup Food Processor." Transfer it to a squeezable container, making  it easy to transport to the game.

When ready to serve, build your sandwich and slice accordingly. This recipe makes enough for two large sandwiches (8-10 people), but can easily be doubled if your crowd is larger.
Have a great time bonding over football with family and friends!
Homemade Sweet Potato Chips
Makes about 18 cups
INGREDIENTS
5-6 sweet potatoes, preferably long and thin
1 quart of peanut oil for frying
Table salt
DIRECTIONS
Under cool water, scrub each potato to get rid of any dirt. Pat dry. Assemble food processor with slicing disc. Adjust slicing lever just slightly to the right of the thinnest setting.
Feed sweet potatoes, one at a time, through tube with the smallest sized pusher. Repeat until all sweet potatoes have been sliced.
In a large, heavy-bottom pot or a deep fryer, heat oil to 320 degrees F. Working in batches, fry sweet potato slices until slightly browned, about 2-3 minutes. Remove from oil and drain on a paper-towel lined pan. Sprinkle immediately with salt. Repeat until all slices have been fried.
Print
Bacon-Caesar Salad Sandwich
Makes about 2 large sandwiches
INGREDIENTS
1 cup mayonnaise
1/4 cup flat-leaf parsley
4 large garlic cloves
3 tablespoons lemon juice
1 1/2 tablespoons anchovy paste
1 teaspoon Dijon mustard
1/2 teaspoon coarsely ground black pepper
1/8 teaspoon table salt
2 (1 lb) loaves of crusty, Italian bread, sliced in half lengthwise
2 lbs thick-sliced bacon, cooked until crispy
4 cups baby arugula
1/2 cup shaved Parmesan
DIRECTIONS
In the large bowl of the food processor, fitted with the multipurpose blade, add mayonnaise, parsley, garlic, lemon juice, anchovy paste, Dijon, pepper and salt. Process until smooth and creamy.  Empty sauce into a squeezable container and set aside. (Refrigerate if not using until later.)
Squeeze sauce onto bottom halves of sliced bread and spread evenly with a spatula. Divide bacon and arugula onto prepared bread and squeeze rest of sauce over the greens. Finish with shaved Parmesan. Dust with freshly ground pepper if desired. Top with other half of bread and slice.
Print
*The Contributor of this post has been compensated by KitchenAid for this post, but this post represents the Contributor's own opinion.*