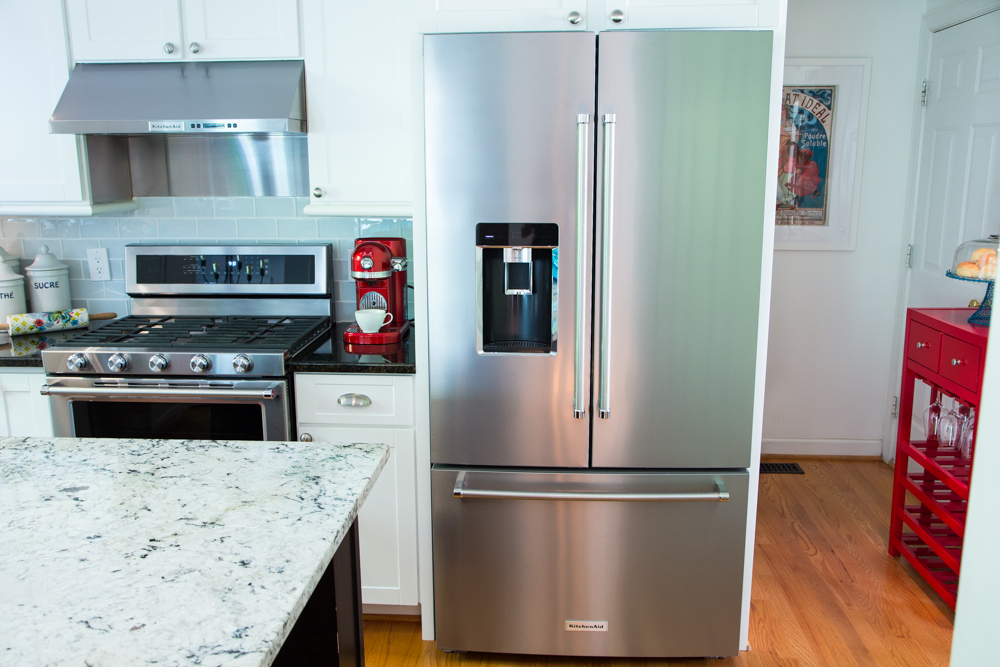 Considering a new refrigerator? If not, chances are you probably will be somewhere down the road. Whether it's now or later, take some time to check out your options. Major appliances, like ranges, dishwashers, and refrigerators belong in the category of purchases that require thoughtful consideration. Shoe styles or paint trends tend to come and go like the wind, but like a good quality car, a well-made, practically-designed refrigerator will serve you faithfully for many years to come.
The decision-making process regarding appliances is quite fresh for us, as we recently went through a kitchen renovation. It wasn't a major gutting and rebuilding, but rather, an affordable updating that has added value to our home and transformed the kitchen into a more functional work space. It's also made my job as a food blogger at The Café Sucre Farine much easier, and well… just a whole lot more fun! The other bonus? We love entertaining family and friends in our new kitchen!
When planning our kitchen renovation, we knew that updating our appliances would play an important role in the overall aesthetics and workflow. We wanted to choose models that we'd be happy with for a long time. For us, this was an exciting, but slightly overwhelming task. So much to consider and so many possibilities!
It helped when we narrowed the choice down to KitchenAid. That part of the process was actually an easy decision. Over the years, we've had a number of KitchenAid® appliances and experienced first hand their reliability, affordability, and beautiful style.
The next step was tougher; sifting through the many models, options, features and finishes. That can also be a bit daunting, but we knew the time spent would be rewarded with many years of  service and enjoyment.
I thought I'd focus on our refrigerator choice today and share some of the features that propelled our decision. After much thought and consideration, we chose the KitchenAid® Counter-Depth French Door Refrigerator. The dimensions were right and it had so many of the features we were looking for, both inside and out. Once it was ordered, we could hardly wait for it to arrive!
We were beyond pleased when it was delivered and installed. Both the exterior and interior are elegant and well designed.
It might seem strange to use this description for a refrigerator, but the only word befitting the platinum and wood finish interior is "stunning!" The strategically-placed strips of ambient, LED lights are gorgeous and keep the entire inside pleasingly well lit. On a side note, I love that LED lights are maintenance-free and never need to be replaced.
Because this Refrigerator is counter-depth, the shelves are shallower than a traditional-depth model. To me, that's genius as I can see everything in the Refrigerator at a glance. No more long lost items sitting in the back rows. And even though the shelves are shallower, I find I have more storage space than ever with this Refrigerator.
While we're on the subject of shelves, there's another feature I love. The middle shelf features a slide-away option, which makes for super versatile storage solutions. Three-quarters of the shelf slides to accommodate taller items, such as wine bottles, 2-liter drink bottles, tall pots, etc. This is a wonderful feature to have, especially when entertaining.
In case you haven't guessed by now, I'm quite smitten with this Refrigerator. Here are a few other favorite, unique features:
This FreshSeal™ Herb Storage keeps herbs fresh way beyond their normal expectancy. I recently stored rosemary for over two weeks and it looked as fresh as the day I bought it.
The pantry drawer extends across the lower part of the refrigerator and has four presets so you can customize the temperatures for meat/fish, cold drinks, deli/cheese, and wine. How cool is that? By the way, all the drawers in this refrigerator have a self-closing feature, which is a wonderful feature for busy cooks.
The pull-out tray is so handy for eggs, snacks, and cheese. It's also perfect for storing large platters of salad or fruit when entertaining. It has the self-close feature too!
Have you heard about the Preserva® Food Care System? It entails independent cooling systems for the Refrigerator and freezer section and a Produce Preserver which helps keep food at its peak.
Keeping food fresher saves us money on groceries every week!
The exterior ice and water dispenser is innovative and well thought out. It's easy to fill cups, pitchers, pots, etc., and there is custom presets which can be programmed for items we fill up frequently, like our coffee pot and water bottles. I really like the ice maker's small ice cubes—they're like the ones you get with a premium, stand-alone ice machine.
See why I love this Refrigerator? I've mentioned just a few of the features I really like, but there are so many more! I hope this review has helped you think through your choices and options as you get ready to pick your next refrigerator.
*The Contributor of this post has been compensated by KitchenAid for this post, but this post represents the Contributor's own opinion.*