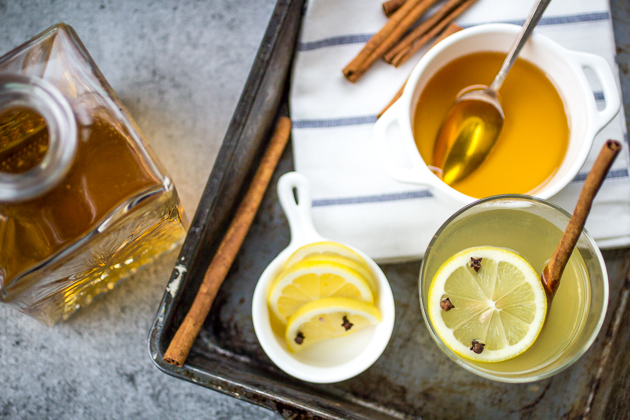 With December behind us, it's easy to put entertaining out of our minds. After all, what reason do we have to invite people over now that the house is finally clean after the holidays?
Hot Toddies are the reason!
We still have a long way to go until spring, so it's time to light a fire, put the kettle on to boil, and invite a few friends over. Hot Toddies made with lemon juice, honey, spices, rum, and piping hot water are perfect for warming you up from head to toe this season.
I like to set out each of the components on a tray, plug in my KitchenAid® Electric Kettle, and let guests make their own drinks at their leisure.
To make a proper Hot Toddy, you'll need fresh lemons (both halves and slices), whole cloves, honey, quality rum, boiled water, cinnamon sticks, and (if you're feeling particularly fancy) a whole nutmeg for grating.
First, stud a few lemon slices with whole cloves. Squeeze the juice from half a lemon into a glass, then drizzle in a heaping teaspoon of honey.
Pour in an ounce of your favorite rum, then top with freshly boiled water from the Electric Kettle.
Then, garnish with a clove-studded lemon slice, a cinnamon stick, and freshly grated nutmeg. That's all you'll need for the perfect winter pick-me-up!
Be sure to share your take on this Hot Toddy recipe with us on Instagram using #MadeWithKitchenAid for a chance to be featured.
Hot Toddies
Makes 6 servings
INGREDIENTS
1 1/2 cups water
4 lemons, divided
18 whole cloves
6 teaspoons honey
6 ounces quality rum
6 cinnamon sticks
1 whole nutmeg
DIRECTIONS
Fill the KitchenAid® Electric Kettle with 1 1/2 cups fresh water. Place the kettle on the stand and flip the toggle switch to the ON position.
Cut three of the lemons in half and cut the fourth into slices. Halve three of the slices to make six half-circles. Stud each half slice with three whole cloves.
Set out six heat-safe glasses. Squeeze the juice from half a lemon into each of the glasses, then top the lemon juice with one teaspoon of honey and an ounce of rum.
Once the Electric Kettle has finished boiling and the toggle switch returns to the OFF position, pour 1/4 cup of freshly boiled water into each glass. Stir until honey has dissolved.
Garnish each glass with a clove-studded lemon slice and a cinnamon stick. Grate fresh nutmeg over the top. Serve immediately.
Print
*The Contributor of this post has been compensated by KitchenAid for this post, but this post represents the Contributor's own opinion.*