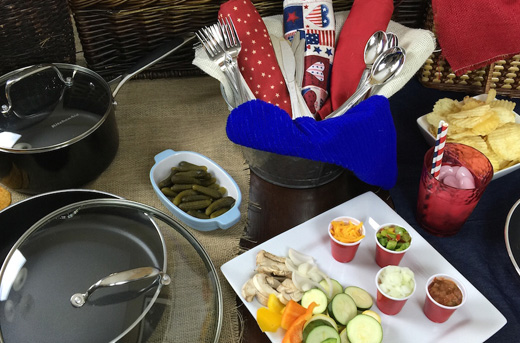 Summer is almost here and having family and friends over for a summer barbecue is perfect, unless it rains! This summer, be prepared for the perfect rainy day indoor party complete with a hot dog and meatball sandwich bar with lots of favorite toppings. For the barbecue, I used the KitchenAid® Nesting Ceramic 4-Piece Set in Azure Blue and the KitchenAid® Aluminum Nonstick 5-Piece Set to go from stove to tabletop effortlessly. See how to coordinate summer table decor when serving up corn on the cob, baked beans and of course watermelon. Don't let the inclement weather ruin your holiday festivities; instead bring the party inside!
There is nothing better than warm weather to bring out the camaraderie of family and friends around the picnic table for a festive barbecue! Just because the weather is calling for 100% rain doesn't mean you have to change your plans. Instead bring the picnic baskets, blankets and all the supplies to your dining room table. I started off with some of my favorite baskets as a backdrop for the buffet table. Varying colors and heights are great for adding visual interest and help make more room at the table. Then I used fabric in Americana prints of red, white, blue, denim and burlap to cover the table and make napkins. If you're serving ribs and other messy finger foods, throw in some colorful hand towels, because dainty napkins won't be enough. I found these blue dishtowels that are good for messy hands.
Think of what type of guests you will have over and choose table decor, flatware and dishware that fit the crowd. For my friends and family we love toss away items but I like to have a coordinated theme throughout the table. Look to plastic "silver" ware for forks, knives and spoons. These look classy like real flatware, but can be thrown away easily. Fill a galvanized pail with your flatware, napkins and hand towels for a shot of Americana picnic flare in the center of the table. I love using plastic tumblers for drinks in colorful varieties. Fill a few with red, white, and blue striped straws and guests can spill a drink or small hands can grasp them with no worries.
What is great about the KitchenAid® Aluminum Nonstick 5-Piece Set is that it can go from stovetop to the table with ease and still round out the Azure Blue Nesting bakeware beautifully. I decided to have a hot dog and meatball sandwich bar complete with fresh grilled veggies, corn, baked beans and corn on the cob. The bakeware can hold hot and cold food and the varying sizes allow you to serve cocktail pickles right alongside the deviled eggs.
This summer go ahead and plan your favorite barbecue weekend and bring it indoors, on purpose! Your guests will love getting away from the heat and the mosquitoes while they enjoy your delicious hot dog and meatball bar. Whether you like just ketchup on your dog or you're an "everything but the kitchen sink" condiment lover, you will love celebrating and hosting a rainy day barbecue this season.
*The Contributor of this post has been compensated by KitchenAid for this post, but this post represents the Contributor's own opinion.*