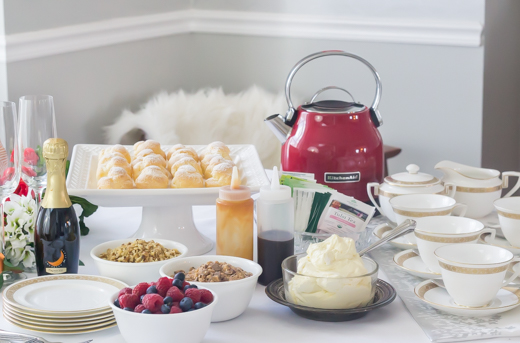 Spring has officially sprung, and the weather is finally showing it! Here in the northeastern part of the U.S., the grass is looking bright green and all the trees and bulbs are in full flower. It's a beautiful time of year, and I just love that Mother's Day falls right in the middle of it.
As a mom serving a house full of boys 364 days a year, I will fully admit that Mother's Day is one of my favorite holidays. It's right up there with Christmas and my birthday. I may actually like it even better, because it's the one day where we can celebrate all things feminine.
If you are looking for a great way to treat some of the dearest and most hardworking women in your life this Mother's Day, there's no better way to do it than with a special tea party. I'm sharing some of my best ideas for how to throw a fun Mother's Day Tea below.
Set out your prettiest teacups and saucers, and provide an assortment of tea bags.
As much as I love to brew loose tea in a teapot, when you're serving more than two people it's really not as practical as using tea bags. Odds are, you don't have enough cute, small teapots for everyone to brew their own pot of tea in exactly the blend of their choice. We all love to have options to pick from, and with the KitchenAid® Electric Kettle your guests can brew their choice of tea, right in the teacup. At the push of a button, you can offer them hot water at the optimal brewing temperature, in just minutes.
Some of my favorite teas to serve include black teas such as Irish Breakfast, Darjeeling, Orange Pekoe, red rooibos teas, and green tea, as well as herbal teas (aka tisanes), like Peppermint, Ginger, and Chamomile. Be sure to offer some decaffeinated options. No one wants to have to deal with the jitters when they're trying to relax!
Let guests D.I.Y.
Odds are, Mother's Day is a special day for you too, and you want to be able to enjoy. So set up the tea party as a buffet and allow your guests to serve themselves. Choose finger foods that can be made ahead, and you can have it all set up well in advance.
Keep it simple
I like to keep the food prep to a minimum, offering just one type of pastry that can be customized in lots of different ways. A cream puff pastry is a perfect way to do this. Pate a choux is an easy, make ahead pastry that is infinitely customizable. Plus it's just fancy enough- without being at all complicated to make. I use this recipe and it never fails me. There are just two things to remember:
1) Make sure each egg is completely incorporated before adding the next to the batter. I love using my KitchenAid® Stand Mixer for this, because I can just drop in the eggs while the Stand Mixer does all the work.
2) Be sure to bake the puffs until they are nicely browned and dry-looking. If there are any little droplets of moisture on the surface, that means the structure isn't strong enough for them to support their own weight once they cool and the steam inside dissipates. So make sure they're dry and light and you won't be disappointed!
But provide lots of choices
One of the best things about cream puffs is how customizable they are! The possibilities are truly limitless. My favorite filling by far is Diplomat Cream, which is made by folding whipped cream into pastry cream. It's almost like a fluffy crème brulee. It goes great with all sorts of toppings, such as fresh berries, chopped nuts, or toffee bits. And I love to set out chocolate and salted caramel sauces too. But you could just as easily go savory with fillings like chicken salad or egg salad. It's all so good!
Don't forget the champagne and flowers
Nothing makes a lady feel special more than champagne and beautiful flowers. Your guests will appreciate it when they're welcomed into your home and they see all the love and care you've put into making such a beautiful display. Fresh flowers are a gorgeous way to decorate your table and they provide a lovely fragrance as well. And nothing kicks off a celebration like the pop of a champagne cork! I especially love this easy recipe for a fun sparkling cocktail that combines champagne and roses in a totally unique way!
I hope I've inspired you to do something special for the women in your life this Mother's Day!
*The Contributor of this post has been compensated by KitchenAid for this post, but this post represents the Contributor's own opinion.*