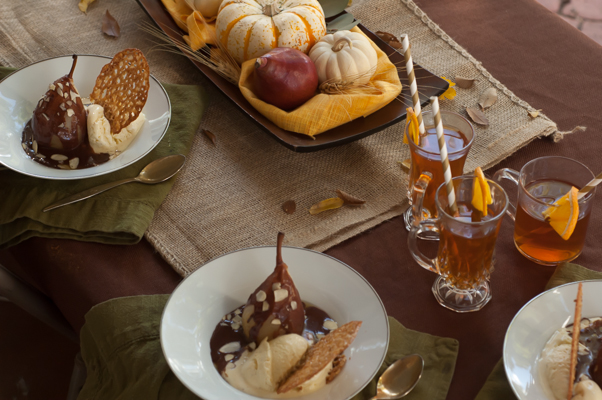 Have you ever heard of progressive dinners? They are all the rage right now. The basic idea is that you gather 3-5 friends or couples who live in close proximity to one another and share the responsibility of cooking and hosting for the evening.
Everyone meets at the first house for appetizers and drinks and after a predesignated time (or everyone is finished), the whole group moves on to the next host's house for the next course.
We absolutely love fall and just moved into a brand new neighborhood so we decided to coordinate a fall harvest party to celebrate. We called up our new neighbors and asked if they knew anyone within walking distance and lo and behold his brother and sister-in-law lived just a few blocks away. It was perfect!
Here are a few ideas to get you going:
Pick 3-4 houses and assign a dish to each person. You can either give out recipes or just what course they will be responsible for.
Picking a theme can be fun and help to coordinate the dishes:
Cuisine type: Asian, Italian, Pizza, Carribean, Southern, etc.
Season: Fall, Winter, Spring, Summer
Holidays: Christmas, Easter, St. Patrick's Day, Cinco De Mayo
Choose recipes that hold well and can be made ahead of time so that you can spend more time relaxing and socializing. Slow cookers and quick fast (10-15 minutes max) cooking dishes work best.
Pick houses that are close together if possible. Walking distance is ideal but no more than 15 minutes apart.
Tip: Have a few friends that you want to try this with but you live too far away from each other? Find a handful of restaurants that are within walking distance and go to them instead!
If you will be drinking and driving, please have a designated driver.
Be sure to specify whether children are invited or not, if this is applicable to your guests.
Remember to ask about food allergies or aversions from everyone.
Make cute menu cards with everyone's address and phone number in case someone gets lost or can't come until later in the evening. You can mail them out or just email them to everyone.
Here's a peek at our evening!
This card template can be edited here via a great website called Canva. 
This menu is entirely vegetarian (sans the bacon we served on the side of the gnocchi) and can be easily made gluten-free.
Gluten-free swaps: Substitute gluten free bread in appetizer, buy gluten-free gnocchi (many regular brands already are), and use rice flour in the cookies.
We started the evening off at our neighbor's house and walked over to the first house together.
We had Baked Goat Cheese Marinara Toasts which were amazing.
The crispy toast rounds were piled with layers of zucchini and eggplant covered in spicy tomato sauce, and every so often you'd score a bubbly goat cheese slice that was out of this world. Next time because I'm a cheese addict, I plan to cover the entire top with cheese so I can eat it with every bite.
The boys had a great time walking on this adventure and playing with our new friends' little 2-year-old daughter.
Next up was this delicious Roasted Carrot Soup which works perfectly in the slow cooker.
Our neighbors took the concept and because they couldn't find fresh tarragon, went an asian route with onion, ginger and curry powder. It turned out fabulous and Phin loved it.
Next we all wandered over to our house for the entree and dessert. We had Kale Pesto with Gnocchi for dinner.
Since we were cooking last minute I decided to use pre-made gnocchi to help save on time. It worked great!
We prepped the kale pesto, chunks of cooked bacon, and shredded parmesan ahead of time so when we arrived all we had to do was quickly boil the gnocchi (2-3 min), turn on the oven to warm the bread and set everything out. Easy!
After dinner we all lingered for a tasty dessert of Pears Belle Helene & Spiced Mulled Cider.
Pears Belle Helene is basically just a fancy French name for Spiced Pears with Chocolate Sauce. Don't let it intimidate you, it's a bit time consuming but very worth it and you can spread the prep over several days. We served it with homemade vanilla bean ice cream and lace cookies.
The Pears & Chocolate Sauce:
Select beautiful somewhat firm pears. Peel them, cut off bottoms so they are flat and poach in spiced white wine sauce. Poach until pears start to turn translucent and are fork tender.
While the pears are poaching, heat some cream and pour over chocolate chips, a tablespoon of sugar and a dash of nutmeg.
Strain spices out of sauce and chill sauce, pears and chocolate sauce for up to 2 days.
The Ice Cream:
Make a basic custard ice cream (warm cream and sugar, temper in egg yolks) and infuse the cream mixture with fresh vanilla beans. We add just a smidge of cream cheese which makes the consistency ultra smooth.
Mix it up in your KitchenAid® Ice Cream Maker Attachment for 15-20 minutes and pop it into the freezer to harden for a few hours or a few days.
For the cookies:
Start with 2/3 of a cup of blanched almonds and the small bowl and blade on your KitchenAid® 14-Cup Food Processor. I love this smaller bowl for little jobs like this; it makes it so much more efficient and clean up is a snap!
Then you just mix the batter up in a skillet and melt everything together. Little teaspoonfuls of batter which seem so tiny, expand in the oven into big beautiful lacy cookies.
All together now!
A bit of wine sauce on the bottom of your plate lays the perfect groundwork to build these layers on top of each other.
For the drink:
Mulled apple cider is such a classic and this one is a teeny bit boozy thanks to hard cider. It's also is made in your slow cooker so it's a piece of cake to pull off for a party.
Add a squeeze of fresh orange, a pat of butter and a shot of rum if you are feeling extra indulgent.
The whole dinner was a total hit and we can't wait to do it again with a new theme!
Pears Belle Helene (Spiced Pears with Chocolate Sauce)
Makes 8 servings
INGREDIENTS
For pears
1 1/2 cup white wine
1 cup water
1/2 cup sugar
1 cinnamon stick
1 star anise
10 cardamom pods
1 vanilla bean, cut in half lengthwise, seeds scraped into pan
8 pears, peeled with stems still on
almond slivers (for garnish)
For chocolate sauce
1 cup heavy cream
1/2 cup semi-sweet chocolate chips
1 tablespoon sugar
1/4 teaspoon nutmeg
DIRECTIONS
For pears
Add all other ingredients except pears to an enameled cast iron pot or a deep saucepan.
Cut circularly around bottoms of pears with a paring knife removing enough fruit to make a flat bottom (do not chop on a cutting board or you will bruise pear). Place in wine sauce, bottoms down.
Heat over medium-low heat (err on lower side), gently poaching the pears until pears turn slightly translucent and can easily be pierced by a fork. Timing on this can vary from 20-35 minutes depending on type and ripeness of fruit.
As pears poach keep an eye on the wine sauce, it should remain a sauce and not start turning to caramel. If you see it start darkening and bubbling thicker, add hot water in 1/4 cup increments until sauce is thinned out and reduce heat.
Remove pears with slotted spoon and reduce wine sauce down to a thin syrup.
Cool completely before serving. Can be made up to 2 days in advance.
For chocolate sauce
Heat cream to just before boiling in small sauce pot.
Remove from heat and add chocolate, sugar and nutmeg to pot.
Allow to sit for 5 minutes and then stir. If sauce does not come together it can be gently heated over very low heat, stirring constantly.
Assembly: Place 2 tablespoons of wine syrup on bottom of bowl. Top with a pear, chocolate sauce and almond slivers. Serve with vanilla bean ice cream and a lace cookie.
Print
Vanilla Bean Ice Cream
Makes 1 quart
INGREDIENTS
1 1/4 cups buttermilk
1 cup half and half
3/4 cup heavy cream
3/4 cup sugar
1 vanilla bean, cut in half lengthwise, seeds scraped into cream
8 egg yolks
Pinch of salt
2 tablespoons cream cheese, small diced
DIRECTIONS
Combine first 4 ingredients in a large sauce pot and bring to just before boiling.
Add vanilla bean pod and seeds to cream mixture and allow to steep together for 10-15 minutes.
Whisk egg yolks in a bowl until well combined.
Slowly add a small stream of hot cream mixture to yolks while whisking constantly up to 1 cup of mixture. This helps to prevent eggs from curdling when added to hot solution.
Pour cream-egg mixture at once into the cream mixture, whisking quickly as added. Cook over medium-low heat, stirring constantly until the custard coats the back of the spoon (about 3 minutes). Coating the spoon means that when you run your finger through the custard on spoon it should not run back into the path you made.
Remove from heat and add cream cheese. Allow it to melt for several minutes, then stir and press up against sides until completely dissolved.
Strain custard through a fine mesh strainer, removing all the vanilla bean pod and any lumps of curdled eggs or cream cheese.
Cool in an ice bath for 10-15 minutes and then cool completely in refrigerator (minimum 3 hours)
Freeze in KitchenAid® Ice Cream Maker Attachment for 15 minutes. Serve as is or freeze for 3-4 hours to allow to harden.
Print
Almond Lace Cookies
Makes 2 1/2 dozen
INGREDIENTS
2/3 cup blanched almonds, finely ground (or almond flour)
1/2 cup sugar
1/2 cup butter
1 tablespoon flour (we tested for use with rice flour for gluten-free too)
2 tablespoons milk
DIRECTIONS
Preheat oven to 350 degrees Fahrenheit.
Line two cookie sheets with parchment paper and cut an additional two sheets the same size, set aside.
Measure all ingredients into a 10-inch skillet. Cook over low heat, stirring until butter is melted and mixture is blended and warm.
Keep mixture over low heat keeping it hot (it will begin to harden if it cools).
Drop heaping teaspoonfuls about 2 inches apart, onto the cookie sheets. (Do not place more than 4-6 on a cookie sheet, they spread significantly.
Bake 5 minutes or until golden brown.
Remove cookie sheet from oven and lift parchment paper off sheet onto a flat surface. Place second sheet of parchment on cookie sheet to start next batch.
Allow them to cool until firm enough to move to wire racks. Repeat until all batter is used. Can be shaped into cones or other shapes when still warm if desired.
Print
Mulled Hot Spiked Cider
Makes 12 servings
INGREDIENTS
1 (64-ounce) container plain apple cider or apple juice
2 cinnamon sticks
1/2 tablespoon cardamom pods
1/2 tablespoon dried orange peel
2 cloves
1 star anise
3 12-ounce bottles hard cider
2 oranges, cut into 8 pieces each
Optional: butter, rum
DIRECTIONS
Combine everything but hard cider into a 4-6 quart crockpot.
Heat on low for 4-6 hours. Remove spices when desired flavors are achieved.
Thirty minutes to an hour before the party, add the hard cider and increase heat to high.
Squeeze an orange wedge into each glass just before serving.
Extra goodness: Add 1 tablespoon of butter and 1 shot of rum to your cider just before serving.
Print
*The Contributor of this post has been compensated by KitchenAid for this post, but this post represents the Contributor's own opinion.*