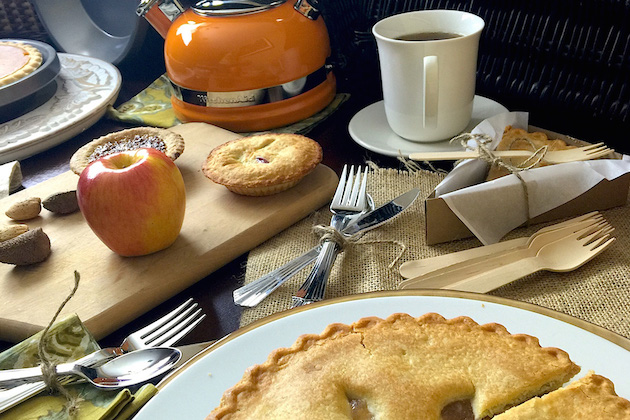 Autumn is finally here with its cooler weather and delicious fruits and vegetables. In fall, I love filling my home with the aromas of warm pies like apple, cherry or blueberry, coupled with pumpkin or pecan. So why not throw an autumn pie party to give yourself the perfect excuse to make an assortment of delicious pies? I used the KitchenAid® Professional Grade Nonstick 9" Pie Pan to make delicious fruit pies and served them with vanilla tea made with the KitchenAid® 2.0- Quart Kettle in this pretty Mandarin Orange color…perfect for fall. Take a look at how you can recreate this autumn pie party in your home.
Bring the colors of autumn to your table
When planning your pie party consider what colors you'd like to bring to your buffet table. If you are inspired by aspen trees turning green to gold or you love maple tree leaves turning red to brown – bring those colors to your party. I love bringing rustic browns and textures into my autumn pie party so I used burlap fabric and neutral linen napkins to add pops of color and visual interest. Lay down your fabric and choose a focal point such as a group of pumpkins, gourds or seasonal apples to display. I used dark picnic baskets, nuts, a pumpkin and apples to bring a fresh feel to the table.
Decorate with creative pie favor boxes
Anytime you throw a party, make sure guests have something to take home. Since you'll have so many different types of pies, why not send guests home with their favorite slice? I used cardboard pie favor boxes that you can find at your favorite party or craft supply store. Then I used parchment paper cut into squares to line the boxes. I used jute string to tie around the pie and parchment paper and to tie the silverware bundles together for each guest. Look for pie box kits that come with wooden forks like I've shown here. They are perfect for guests to nibble on their pie on the way home!
Use autumn-inspired dinnerware for your party
One of my favorite pastimes is visiting local thrift shops and antique shops for seasonally-themed dishes. This autumn-colored platter with leaves and berries couples beautifully with the pumpkin pie's natural colors and beautifully complements the Mandarin Orange Kettle. A well-worn cutting board turns into a rustic backdrop for my mini cherry, blueberry, and pecan pies. Guests will enjoy your event more when all of the small details have been considered. The mini blueberry pie looks almost too good to eat on these white berry dishes.
Invite the delicious scents of autumn into your home with an Autumn Pie Party. Your guests will love sampling all of the different pies and will thank you for all of the amazing treats they get to take home. Fall is finally here, get going on planning your perfect pie party!
*The Contributor of this post has been compensated by KitchenAid for this post, but this post represents the Contributor's own opinion.*