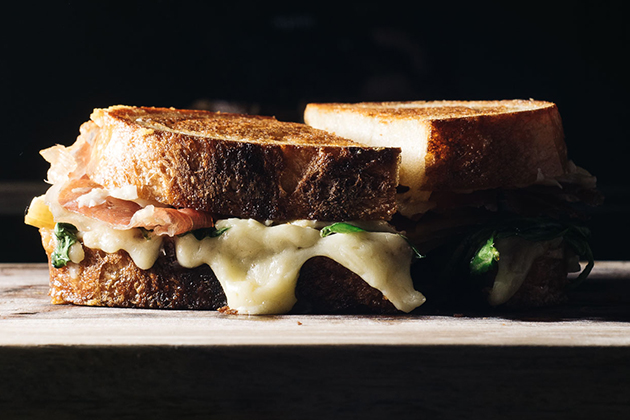 Honeycrisp, Gruyere, Mustard, Prosciutto & Spinach Grilled Cheese
Makes 1 sandwich
INGREDIENTS
2 tablespoons butter, at room temperature
3 slices prosciutto
2 slices sourdough bread
Dijon mustard, to taste
1/2 cup shredded gruyere
1/2 honey crisp apple
Handful of spinach
DIRECTIONS
Start by crisping the prosciutto. Place the prosciutto in a cold, dry, nonstick frying pan and turn the heat up to medium-high. Crisp, until the edges become lightly golden and curled; remove from the pan and set aside. The prosciutto will crisp up as it cools.
Cut the apple in half and slice thinly.
Heat up a large nonstick pan on medium-low heat. Spread dijon on one slice of bread, to taste. Butter the other side generously and place in the pan, butter side down. Top with half of the shredded cheese, the slices of prosciutto and the thin slices of apple. Top with spinach and the remaining cheese, making sure to reach the edges.
Butter the other slice of bread and place on top of the cheese, butter side facing up. Cook slowly on medium-low to medium heat until cheese melts and the bottom slice is golden brown and toasty. Carefully flip your sandwich and continue grilling until the cheese melts. The second side grills a bit faster, so turn the heat down to low and keep a close eye on it. When toasty brown and perfect, remove from the pan, slice, and enjoy hot.

Print
There's just something about crispy butter bread and melty cheese that brings me back to my childhood every time I bite into a classic grilled cheese. Grilled cheese sandwiches have been and always will be a fast favorite, which is pretty funny considering that I didn't grow up eating them.
Growing up in a Chinese household meant dumplings and noodles were the norm, not grilled cheese sandwiches. We didn't eat much cheese when I was a small child, but after I started going to school and heard about the mythical grilled cheese, I insisted on having my mom make me one. It was toasted bread and Cheez Whiz, but to my 5-year-old palette, it was the best thing ever.
Now, when I have a classic grilled cheese, it's with sourdough bread and sharp cheddar, which is as comforting as it gets. Even so, it's fun to dress up grilled cheese – it's the perfect base for other flavors and textures to shine.
Here, crisp apples mix with gruyere and pan-fried prosciutto for a fancy, yet easy take on apples and cheese. Mustard and barely wilted spinach round out the sandwich, giving it bite and freshness. It's an instant new classic: comforting and warm, yet intriguing and fun.
*The Contributor of this post has been compensated by KitchenAid for this post, but this post represents the Contributor's own opinion.*