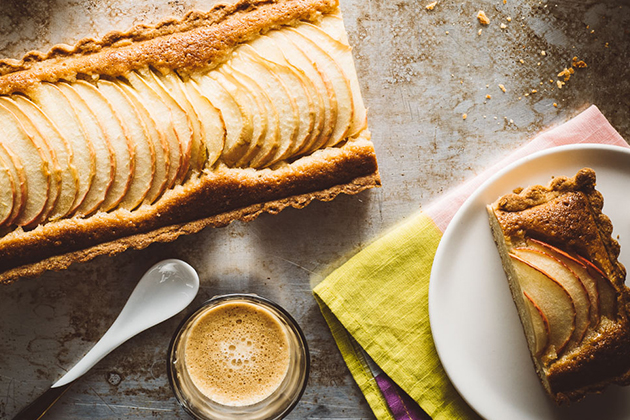 Honeycrisp Macadamia Tart
Makes one 13 3/4 by 4 1/2 tart
INGREDIENTS
For the tart shell
1 large egg yolk
2 tablespoons ice water
1 teaspoon vanilla extract
1/3 cup roasted macadamia nuts
1 1/4 cups all purpose flour
1/3 cup sugar
1/4 teaspoon salt
1/2 cup cold unsalted butter, cut into small cubes
For the filling
1 cup macadamias
1/3 cup sugar
1/4 cup all purpose flour
1/4 teaspoon salt
4 tablespoons unsalted butter, at room temperature
2 large eggs
1‐2 honeycrisp apples, halved, cored and sliced thin
To finish
2 tablespoons honey, warmed
DIRECTIONS
Whisk together the egg yolk, water and vanilla in a small bowl and set aside in the fridge.
In a large food processor, pulse the macadamia nuts until they resemble almond flour. Do not over process. Add the flour, sugar, and salt and pulse to mix. Add the butter pieces and pulse until the mixture resembles cornmeal with a few pea sized butter pieces. Add the chilled egg yolk mix and pulse just until the dough holds together when pinched.
Transfer the dough to a work surface, and shape into a rectangle. Wrap in plastic and refrigerate for 30 minutes.
Remove the tart dough from the fridge and let sit for 5 minutes. Lightly flour your work surface and roll out the dough to 1/8 inch thick and about 2 inches larger than the size of your pan. Butter and lightly flour your tart pan and carefully transfer rolled out dough to the pan, pressing dough down into the edges and up the sides. Trim off excess and place in the fridge to chill while you make the filling.
Preheat the oven to 400°F.
In a food processor, pulse the macadamias until coarsely ground. Move to a bowl and mix with the sugar, flour, and salt.
In another bowl, using a hand mixer, beat the butter until light and fluffy. Add the macadamia mix and beat until just blended. Add the eggs in one by one, incorporating after each addition.
Spread the filling in the prepared tart shell and arrange the apples on top of the filling. Bake for 35-40 minutes, until the apples are tender and the filling is set. Brush the warmed honey over the apples, turn off the oven and bake for an additional 5 minutes. Remove from the oven, let cool completely on a rack and serve at room temperature.

Print
When I think of apples I think of apple pie. Apple pie, a la mode, is one of my dad's favorite desserts and it was a constant at special occasions growing up. After years and years of store-bought apple pies and homemade ones, I decided to revamp my dad's favorite apple dessert into a tart.
Apple tarts aren't anything new, but here I combined my mom's favorite nut, the macadamia, to create a frangipane-type filling. The crisp tart shell has macadamias in it, as does the filling. Topped off with thin slices of apple and brushed with honey to finish, this tart is delicious a la mode or on its own.
*The Contributor of this post has been compensated by KitchenAid for this post, but this post represents the Contributor's own opinion.*