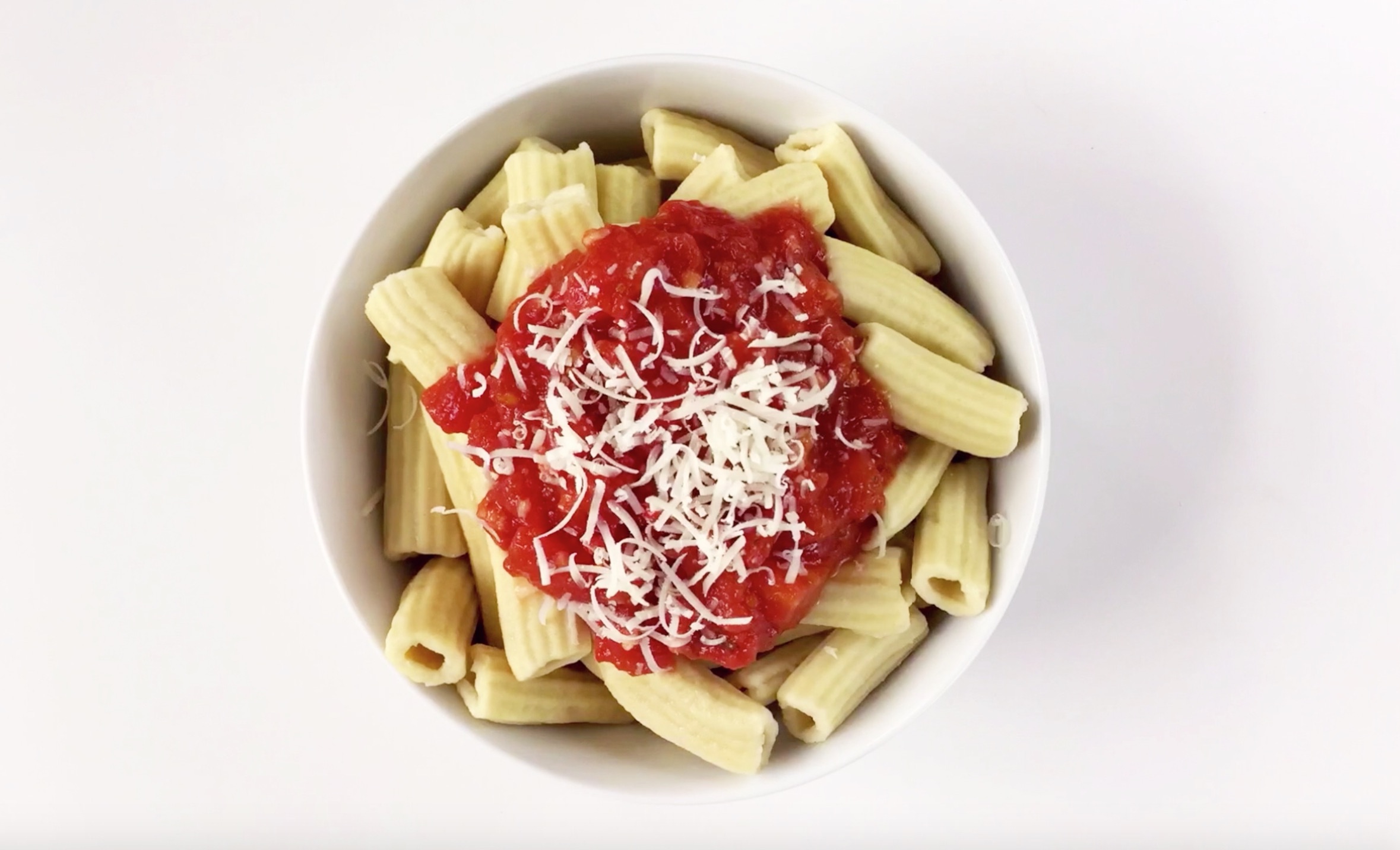 Homemade Rigatoni Pasta with Marinara Sauce
INGREDIENTS
For the pasta
1 3/4 cups all-purpose flour
2 large eggs
1/4 teaspoon salt
1 to 2 Tablespoons water
For the marinara sauce
2 Tablespoons olive oil
4 cloves garlic, minced
1 (28-oz.) can crushed tomatoes
2 teaspoons sugar
DIRECTIONS
Make the pasta
In the bowl of a KitchenAid® Stand Mixer fitted with the flat beater attachment, add the flour, eggs, salt and 1 tablespoon water and mix until combined. If the dough is too dry, add additional water 1 tablespoon at a time until it comes together.
Stop the stand mixer and attach the dough hook. Knead the dough for about 30 seconds then remove it, knead it a few times by hand and wrap it securely in plastic wrap. Set the dough aside to rest for 30 minutes at room temperature.
Divide the dough into four portions. Attach the KitchenAid® Gourmet Pasta Press Attachment with the rigatoni dial to the stand mixer and turn the stand mixer to speed 6. Push one piece of dough into the top of the feeder. As the noodles are pressed through the attachment, use the slicing wire to cut them to your desired length. Add the remaining three portions of the dough to the feeder and continue cutting the pasta until all of the dough has been used.
Bring a large pot of salted water to a boil then add the noodles and cook them until al dente, 3 to 5 minutes. Drain the pasta then serve it with the Marinara Sauce on top (recipe follows).
Make the sauce
Add the olive oil to a medium pan set over medium-low heat. Once the olive oil is warm, add the garlic and cook, stirring, until it's golden brown. Add the crushed tomatoes and sugar, stirring to combine then simmer the sauce for 5 minutes. Taste and season the sauce with salt, pepper and additional sugar.
Print