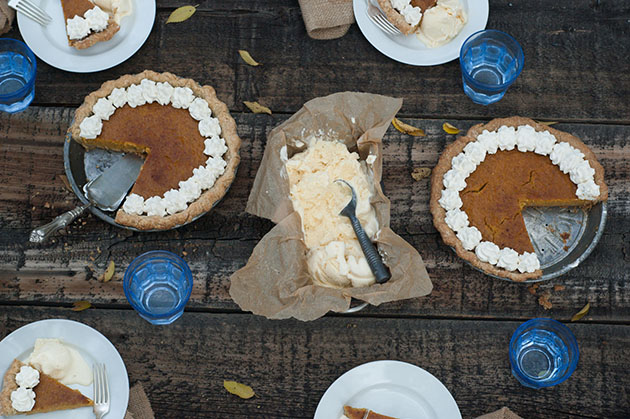 Making pumpkin pie and homemade ice cream from scratch might seem intimidating but actually it is a simple process when you have the right tools from KitchenAid!
Prepping ahead of time for Thanksgiving is an absolute necessity and getting desserts out of the way is one of the first things on my to-do lists.
We absolutely love ice cream and homemade of course is best. But at the holidays, when time is precious, I want something quicker than a recipe that requires me to stand over a stove cooking a custard base. When I discovered I could make cream cheese ice cream a few years ago, I was absolutely hooked!
For this year, I wanted to spruce it up a little bit, so I added some mascarpone cheese and just a hint of orange juice to really bring all the fall flavors into this dessert.
Let's get started.
It's really almost too easy. Just dump all your ingredients into your KitchenAid® Pro Line® Series Food Processor.
Set it to the High speed for the blades if your food processor has that setting.
And give it a good 15 seconds. I like to check it at this point and if it is still lumpy then I run it again for up to 30 seconds on low.
Pour the mixture into your KitchenAid® Ice Cream Maker Attachment (be sure to keep this stored in your freezer so it's always ready to go!).
And let it churn for 10-12 minutes.
It's impossible to keep everyone out of fresh ice cream in our house so be sure to let them lick the spatula afterwards.
Freeze it in a plastic tupperware container until it is solid or if you are running behind just eat it as soft serve.
Next up is the pumpkin pie! We love a good classic pumpkin pie but wondered if we could give it a bit of a twist by swapping out the sugar with maple syrup to give it a bit more complex flavor (and we always love eliminating processed sugars when it's an easy and tasty swap).
We love how they turned out! They have a subtle maple flavor without being overpoweringly headache-inducing sweet.
The first order of business when it comes to making a perfect pumpkin pie from scratch is to select the proper pumpkin.
You are looking for pumpkins labeled Pie Pumpkins or Sugar Pumpkins. They will be much smaller than your normal Jack-O-Lantern pumpkins. They are also superior in flavor and produce a smoother texture of puree. Roughly a 5-pound pie pumpkin is just the right size for two pumpkin pies.
Cut the pumpkin in half carefully with a sharp chef's knife and remove the stem. Remove all the seeds and scrape thoroughly to remove as much stringy filling as possible. I like to use a pair of kitchen shears to help remove the final bits of filling.
Roast for 60-70 minutes until the filling shows no resistance to a fork being pressed through it.
While the pumpkins are roasting it's time to think about making a perfect pie crust to go with the filling. We rely on the classic 3-2-1 ratio for pie crusts. 3 parts flour to 2 parts butter to 1 part water. The important thing to remember about this ratio is that it was created based on the weight system not our standard US measurement system. The best way to get consistently good pie crusts is to invest in a small kitchen scale and use it religiously.
If you don't have a kitchen scale thats okay too, just be sure you are properly measuring your flour. The right way to measure flour is to take a spoon and scoop flour up with the spoon before dumping it into your measuring cup. Directly dipping into the bag of flour with your measuring cup can result in more than an ounce more flour per cup! This can quickly throw your recipe off.
Start with the flour and butter. You want to keep the butter as cold as possible and we don't want to overwork the dough so we will use the pulse feature on our food processor.
Then we can add the water slowly. You want the dough to hold together like the photo on the right.
If your dough looks like the photo on the left, then it's a bit too dry.
Add water a tablespoon at a time until you reach the proper consistency.
Divide the dough in two and wrap them in plastic cling wrap. Let them rest in the refrigerator for at least 15 minutes and up to 2 days.
Now that your crusts are chilling let's check on our pumpkins. They should be getting nice and roasted at this point. Pull them out and let them cool enough to handle them. Remove the skin, overly browned parts and dried out pumpkin. Scoop the flesh out into your KitchenAid® Food Processor.
Puree on high until it is nice and creamy.
Although we talked about only using pie pumpkins because of their superior flavor and texture I have to tell you, I do occasionally use larger, regular pumpkins in their place. It won't leave quite as sweet of an after taste and if you don't have a high-speed food processor it can end up a little stringy.
But since I started working with the KitchenAid® 16-Cup Food Processor, I have had no problems getting the puree smooth. I love doing this with our big pumpkins once I have tired of them as fall decorations. We don't mind our pies a little less sweet so I don't increase the sweeteners, but you certainly could if you wanted to.
Measure out 3 1/2 cups of the puree and dump all the filling ingredients in one big bowl. Give it a quick mixing. Easy as pie.
Remove the crusts from the refrigerator and roll them out. Then, line each pie plate with dough. Trim the edges down to 1/2 inch around the edges of the pie pans.
Gently roll the crust underneath itself to form a rope of sorts all the way around the pie plate.
Then comes my favorite part! Fluting the edges makes pie crusts look so classy and fancy and its super easy to do. Just take your thumb and middle or index finger and form a V shape. Use your opposite hand's pointer finger to gently press in the ridges to form V's all the way around the edges.
If you can't get your fingers coordinated enough, using a fork to press the edges is also a great look.
Perfect! Fill them up with equal amounts of the filling and pop them in the oven!
If you like the beautiful golden brown edges on your crust, you can brush it with a bit of whisked egg and then sprinkle a bit of coarse sugar on for a satisfying crunch. I like to do this at the same time I turn the oven down after the first 20 minutes of baking.
We are almost done! While the pies are baking you can whip up a batch of our Maple Whipped Cream in your KitchenAid® Stand Mixer.
Not only is whipped cream a classic with pumpkin pie but it's also part of my secret arsenal kit for mishaps. It's pretty common to see a homemade pumpkin pie pulling away from the crust resulting in a rather unattractive canyon.
If this happens I don't panic, I just sneakily pipe on a bit of whipped cream around the edges and no one is the wiser.
But no matter how you decorate it, a homemade pumpkin pie is a true labor of love. Don't stress if it doesn't look picture perfect in some way, it's guaranteed to taste delicious.
For more great pie tips be sure to check out Kelly Senyei's 10 Tips for Perfect Homemade Pies.
Pumpkin Pie From Scratch
Makes 2 9-inch pies
INGREDIENTS
For flaky pie crust
15 ounces flour
10 ounces cold salted butter
5 ounces water, chilled with ice (plus extra reserved)
1 tablespoon sugar (optional)
1 egg, whisked
Coarse sugar
For pie
1 batch flaky pie crust (above)
1 (5-pound) pie pumpkin or sugar pumpkin (3 1/2 cups of puree)
3/4 cup buttermilk
1 cup maple syrup
3 large eggs (or 4 medium)
1 tablespoon vanilla extract
2 1/2 teaspoons cinnamon
1/8 teaspoon cloves
1/4 teaspoon ginger
1/2 teaspoon nutmeg
Pinch of salt
For maple whipped cream
2 cups heavy cream
1/2 cup maple syrup
DIRECTIONS
For flaky pie crust
In a KitchenAid® Pro Line® Series Food Processor bowl, combine flour and sugar (if using).
Cut butter into thin slices and add to the bowl. Pulse food processor until butter is in a variety of sizes, from a small pea up to the size of half of a walnut.
Add ice water (do not add ice) slowly while pulsing. Continue adding up to a 1/4 cup more, one tablespoon at a time, pulsing 1-2 times quickly after each addition. (I usually use about 2 tablespoons more)
Wrap in cling wrap and place in refrigerator for at least 15 minutes and up to 2 days ahead of time.
Bake according to recipe directions.
For pumpkin
Preheat oven to 400 degrees.
Cut pumpkin in half and remove stem, seeds, and strings.
Place on rimmed cookie sheet and drizzle with olive oil.
Roast until a fork has no resistance entering the flesh, about 60-70 minutes. Cool and remove skin, charred bits and any dried out portions. Add pumpkin to food processor and process on high until completely smooth. Measure out 3 1/2 cups for the pies and reserve remaining puree for other recipes.
For pie
Preheat oven to 425 degrees.
Cut crust in half and roll out both crusts on a floured surface and then transfer to pie plates. Trim edges to 1/2 inch and roll crust edges under itself. Flute or finish edges to desired level.
In a large bowl, combine all filling ingredients. Stir gently until completely combined.
Fill both crusts with filling.
Bake at 425 degrees for 20 minutes on the center rack. Place a cookie sheet underneath on a lower rack to catch any butter drips and help prevent smoking.
Reduce heat to 375. If desired, whisk an egg and gently brush the crust edges with egg, finish with a sprinkling of coarse sugar.
Bake for 30-40 additional minutes, until center is set and a sharp knife inserted comes out clean. You may need to use foil protectors to keep crust from burning.
Cool completely. Serve with ice cream and whipped cream.
For maple whipped cream
Combine both ingredients in a KitchenAid® Stand Mixer and fit whisk attachment on. Whip on high until stiff peaks are formed.
Can be made up to 1 day ahead of time.
Print
Mascarpone Cream Cheese Ice Cream
Makes 1 quart
INGREDIENTS
8 ounces cream cheese, softened
8 ounces mascarpone cheese, softened
2 cups milk
2 1/2 tablespoons freshly squeezed orange or tangerine juice
1 1/2 cup sugar
1 cup heavy cream
2 tablespoons vanilla extract
Two pinches of salt
DIRECTIONS
Combine all ingredients in a KitchenAid® Pro Line® Series Food Processor. Process on high for 15 seconds. Check for lumps and if needed process for 30 seconds on low.
Pour into KitchenAid® Ice Cream Maker Attachment and churn for 10 minutes.
Freeze in tupperware until solid (2-3 hours minimum, preferably overnight).
Serve with pie.
Print
For more Food Processor recipes, click here for our eRecipe book.
*The Contributor of this post has been compensated by KitchenAid for this post, but this post represents the Contributor's own opinion.*