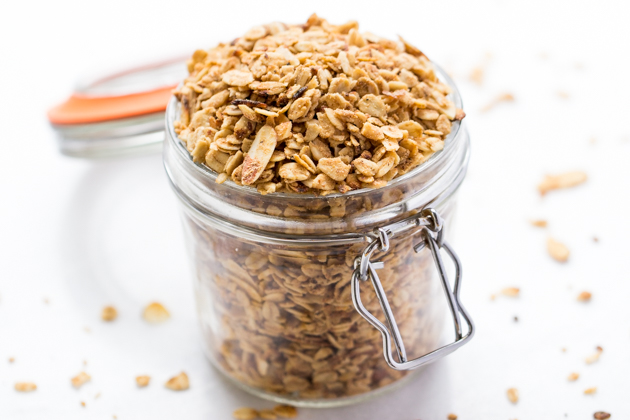 Granola is one of those foods that I always used to buy at the grocery store, not really caring what the ingredients were, favoring convenience instead. But as I started to pay more attention to the food I was putting into my body and the ingredients that were in that food, I realized that my daily, "healthy" granola habit was more like a bowl full of sugar and fat.
So I started to experiment making my own granola at home and now it's one of my all-time favorite things to bake. Although I do rotate my flavors, my go-to recipe is definitely peanut butter. I find that with my peanut butter granola, I need less oil, and because the flavor is so pronounced, I also need less sweetener. So in an entire batch of this granola, we're only using 1/4 cup of oil and 1/4 cup of sweetener.
When it comes to making granola, usually you just bake it on a sheet pan. The problem with that is you have to watch it very closely so the granola doesn't burn. That's why I was so excited when I found out that you can make granola in a slow cooker! I tried it a few times with some success, but it was hard to get it as crispy as I wanted.
So I turned to the KitchenAid® Multi-Cooker and now my granola making will never be the same.
For starters, you can literally do everything in the same pot. Melt the wet ingredients together, cook the granola and then finish it off with a quick sear to make it crispy and golden brown. And the best part is, the whole process was pretty much totally hands off. No worrying about the granola getting torched by the oven because the Multi-Cooker keeps everything cooking evenly.
To make the granola in our Multi-Cooker, we start by melting the wet ingredients together so everything is easier to stir together. Heat the Multi-Cooker on the "Saute" setting.
Once preheated, add your peanut butter, oil and syrup together. Just give it a quick stir until it melts.
Then turn the Multi-Cooker to the "Lo Slow Cooker" setting and add your dry ingredients: oats, almonds, and spices.
Give everything a stir until the dry ingredients are evenly coated in the peanut butter mixture.
Place the cover on and set the timer for 4 hours, stirring briefly at the 2 hour mark. To get the granola even crispier, you can remove the lid after 3 hours.
After 4 hours, test the doneness of the granola. If you'd like it more toasted, turn the Multi-Cooker to the "Sear" setting and stir constantly until golden brown, about 5 – 10 minutes.
Once done, transfer the granola to a baking sheet and let it cool completely. Then enjoy!
Be sure to share your take on this Peanut Butter Granola recipe with us on Instagram using #MadeWithKitchenAid for a chance to be featured.
PEANUT BUTTER GRANOLA
Makes 5 servings
INGREDIENTS
1/2 cup peanut butter (any variety will do)
1/4 cup coconut oil
1/4 cup maple syrup
4 cup rolled oats (gluten-free if needed)
1 cup sliced almonds
1 heaping teaspoon ground cinnamon
1/2 teaspoon ground vanilla bean powder (or 1 teaspoon vanilla extract*)
1/2 teaspoon sea salt
DIRECTIONS
Turn the KitchenAid® Multi-Cooker to saute and allow it to preheat fully.
Add peanut butter, coconut oil and maple syrup and stir until melted. (*note: if you're using vanilla extract instead of vanilla bean powder, add it here as well)
Turn the Multi-Cooker to the "Lo Slow Cooker" setting and add the remaining ingredients. Stir with a plastic spatula or wooden spoon until the dry ingredients are evenly coated with the peanut butter mixture.
Set the timer for four hours, cover and let the mixture cook. If possible, stir the granola after two hours and for extra crispy granola, remove the lid after 3 hours.
After four hours, test the granola. If you'd like it more crispy, turn the Multi-Cooker to the sear setting and stir the granola constantly until it gets even more golden brown and toasted, about 5 – 10 minutes.
Transfer granola to a cookie sheet and allow to cool completely. Store in an airtight container for up to 5 days.

Print
*The Contributor of this post has been compensated by KitchenAid for this post, but this post represents the Contributor's own opinion.*