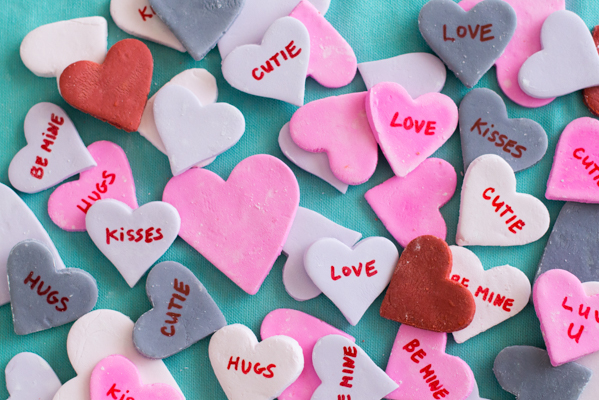 Between the cheap, brittle candy and the over-processed boxed chocolates, stores do not offer very many quality or thoughtful choices during Valentine's Day.
Any gift is just a gift but when it is also made by you, the recipient will feel all the more special. I love nothing more than giving homemade treats. It comes from the heart and even when it is easy to create, the impression it makes always satisfies. Do-it-yourself candy hearts were so simple to whip up, and the best part was being able to customize with my own colors and flavors.
Select a fun soda flavor to start. It will be very subtle in the final product, so make sure to find a complimentary flavor extract to pair with it. Natural or gourmet grocery stores offer a unique selection. Blood orange and coconut lime were among the variety of choices.
Add your soda to unflavored gelatin, typically found in the baking aisle. Allow the gelatin to absorb the soda well. It should fizz and bubble up a bit.
You will slowly heat it on low until fully dissolved. Then, pour it into your confectioner's sugar in your KitchenAid® Stand Mixer.
Add in flavor then the rest of the sugar until it just begins to stop sticking to the side of the mixing bowl.
You can pull out some of the dough, leaving a small portion remaining. Add a drop of food coloring and mix to your liking. Add another small portion and mix in a new color, continuing until you have the number of colors you prefer. Don't forget to rinse the bowl in between coloring. You can also portion out the dough and mix each by hand, however, the mixer will keep your hands clean and unstained.
Roll out the dough on a piece of parchment paper and use heart-shaped cookie cutters to create your candy hearts. Be mindful that the dough you are not working with must always stay covered as it dries quickly.
Tips
Dough dries VERY quickly, so work with small pieces at a time, leaving the rest very well covered and protected from exposure to oxygen)
When mixing the dough together, confectioner's sugar will dry it out, while soda will add more moisture. Add ingredients slowly to make it the right consistency. It should be just dry enough to roll out but still moist enough where it is a touch moist and sticky.
Don't settle for plain soda and standard food extract. Try some gourmet flavors to add a little pizazz to your candy.
Although you can color the dough by hand, you may want to consider portioning out and using your KitchenAid® Stand Mixer so your hands do not become stained.
The larger the candy pieces, the longer they take to dry. Keep them as miniature as possible if you are short on time.
You will need more than the 9 cups of confectioners' sugar when mixing the dough. This is a starting point, and you should continue to add until it just begins to form together.
For coloring the dough
(I used Americolor food coloring)
Light pink- use soft pink with a light touch of violet
Maroon- maroon
Grey- small amount of black with a light touch of purple
Magenta- use some soft pink and some burgundy
Purple- violet, a touch of black, and a slight touch of soft pink
Candy Conversation Hearts
INGREDIENTS
3/4 cup of flavored soda, such as blood orange or coconut lime
3 teaspoons powdered gelatin
Flavor extract, such as orange, coconut, or lime
9 cups confectioners' sugar (with additional sugar for working the dough)
Food coloring (suggested colors by Americolor: violet, black, burgundy, maroon, and soft pink)
Small, heart-shaped cookie cutters
Food writing pens
DIRECTIONS
Pour soda over gelatin and allow to sit until gelatin powder absorbs soda.
Scoop into sauce pan and heat on the lowest setting until gelatin has dissolved.
Pour into a KitchenAid® Stand Mixer., and add about half of the confectioners' sugar. Mix, scraping down sides with a spatula until combined. Continue to add in the 9 cups confectioners' sugar, while scraping down the sides periodically. You will add in further sugar until it stops sticking to the side of the mixing bowl.  Add in enough flavoring to taste.
Scrape sugar dough out of mixer and separate into 5 portions. Dough should be moist enough to just barely stick to hands. If need be, add in confectioners' sugar or a few drops of soda if it needs to be more dry or moist.
Wrap 4  of the balls very well in plastic wrap, then place fifth back into mixer bowl and add in color. Mix until well distributed. Repeat with other remaining portions, wiping out bowl with a wet paper bowl in between until all portions are colored.
Working with small pieces at a time, roll dough out with a rolling pin on parchment paper, and cut out hearts. Use confectioners' sugar to dust surface and rolling pin to prevent sticking.
Set on separate parchment paper and allow to dry for at least one day, flipping onto the other side at some point.
Once dry, use a food writing pen to add messages.

Print
*The Contributor of this post has been compensated by KitchenAid for this post, but this post represents the Contributor's own opinion.*