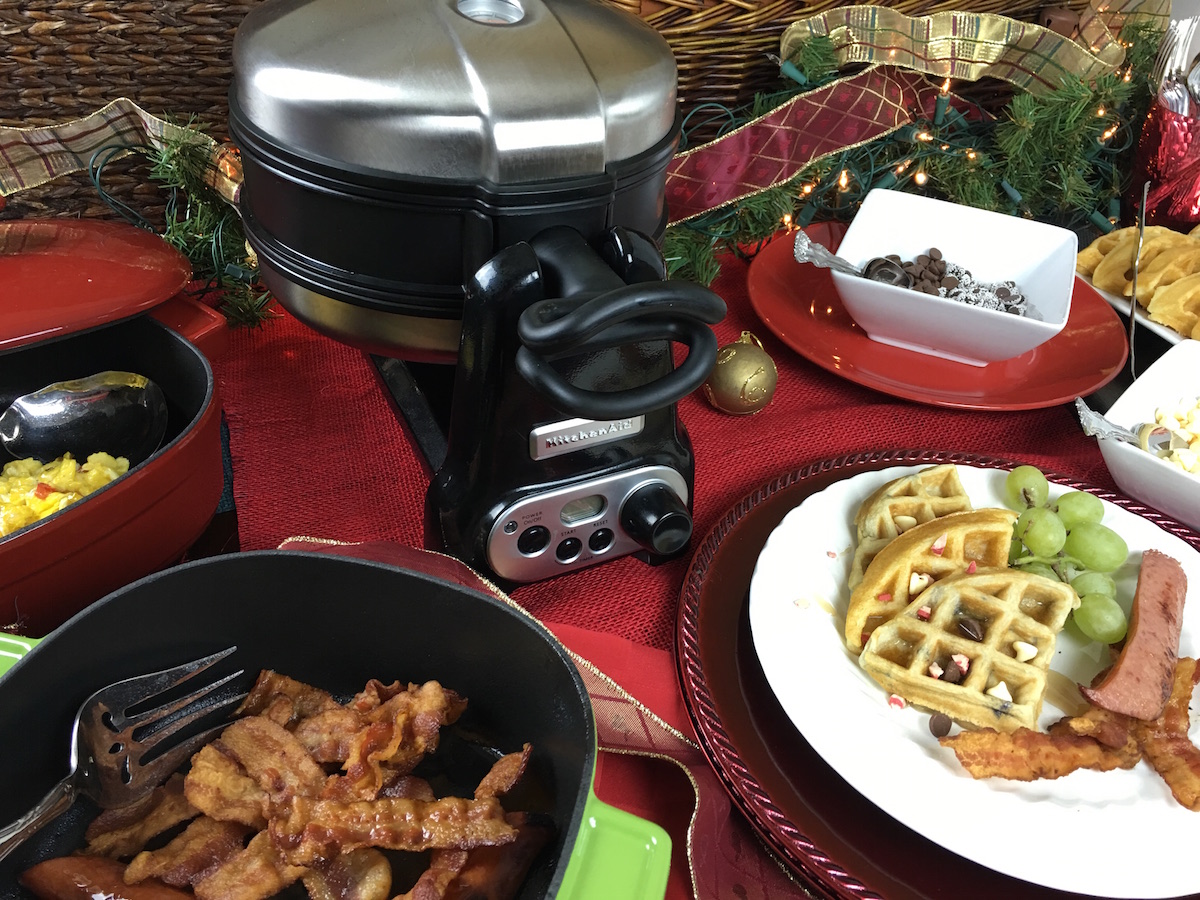 The holidays are officially in full swing and I can't think of a better way to enjoy winter mornings than with a waffle bar! This holiday season I encourage you to think of new ways to celebrate cold blustery mornings with the warm smell of fresh waffles made with the KitchenAid® Waffle Baker. Waffles made with your favorite toppings alongside sizzling breakfast meats and scrambled eggs served in festive KitchenAid® Streamline Cast Iron 6-Quart Casserole dishes allow you to customize your waffle bar in limitless ways. Take a look at how I served my holiday guests, and let us know what toppings and decorations you would use!
Setting a Festive Holiday Table
One of the first ways to set the mood is to bring holiday colors, textures, and sparkle to your waffle bar table. Choose a banquet or dining room table, or even your kitchen counter bar, to set the stage. I used red and green burlap fabric as runners but you can use placemats, jute, raffia or any material that will bring texture and color to the tablescape. You can also use curtain fabric panels or linen tablecloths depending on how formal you'd like your waffle bar to be. I then used baskets for a backdrop and faux evergreen garland wrapped in white holiday lights to bring a magical sparkle and illumination to the holiday table.
Choosing Colorful Dinnerware and Serving Platters
For my holiday table I chose white and red serving dishes, platters, bowls and silverware. For your table use whatever holiday color theme you enjoy. Blue and silver, brown and gold, purple and gold, or metallics – the colors of the season come in a variety of palettes. Choose 2-3 colors and use them throughout your entire table theme. From the KitchenAid® Casserole dishes to the dinnerware and table runners, this creates a layered, designer-feel to your tablescape.
Get Creative with Waffle Bar Toppings
The best part of hosting a waffle bar breakfast is that your guests get to customize their own waffles. I chose chocolate chips, chocolate chips with white perils, white chocolate chips, and peppermint chips in addition to syrup. What type of toppings would you include? Bacon bits, whipped cream, and fresh fruit are other options that guests will love. If you're going to host a children's waffle bar you could also include flavored syrups, cherries, and other "ice cream sundae" toppings. I used mini chalkboards on easels to identify the waffle bar menu items. You can make these with chalkboard paint and wood, or purchase them at your local craft store. I had my daughter write the words so it felt casual and fun.
This holiday season delight your guests with a waffle bar complete with sausage, bacon, fresh scrambled eggs and fruit. As a last minute touch, put decorative ribbon, holiday ornaments, and creative holiday decor around the buffet table. The holidays are all about spending time with family and friends so this holiday season create your own memories when you host a waffle bar party!
Be sure to share your take on this holiday waffle bar with us on Instagram using #MadeWithKitchenAid for a chance to be featured.
*The Contributor of this post has been compensated by KitchenAid for this post, but this post represents the Contributor's own opinion.*