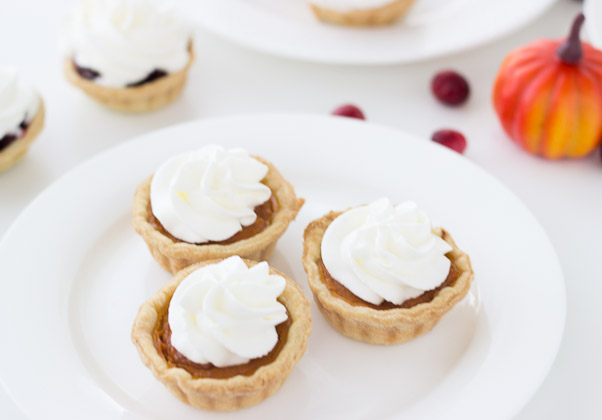 Friendsgiving is one of my favorite gatherings of the year! It's a time to get together with friends to celebrate Thanksgiving and the beautiful fall weather.
We have been failing lately at the friends-giving part as most of us don't live in the same city anymore and some come home just once a year. But when we do get together, we always have a gathering with great food, drinks and lots of laughter. It's a special time of the year, and I always try to make something fun since I'm always assigned to the desserts category. This year, I've decided to bring a variety of mini pies. Mini pies are a great way to entertain during this time of the year and are always pretty on a dessert table.
I love giving people a wide variety when setting up a dessert table. Classic flavors are a must during the holidays and even though it's great to play around with flavors, people always just crave and love those classic flavors of the season like pumpkin, cranberries and caramel. These mini pumpkin and cranberry pies will satisfy everyone.
Mini pies are also very easy to whip up. Starting with a simple, buttery and flaky pie crust, I use a medium biscuit cutter to cut out rounds that fit perfectly in my KitchenAid® Professional-Grade Nonstick Mini Pie Pan.
These rounds are then tucked into each 'well' and are filled with the pie filling of your choice. Pumpkin is always a classic so I whip up a small batch of pumpkin pie filling. You could use this filling as a blank canvas for several flavor combinations: pumpkin pecan, pumpkin caramel or even pumpkin coconut pie.
You can do the same with this easy cranberry pie filling. I used fresh grated ginger to boost the flavor in the recipe below but you can easily add in orange juice and zest for a different cranberry pie option!
Once you make the fillings, just fill the pie crust with each, about 3/4 of the way and bake for 20-25 minutes. Once they cool, top the pies with homemade whipped cream or your topping of choice (caramel drizzles, toasted pecans, etc).
Isn't it easy to throw together a mini pie spread? What would your flavor combinations be? Be sure to tag them with #MadeWithKitchenAid on Instagram!
Mini Pumpkin and Cranberry Pies
INGREDIENTS
For pie crust
1 1/4 cup all-purpose flour
6 tablespoons unsalted butter, cold and cut into cubes
2 tablespoon shortening, cold and cut into cubes
2 tablespoons granulated sugar
1/4 cup ice cold water
For pumpkin pie filling
1/4 cup granulated sugar
Pinch of salt
1/2 teaspoon ground cinnamon
Pinch of ground ginger
Pinch of ground cloves
1 large egg, room temperature, lightly beaten
1/2 cup canned pumpkin puree
1/4 cup milk
1 teaspoon vanilla extract
For cranberry ginger filling
4 ounces fresh cranberries
1/4 cup brown sugar
1/2 teaspoon freshly grated ginger
Pinch of salt
For topping
Homemade whipped cream
Caramel Sauce
DIRECTIONS
To make the dough, combine all the ingredients except the water in the bowl of a food processor. Process a few times until butter is about the size of a pea. With food processor on, slowly drizzle in ice cold water to mixture, one tablespoon at a time, until dough comes together. Remove dough from bowl and pat down into a disc. Wrap in plastic wrap and chill for at least an hour.
For the pumpkin pie filling, combine all the ingredients in a bowl and mix until well combined.
To make the cranberry pie filling, toss all the ingredients together in a small saucepan. Set over medium heat and cook for a few minutes until cranberries start to pop and break down, about 2-3 minutes. Do not over cook. Remove from heat and set aside.
When you are ready to make your pies, preheat oven to 400 degrees F. Remove chilled dough from the refrigerator and roll out onto a lightly floured surface into a 10-inch circle. Use a 4-inch round cutter to cut out 6 rounds. Transfer rounds to a KitchenAid® Professional-Grade Nonstick Mini Pie Pan and fit well by pressing down gently. Fill each mini tart 3/4 of the way with pie filling, about 1 tablespoon each.
Bake for 20 minutes or until crust is golden and filling is just set. Transfer the mini tarts from the tart pan to a wire rack for cooling. Top pies with whipped cream and caramel sauce drizzle. Store leftovers refrigerated.
Print
*The Contributor of this post has been compensated by KitchenAid for this post, but this post represents the Contributor's own opinion.*