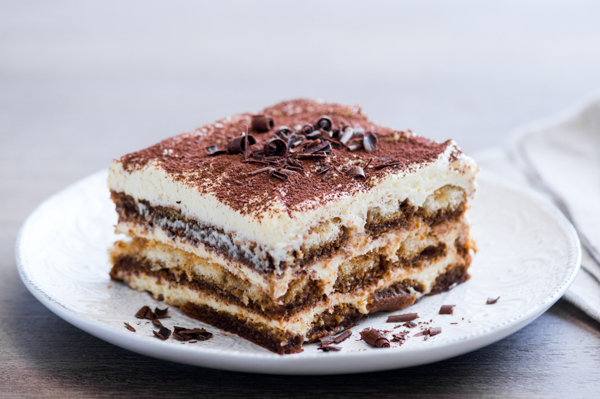 I was always a little intimidated with Tiramisu up until culinary school. That's when I realized that it's only a few ingredients and it's not so hard after all! Ever since then, I've been whipping together this simple Italian dessert for special events and gatherings left and right.  I even save a few extra lady fingers on the side and dunk them in coffee and scoop up any remaining mascarpone mixture for a snack before the actual dish is done! I think it's the right thing to do.
What makes Tiramisu crazy delicious is mostly, in my opinion, a really wonderful cup of coffee! It all starts with your favorite coffee grind in the KitchenAid® Personal Coffee Maker. I like to spike the coffee with a dash of Kahlua to make the Tiramisu extra tasty.
In your KitchenAid® stand mixer, whisk the egg whites until foamy and then add half of the sugar and let it continue to whisk until soft peaks form.
Next step, beat together the egg yolks and the remaining sugar until pale and yellow. Add in the mascarpone and continue to beat until smooth.
Fold together the egg yolk mixture with the egg white mixture until everything is consistent throughout.
Assemble 3 layers of ladyfingers dunked in the coffee mixture, topped with some of the mascarpone mixture and then top it all off with some dusted cocoa powder and shaved chocolate!
And it's as simple as that! Not too intimidating right? With a few ingredients, and some key KitchenAid® appliances you'll be able to make a festive Tiramisu in no time.  You can also spice things up for the holidays and add a few shavings of white chocolate on top too!
Kahlua Coffee Tiramisu
INGREDIENTS
6 eggs, separated
16 ounces Mascarpone Cheese
1/2 cup white sugar, divided
1 1/2 cup coffee, cooled
1/2 cup Kahlua
36 ladyfingers (I prefer the harder lady fingers)
1 cup finely grated bittersweet chocolate
2 tablespoons cocoa powder
DIRECTIONS
Make the coffee flavor of your choice in your KitchenAid® Personal Coffee Maker and set aside to cool.
In a KitchenAid mixer, whisk the egg whites until foamy. Add 1/4 cup of the sugar and whisk until soft peaks form. Set the mixture aside.
In another large bowl, or 2nd KitchenAid® stand mixer bowl, whisk together the egg yolks and remaining sugar until pale and thick. Add the mascarpone cheese and beat until smooth.  Fold the whipped egg whites into the mascarpone mixture.
In a shallow bowl, combine the coffee and Kahlua. Dunk the ladyfingers into the liquid, one at a time for 1 second, and then layer them into a 13 x 9 inch baking dish. You might need to break some of the ladyfingers in half in order for them to fit nicely into the pan. Spread 1/3 of the mascarpone mixture on top of the ladyfingers. Sprinkle a few tablespoons of the finely grated chocolate over this layer and then repeat two more times so you have a total of 3 layers. On the last layer, refrain from adding the grated chocolate on top until after it has been refrigerated.
Cover the entire dish with plastic wrap and refrigerate for at least 3 hours before serving
Dust the top layer with the cocoa powder and remaining grated chocolate before serving.
Options: Top the tiramisu with chocolate curls before serving if desired.

Print
*The Contributor of this post has been compensated by KitchenAid for this post, but this post represents the Contributor's own opinion.*