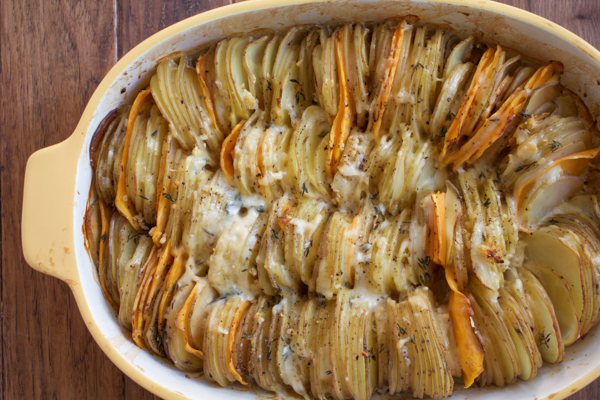 Thanksgiving is one of my favorite holidays. I start planning my Thanksgiving Day menu about a month in advance. For the first time in a few years, we may be spending the holiday with friends instead of family. This year, things have been crazy and traveling may be the last thing my parents and sister's family want to do.
Regardless of who we have over, there will be a delicious turkey, ham and a lot of sides! I love having a variety of sides at dinner; some are baked and some are just salads, but either way I have to stick to a very detailed oven schedule. It used to be that once the turkey went in the oven, I couldn't use my oven for anything else. Until now.
For the first time in my life, I have a KitchenAid® Double Wall Oven. This has been a dream of mine for a while — being able to bake different things (at different temperatures and lengths of time) simultaneously. I couldn't be more thrilled for this Thanksgiving when I'll actually have a more relaxed oven schedule, because I now have my Double Wall Oven working for me!
My Double Wall Oven is a dream! It delivers even baking results by cycling the bake and broil elements to maintain the perfect temperature. The Even-Heat™ Preheat ensures the entire oven reaches the correct temperature. I also love the way it looks and the interior. I also love the way it looks; the design details are the perfect balance of elegance and functionality.
I am so ready for the big day! I've been up to my ears in planning and testing recipes. My kids and I love potatoes and usually have at least two kinds of potatoes on our Thanksgiving Day table. Mashed potatoes are a staple, but this year I'm also making this Hasselback Potato Gratin.
I wanted something stunning and delicious, and this Hasselback Potato Gratin delivers. I used a combination of potatoes and yams for both color and taste. Feel free to add more yams — you can even layer in yams after every potato! Get creative and make this dish your own.
You can also add more cheese, but I kept this gratin on the lighter side and only used 3/4 cup of shredded cheese.
Whether you are hosting a traditional Thanksgiving dinner or a Friendsgiving gathering, this Hasselback Potato Gratin needs to be on your table.
I hope everyone has a very happy Thanksgiving holiday!
Share your take on this Hasselback Potato Gratin on Instagram using #MadeWithKitchenAid for a chance to be featured.
Hasselback Potato Gratin
Makes 4-6 servings
INGREDIENTS
1 ounce Gruyère cheese, grated
1 ounce Parmesan cheese, grated (more for garnish, if desired)
1 to 1 1/2 cups heavy cream
2 to 3 medium garlic cloves, minced
1 heaping tablespoon fresh thyme leaves, roughly chopped (more for garnish, if desired)
Kosher salt and black pepper
4 1/2 to 5 pounds Russet or Yukon Gold potatoes, sliced 1/8-inch thick using a mandolin slicer
1/2 large yam, peeled and sliced 1/8-inch thick using a mandolin slicer
DIRECTIONS
Preheat the KitchenAid® Double Wall Oven to 400° F. Using a mixing bowl, mix together the grated cheeses, heavy cream, garlic and thyme. Season with salt and pepper and add in the potato slices, a handful at a time, and toss together so that the potatoes become lightly coated with the cream mixture.
As you finish coating each handful of potatoes, place into a separate dish until all of the potatoes and yams have gone through the heavy cream mixture.
Grease a KitchenAid® 3.5-Quart Casserole Dish with butter. Pick up a handful of potatoes at a time, organizing them into a nice, even stack and lay them in the Casserole Dish with their edges aligned vertically. Continue placing potatoes in the dish, working around the perimeter and into the center until all the potatoes have been added.
I also place yam slices in between the potatoes. Place yam slices in between the potato stacks in whatever pattern you choose.
The potatoes should be very tightly packed. If you need to, slice an additional potato, coat lightly with the cream mixture and add to the casserole.
Cover the dish tightly with aluminum foil and transfer to the oven. Bake for 30 minutes. Remove the foil and continue baking for another 45 minutes or until golden brown and crisp on top. Carefully remove from the oven and let rest for a few minutes. Serve immediately.

Print
*The Contributor of this post has been compensated by KitchenAid for this post, but this post represents the Contributor's own opinion.*