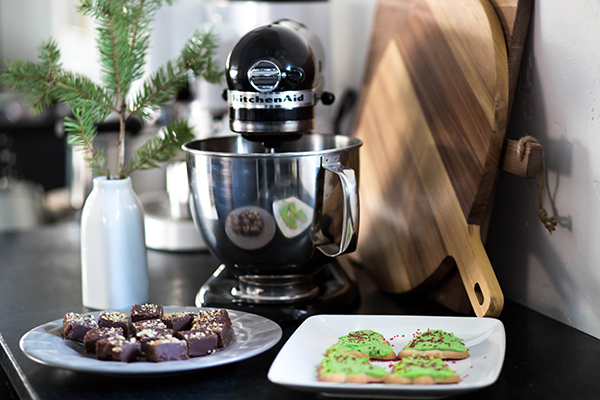 The holiday season is all about treats, sweets, and everything else that's yummy! Some of my greatest memories as a child are from visiting my grandmother and helping her make everything from sugar cookies to divinity (a fluffy, creamy candy made with stiffly beaten egg whites). It was always a joyous occasion!
Though her kitchen became a mess of flour, measuring cups, and every baking tool that you can think of, her kitchen smelled incredible and the treats tasted even better. After my grandma died, my mom did a great job at keeping the baking tradition alive. She has taught both my daughter and me the art of baking.
Below are a few tips and tricks that will hopefully make these next few days a breeze for you.
1. Invest in the right equipment.
Because we have so many family baking traditions, we need all of the equipment that we can get. Trying to make fudge and a pie in the same oven can be a disaster waiting to happen!
I'm thrilled to be using my new KitchenAid® Double Wall Oven this holiday season. Because we have an alley kitchen, we needed to be very conscious of equipment placement. It fits PERFECTLY in my kitchen. And it works even better! The Even-Heat™ True Convection provides consistent heating and even cooking, so that all of my sweets are baked perfectly.
The Double Wall Oven bakes the cookies beautifully! They come out evenly baked and they never burn as long as I'm watching the time. Also, because the Double Wall Oven is positioned higher, I never have to bend over to use the top oven. For someone who is constantly fighting back pain, this is a huge win for me.
To get started on all of my baking, one must have the perfect stand mixer. My KitchenAid® Stand Mixer is the answer for everything that I need to get my baking done. And it looks fantastic on my kitchen counter.
2. Stock your refrigerator and pantry.
When we begin our baking season, we make sure to have all of our ingredients on hand, which makes it easy to stay the course and not have to rush to the store for random items. Have a designated shelf in your pantry and refrigerator for only baking items. My daughter is able to go straight to that shelf, grab what she needs, and dive right into baking. I also make sure that I have plenty of cookie cutters, sprinkles, and other items that make baking so fun!
3. Plan a diverse menu.
When I plan out my sweets and treats for the holidays, I try and create a variety of goodies. Sugar cookies are a staple for almost anyone. And not to mention super fun to decorate for the whole family! Another family recipe is baked fudge, which comes out similar to a brownie, but has the same richness as fudge. Fudge is rich and decadent with a little more sophistication. Though these two desserts are very much opposite, they complement each other perfectly and are sure to be a hit with your friends and family.
4. Know the in's and out's of baking the perfect sugar cookie.
Sugar cookies are an absolute must in our family. My daughter, who is a way better baker than I am, loves to frost every single cookie. From trees to bells, we love our sugar cookies. A couple details to remember when baking sugar cookies is not to use too soft of butter and to not over bake your cookies. Both can make your cookies hard to decorate and even harder to eat.
Another thing to remember is to not roll your dough too thin or else it will make it impossible to pick up the shapes. Sometimes it takes me a few tries to get it just right. I also place a lot of powdered sugar or flour out under the batter so that when I roll it out, it doesn't stick to my roller.
Share your take on this Baked Fudge and these Sugar Cookies on Instagram using #MadeWithKitchenAid for a chance to be featured.
Baked Fudge
Makes 12 servings
INGREDIENTS
4 eggs, beaten
2 cups sugar
1/2 cup flour
1/2 cup cocoa
1 cup butter, melted
1 cup pecans, chopped
1 3/4 teaspoons vanilla
1/4 teaspoon salt
DIRECTIONS
Place all of the dry ingredients in a bowl. Beat the eggs until lemon colored and then add to dry ingredients. Mix well. Once you finish mixing, add butter and stir in remaining ingredients. Pour into 8″x12″ greased pan. Then set in larger pan of water. Place in the KitchenAid® Double Wall Oven and bake at 325° F for 45-50 min until set like custard. Serve warm with whipped cream.

Print
Sugar Cookies
Makes 3 dozen 2 1/2″ cookies
INGREDIENTS
3 cups all-purpose flour
3/4 teaspoon baking powder
1/4 teaspoon salt
1 cup unsalted butter, softened
1 cup sugar
1 egg, beaten
1 tablespoon milk
Powdered sugar, for rolling out dough
DIRECTIONS
Sift flour, baking powder, and salt. Set aside. Place the butter and sugar in the bowl of the KitchenAid® Stand Mixer and beat until light in color. Add the egg and milk. Beat to combine. Put the Stand Mixer on low speed, gradually adding flour, and beat until the mixture pulls away from the side of the bowl. Divide the dough in half, wrap in waxed paper, and refrigerate for 2 hours with the cookie sheet.
Preheat the KitchenAid® Double Wall Oven to 375° F.
Cover the surface where you'll roll out the dough with powdered sugar. Cover the rolling pin with powdered sugar and roll out the dough.
Move the dough around and check underneath frequently to make sure it's not sticking. If the dough has warmed during rolling, place the cold cookie sheet on top for 10 minutes to chill.
Cut into your desired shape and place at least 1″ apart on greased baking sheet, parchment or silicone baking mat. Bake for 7 to 9 minutes or until the cookies are just beginning to turn brown around the edges, rotating the cookie sheet halfway through baking time.
Let sit on the baking sheet for 2 minutes after removal from the Double Wall Oven and then move to a wire rack to cool. Serve warm or room temperature. Store in an airtight container for up to 1 week.

Print
*The Contributor of this post has been compensated by KitchenAid for this post, but this post represents the Contributor's own opinion.*