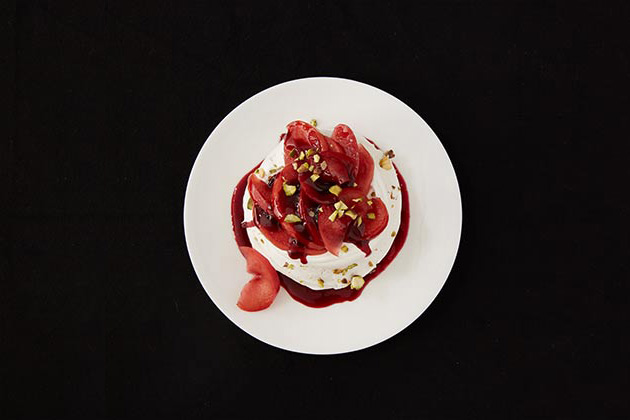 Hibiscus Poached Apples Atop Pistachio Clouds by Sandy Yagu
Makes 6 servings
INGREDIENTS
For hibiscus syrup
2 cups dried hibiscus flowers (Available at natural food stores, Latin or Middle Eastern markets, also under the name flor de Jamaica.)
2 cups apple cider or apple juice
2 cups water
1 cup granulated sugar
1 teaspoon grated lemon zest
1 teaspoon lemon juice
Pinch fine sea salt
For poached apples
3 medium firm cooking apples, preferably Pink Ladies
For meringue
4 egg whites at room temperature
Pinch fine sea salt
Pinch cream of tartar
1 cup superfine sugar
1 tablespoon cornstarch
1 teaspoon distilled vinegar
½ teaspoon vanilla extract
½ cup shelled pistachios, coarsely chopped
For cream
1 cup heavy cream
1 tablespoon superfine sugar
¼ cup plain Greek-style yogurt
¼ cup shelled pistachios for garnish
DIRECTIONS
For meringue bases
Preheat oven to 250 degrees and line a baking sheet with parchment paper.
With an electric mixer on low speed, beat egg whites with pinches of salt and cream of tartar until foamy. Increase speed to medium-high and add ¾ cup sugar, one tablespoon at a time. Combine remaining sugar with cornstarch. Gradually add sugar/cornstarch mixture and continue beating until stiff glossy peaks form, about 5 minutes. Beat in vinegar and vanilla until combined.
Spread the meringue onto the parchment, creating 6 circles with slightly concave centers. Sprinkle with chopped pistachios. Bake for hour and 15 minutes; then turn off the heat. Prop oven door open with a wooden spoon and cool meringues in oven at least one hour.
Gently peel off parchment and store in dry environment until ready to plate.
For hibiscus syrup and apples
While meringues are baking, combine hibiscus flowers, apple cider, water and sugar in medium saucepan. Bring to boil; reduce heat to simmer for 20 minutes, stirring occasionally.
Strain though a fine mesh sieve and pour liquid back into saucepan.
Pare apples and cut into halves lengthwise. Core. Add apple halves to saucepan cut side up and simmer for 7–8 minutes or just until tender. Remove fruit with slotted spoon and arrange in a single layer, cut side down, in a glass baking dish. Bathe apples with several spoonfuls of syrup. Refrigerate when cool.
Bring liquid to boil; reduce temperature and simmer over low heat for 20 minutes or reduced by half.
Cool syrup to room temperature. Stir in lemon juice, zest and pinch salt. Refrigerate in glass or plastic container.
For whipped cream
In a large bowl, whip the cream and 1 tablespoon sugar until soft peaks form. Gently fold in yogurt.
Assemble and serve
Just before serving, slice apples about 8 times leaving one end intact. Fan out slices.
Carefully transfer the meringues to serving plates. Fill the centers with whipped cream. Arrange apple fan on cream. Drizzle with syrup. Garnish with pistachios and serve.
*Pistachios can be omitted for those with nut allergies.

Print