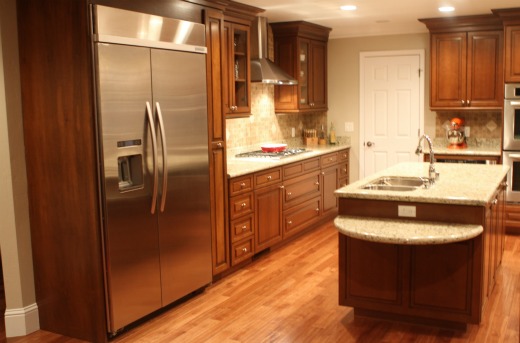 We recently welcomed a new refrigerator into our kitchen:  the KitchenAid® Architect® Series II 48-Inch Width Built-In Side-by-Side Refrigerator. It's the most beautiful refrigerator I've ever owned, and there is a lot of room for keeping things organized. One of the things I wanted to focus on with a brand new refrigerator was to keep it stocked with healthy food for my family. It's important to have healthy options that are easily accessible so we don't get out of control with grabbing junk food instead.
My new refrigerator is perfect for that. The shelving is easily adjustable (to accommodate taller or smaller items), and there is ample room inside for storing food and displaying it in an organized fashion. Nothing is crowded or hidden so far in the back that you'll never be able to find it. There's enough space in this model so that sort of thing does not happen!
My basic rule is to keep at least 10 healthy staples in the refrigerator so there is no excuse for not eating healthy.
On my top shelf I keep coconut water, coconut milk or almond milk:  Having at least one of these on-hand makes it really easy to whip up a healthy smoothie with a base that isn't full of unhealthy calories.
The 2nd shelf houses my dairy products:  a variety of cheeses (crumbles for adding to a salad and string cheese for a grab-and-go high-protein snack), Greek yogurt (small containers for eating and a large container for use in baking), and cottage cheese (terrific, high-protein snack with fruit or a delicious lunch with chopped tomatoes and a splash of red wine vinegar).
The 3rd shelf stores my proteins. I keep things like chicken, ground beef and sausages for quick dinners and salad additions. Eggs and egg whites are essential for eating and baking.
The 4th shelf in my refrigerator is all about salad. If there are delicious salad staples easily available (already-cut lettuce, other chopped veggies, beans, etc), it's a lot easier to make a choice to eat healthy a salad for lunch instead of a comfort-food option.
The bottom shelf is full of fruit:  grapes that are ready to eat, chopped melon and plenty of berries. We keep a bottle of whipped cream on that shelf too for an easy, low-cal dessert paired with fruit.
The fruit and produce drawers in this refrigerator are quite large, which is perfect for my family.  I keep a ton of citrus on hand for eating, cooking, baking and adding to beverages.  Apples and pears are a filling snack, and are an absolute must to keep around.
My vegetable drawer stores plenty of fresh spinach (for smoothies and salads), fresh herbs (for recipes), onions, garlic, carrots and celery (for quick additions to soups), and things like cauliflower, asparagus and zucchini (for easy vegetable side dishes). My feeling is that if you have plenty of vegetables, you're going to eat them before they begin to wither. So I keep this drawer full of colorful goodies!
And finally, this is one of the best features of my KitchenAid® Refrigerator, an absolute must for staying healthy:  an ice maker and water dispenser. This is the first time I've ever had a dispenser like this, and my family absolutely loves it. There is always plenty of ice, and the digital display counts the number of ounces you are dispensing. It's so convenient, and it makes it a lot easier to drink more water.
We're loving our new KitchenAid® Refrigerator, and we're on the road to eating healthier because of it!
*The Contributor of this post has been compensated by KitchenAid for this post, but this post represents the Contributor's own opinion.*