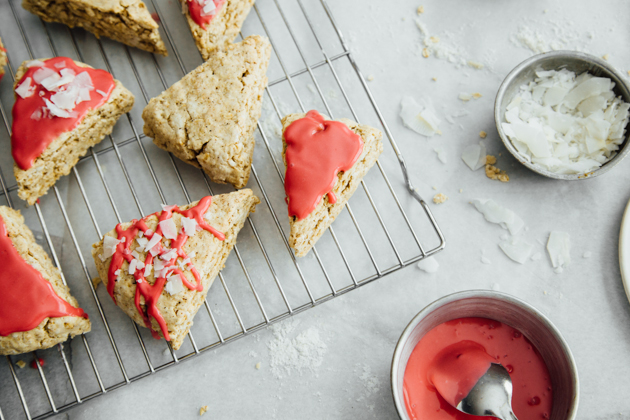 I can't decide what I love most about scones. The fact that they're incredibly forgiving, they're nearly effortless to make, or that they come together within a matter of minutes. From the time you start prepping the ingredients, you're 30 minutes away from diving face first into a plate of raspberry-glazed goodness.
But there's something else I love about this scone recipe in particular: it's suitable for your vegan friends and your pals with various food allergies (nuts, dairy, gluten, etc.). Which means having the whole gang over for a lazy weekend brunch just got a lot more doable.
So let's make some scones.
You're going to start by adding the flour to a large mixing bowl, and then you're going to slowly drizzle in the coconut oil. Although you could get away with incorporating the coconut oil by hand, I wouldn't recommend it because the KitchenAid® 7-Speed Hand Mixer – fitted with the included sturdy whisk attachment – guarantees perfectly incorporated coconut oil every time.
Once the coconut oil is incorporated, it's smooth sailing. You mix in the remaining dry ingredients, use a spatula to incorporate the wet ingredients, then turn the dough out onto a flat surface and pat it into a thick disk.
I like to cut the disk crosswise – into triangles (so that no dough gets left behind) – but feel free to use a cookie cutter if you prefer perfectly shaped scones. Once the scones are cut, I transfer them to a baking sheet, brush them with a bit of almond milk, and sprinkle each one with a pinch of vanilla sugar. Then the scones are off to the oven.
While the scones are baking, clean up your prep area. You've got only 20 minutes, so move quickly. You should be able to get everything cleaned (dishes included) in the amount of time it takes the scones to bake.
Once the scones have baked, whip up the glaze by stirring a bit of raspberry juice (blueberry juice would make for a beautiful glaze, too) into some powdered sugar – then drizzle or smear the glaze onto the scones.
If you get the urge to top them with something crunchy, I highly suggest using unsweetened coconut flakes because they pair perfectly with the vanilla bean and raspberry (and compliment the mild flavor of the coconut oil, too.)
If you can, let the glaze harden for a few minutes before digging in. Distract yourself by making tea or coffee, because everybody knows scones are best served alongside a cup of something warm and caffeinated.
Share your take on this Vanilla Bean Scones with Raspberry Glaze recipe on Instagram using #MadeWithKitchenAid for a chance to be featured.
Vanilla Bean Scones with Raspberry Glaze
Makes 4-6 servings
INGREDIENTS
For the vanilla bean scones
1 1/2 cups all-purpose gluten-free flour blend
1/4 cup unrefined coconut oil, melted (but not hot)
1/2 cup rolled oats
1/2 teaspoon fine sea salt
1 tablespoon baking powder
1/2 teaspoon vanilla bean powder
1/4 cup Grade B maple syrup
1/2 cup unsweetened almond milk, cold
Unsweetened almond milk, for brushing
Vanilla sugar, for sprinkling (optional)
For the raspberry glaze
1/2 cup powdered cane sugar
1-2 tablespoons raspberry juice (from thawed frozen raspberries)
DIRECTIONS
Preheat oven to 375˚F. Line a large baking sheet with a silicone mat or parchment paper; set aside.
Add the flour to a large mixing bowl and slowly drizzle in the coconut oil while using the KitchenAid® 7-Speed Hand Mixer – on the low speed – to blend until the mixture resembles coarse meal with pea-sized clumps.
Add the oats, salt, baking powder, and vanilla bean powder then mix again – with the mixer – just until combined. Create a well in the center of the flour mixture and pour in the maple syrup and almond milk; use a spatula to (gently) combine the ingredients. The dough will feel a bit wet, but it shouldn't take long for the flour and oats to absorb the excess moisture.
Turn the dough out onto a flat surface lined with parchment paper and pat into a disk that's about 1" thick. Using a sharp knife, slice the dough crosswise – four ways – then transfer to the prepared baking sheet.
Brush scones with almond milk and sprinkle with vanilla sugar, if desired, then bake at 375˚F for 18-20 minutes. Transfer to a wire rack to cool.
While the scones are cooling, prepare the raspberry glaze by whisking together the powdered sugar and raspberry juice, then smear or drizzle over top and enjoy.
Scones will keep for up to 3 days in an airtight container.

Print
*The Contributor of this post has been compensated by KitchenAid for this post, but this post represents the Contributor's own opinion.*