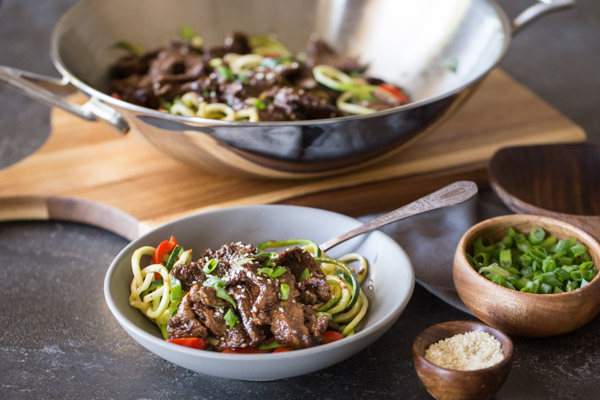 In my world, healthy eating is all about moderation. I have no intention of denying myself any of my favorite foods, but I do try to find a way to make substitutions that lighten them up without comprising what I love about them in the first place. Making your favorite dishes at home, where you can control the quality of the ingredients and add fresh vegetables whenever you can, is a great place to start.
Spiralized zucchini and strips of red bell pepper are a great match for Spicy Korean Beef. I might normally serve it over rice or noodles, but I love how light and fresh it tastes with such an easy swap of vegetable noodles instead!
This flavorful marinade tenderizes an inexpensive cut of meat, like skirt steak. All of the ingredients for the marinade go into the KitchenAid® Food Chopper, which means less chopping and prep work for me!
You may notice an unusual ingredient in the marinade – those are Asian pears! They lend a sweetness to round out the spice and also help tenderize the beef. If you can't find them, you can substitute with a Bosc pear.
Cutting the skirt steak into thin, even strips can be a little challenging, but using a KitchenAid® Chef's Knife and popping the steak into the freezer for about an hour before cutting will really help. Toss the marinade with the meat, cover, and refrigerate for about 30 minutes to let the flavors really soak in.
While the meat is marinating, you can get your zucchini all ready to go. Attach the KitchenAid® Spiralizer to the power hub of your Stand Mixer and in no time at all, you'll have a bowl full of zoodles!
I use my KitchenAid® Wok and an oil with a high smoke point (like grapeseed, canola or peanut oil) to fry the strips of meat. Look for a nice golden sear on each side. Because they are sliced thinly, they won't take long to cook, so the Wok needs to be very hot! Cook the meat in small batches so that the Wok doesn't get crowded and lose heat.
When the beef is cooked, clean out the Wok, and then return it to the heat and let the red peppers cook for 1-2 minutes before adding the zoodles. The zoodles will not take long to cook at all. If you overcook them, they can become mushy in texture, so just a minute or two is perfect.
Season with salt and pepper to taste and then add the meat back to the Wok, and garnish with sesame seeds and sliced green onions.
I love how everything comes together in one pan, and that both the Food Chopper and Spiralizer can be loaded in to my KitchenAid® Dishwasher. Doesn't food just taste that much better when the dishes do themselves?
How would you make this Spicy Korean Beef to fit in with your own healthy eating goals?
Share your take on these Spicy Korean Beef Zoodles on Instagram using #MadeWithKitchenAid for a chance to be featured.
Spicy Korean Beef Zoodles
Makes 4-6 servings
INGREDIENTS
4 cloves garlic, peeled
1 Asian pear, peeled and chopped
1 teaspoon ginger paste
4 stalks green onions, sliced (whites only, reserve greens)
1/4 cup low sodium soy sauce
1 tablespoon toasted sesame oil
2 tablespoons dark brown sugar
1 teaspoon crushed red pepper flakes
1 1/2 pounds skirt steak, slightly frozen
Oil for the pan (grapeseed, canola, or peanut)
3 zucchini squash, spiralized
1 red bell pepper, cored and sliced into thin strips
Salt and pepper
Sesame seeds and green onions, for garnish
DIRECTIONS
Add garlic, pear, ginger, onions, soy sauce, sesame oil, brown sugar and crushed red pepper flakes to a KitchenAid® Food Chopper. Pulse until smooth.
Remove the skirt steak from the freezer and using a very sharp KitchenAid® Chef's Knife, cut against the grain into thin strips.
Place the strips of meat into a medium bowl and pour marinade on top. Mix to evenly to coat the meat, then cover and refrigerate for 30 minutes.
Attach the KitchenAid® Spiralizer to the power hub of your Stand Mixer to spiralize your zucchini squash into perfect zoodles.
Heat a KitchenAid® Wok over high heat. Add 2 tablespoons of oil to the Wok, then add 1/4 of the meat to the Wok. Let the meat sear without moving it around for about 1 minute, then turn each strip over to sear the other side for another minute. Remove the meat from the Wok and repeat with the remaining batches, adding more oil as needed.
When all the meat is cooked, remove the Wok from the heat and clean it out.
Return the clean Wok to the stove on high heat. Add one tablespoon of oil. Cook the red pepper strips for 1-2 minutes, then add the spiralized zucchini and cook 1-2 minutes more.
Season with salt and pepper to taste.
Add the cooked meat (and any accumulated juices) back to the Wok, and garnish with sesame seeds and green onion. Serve immediately.

Print
*The Contributor of this post has been compensated by KitchenAid for this post, but this post represents the Contributor's own opinion.*