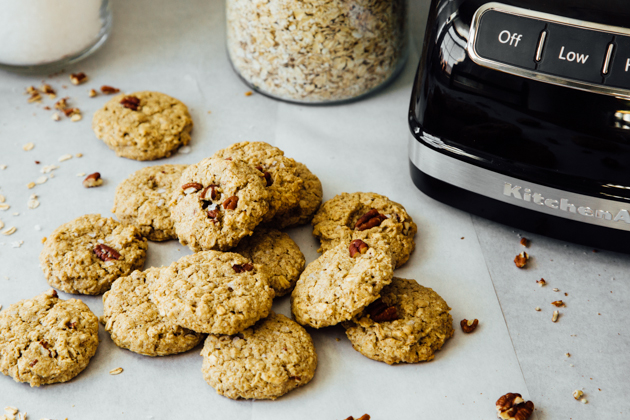 With the holidays right around the corner, I figured we all could use a healthier cookie option for our holiday recipe arsenal. Not just for those people who are trying to make better food choices during the busy season, but also for our friends and loved ones who can't eat dairy or gluten.
This recipe replaces refined sugar and butter for more wholesome ingredients: pure maple syrup and homemade nut butter. The nut butter takes these cookies to the next level and lends a delicious and nutty flavor throughout. However, because pecans can be on the expensive side, I cut my pecan butter with raw cashew pieces. The best part? Once blended, you can't even tell.
You're going to start by roasting your pecans (if they're not already roasted). I like to roast mine for 8 to 10 minutes at 350º F, but if you've got a method that works better, go on with your bad self.
Once the pecans are roasted, add them to your KitchenAid® 11-cup Food Processor – along with the cashews and 2 to 4 tablespoons of neutral flavored oil – and blend until runny. This Food Processor with ExactSlice™ system is one of the most powerful I've ever owned, so the blending shouldn't take more than 7 minutes (though other models may take upwards of 15). Salt as desired.
If you can't find oat flour at the store (or if you don't want to spend $5 on a bag of oat flour), you can make your own using a KitchenAid® Blade Coffee Grinder. It makes a cup of oat flour in less than ten seconds, which is pretty awesome. Even better: cleanup is a breeze.
Now that you've got your pecan butter and oat flour, let's make some cookies.
Heat the liquid ingredients (on the stovetop or in the microwave) just until the mixture starts to boil. Then whisk together the flour, baking soda, and salt. Create a well in the center and whisk in the liquid mixture. Once combined, add the oats and any additional mix-ins. I used chopped pecans, but think chocolate chunks and/or dried cranberries would be delicious, too.
Bake the cookies at 350˚ F for 10 minutes. Let the cookies cool for 5 minutes on the baking sheet before transferring them to a wire rack to cool completely. The cookies are best within 24 hours of baking.
Share your take on these Maple Pecan Butter Cookies on Instagram using #MadeWithKitchenAid for a chance to be featured.
Maple Pecan Butter Cookies
Makes 24 cookies
INGREDIENTS
For the pecan butter
2 cups roasted pecans
1 cup raw cashews
2-4 tablespoons neutral flavored oil
Pinch of fine sea salt
For the cookies
1/2 cup pure maple syrup
1/2 cup pecan butter
2 tablespoons coconut oil
1/2 teaspoon pure maple extract
1 1/2 cups oat flour
1/4 teaspoon baking soda
1/4 teaspoon fine sea salt
1 cup rolled oats
Pinch of sea salt flakes
1/2 cup pecans, roughly chopped
DIRECTIONS
To make the almond butter, add the pecans and cashews to the base of your KitchenAid® 11-cup Food Processor fitted with the S blade. Drizzle the oil over top (start with 2 tablespoons and increase as needed) then blend on high speed for 5 to 7 minutes, scraping down the sides and bottom as needed (which will be often).  The goal here is runny, natural nut butter – not thick and creamy like the stuff you get at the store. Once the proper consistency is reached, finish with sea salt.
To make the cookies, preheat your oven to 350˚ F. Line a large baking sheet with a silicone mat or parchment paper and set aside.
Add the maple syrup to a small saucepan set over medium heat. Heat just until the syrup starts to boil then off the heat and whisk in the pecan butter, coconut oil, and maple extract; set aside.
Add the oat flour, baking soda, and sea salt to a large mixing bowl and whisk to combine. Create a well in the center of the dry ingredients and add the wet ingredients; stir – using a wooden spoon or spatula – just until combined.
Add the oats and any mix-ins and stir until evenly distributed. Using a 4-teaspoon stainless steel scoop, drop the dough onto the prepared baking sheet and gently flatten with the palm of your hand. Sprinkle with sea salt flakes, if desired.
Bake the cookies at 350˚ F for 10 minutes then let cool on the baking sheet for five minutes before transferring to a wire rack to cool completely.
Cookies will keep in an airtight container for up to three days, but are best within the first 24 hours.
Print
*The Contributor of this post has been compensated by KitchenAid for this post, but this post represents the Contributor's own opinion.*