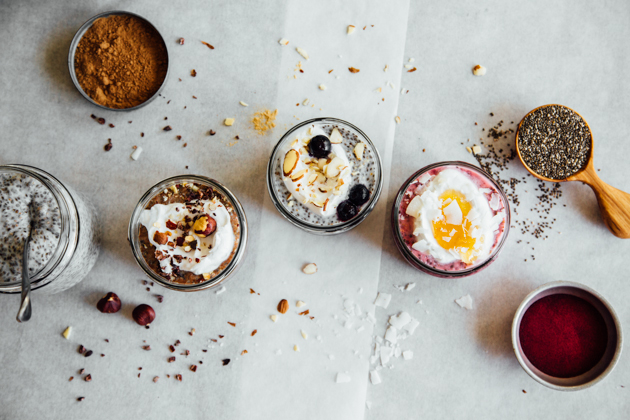 Chia pudding is something I absolutely love (though, admittedly, it did take me a while to come around to the texture) — partly because it's fast, easy, satisfying, and delicious, but mostly because it's one of those breakfast dishes that you can prep at the beginning of the week and eat at your convenience — whether that's from the comfort of your couch or on your morning commute. It also doesn't hurt that chia pudding is jam-packed with vital nutrients like fiber and omega-3 fatty acids. So I suppose you can add healthy to that list, too.
In the name of not getting stuck in a breakfast rut, I've provided three different chia pudding recipes to guarantee you don't get burnt out on the stuff. There's Vanilla Bean Chia Pudding that's made exponentially more delicious with fruit on the bottom, Mayan Chocolate Chia Pudding that's warmed with ground cinnamon and cayenne, and Superfood Chia Pudding that's packed with beet powder, lucuma powder, and maca powder. If you asked me to pick a favorite, I'd probably go with the Mayan Chocolate Chia Pudding, but only because the extra kick from the cayenne pepper is just what I need to get moving in the morning, especially during the cooler months of the year.
So let's make some chia pudding, shall we?
Start by making the base and combining the chia seeds and non-dairy milk in the blending pitcher that comes with the KitchenAid® Pro Line® Series Cordless Hand Blender. Cover with a lid and chill overnight (for at least eight hours). EASY PEASY!
In the morning, add the maple syrup, salt, and any other additions (depending on which flavor you're making) and use your Pro Line® Series Cordless Hand Blender – fitted with the S blade bell – to mix the chia pudding until about half the chia seeds are broken up. In one minute your chia pudding will go from being highly textured to being smooth and creamy, all thanks to the powerful Pro Line® Series Cordless Hand Blender.
Another thing I love about the Pro Line® Series Cordless Hand Blender – aside from the fact that it is incredibly powerful – is that it's cordless. Although it wasn't something I originally cared about, I've come to love the fact that I'm not restricted by a hand blender that requires being plugged into an electrical outlet to function.
If you're making the Vanilla Bean Chia Pudding, line the bottom of two jars with 1/4 cup of frozen blueberries (or your favorite frozen fruit, stewed fruit, etc.) before piling the pudding on top. Finish with coconut cream and sliced almonds.
If you're making the Mayan Chocolate Chia Pudding, finish with coconut cream, toasted hazelnuts, and cacao nibs.
If you're making the Superfood Chia Pudding, finish with coconut cream, passion fruit preserves, and coconut flakes.
These make-ahead breakfasts are perfect for mornings on the go and pack a nutritious punch to keep you energized for the day ahead.
Share your take on these three Chia Puddings on Instagram using #MadeWithKitchenAid for a chance to be featured.
*The Contributor of this post has been compensated by KitchenAid for this post, but this post represents the Contributor's own opinion.*