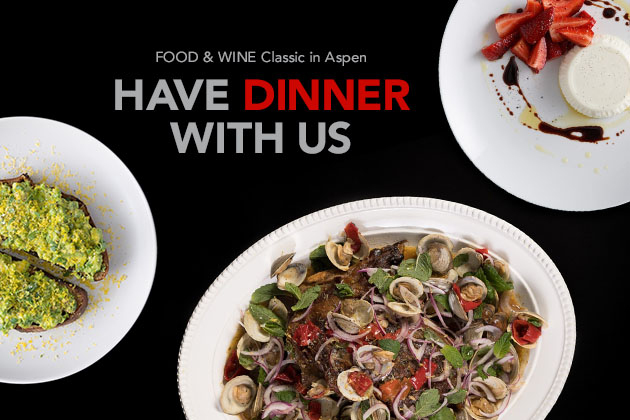 For the first time ever, KitchenAid is bringing the FOOD & WINE Classic in Aspen to your home. So instead of just reading about the festival, you can experience it for yourself.
You're invited to share the meal that Chef Chris Cosentino created for the FOOD & WINE Classic in Aspen.
We're giving you exclusive recipes, enticing ingredients, expert advice and everything you need to make one of the world's best meals in your own home.
Chef Cosentino layers textures and surprising ingredients for his Crushed Avocado and Pea Bruschetta with Mint and Cured Egg Yolk. Learn his techniques for infusing flavor at every step of the recipe.
Chef Cosentino challenges the traditional idea of surf and turf with his Braised Lamb Shoulder with Clams, Pickled Chilies and Mint. He reveals his brilliant tips that will help you pull it off at home.
Chef Cosentino reveals the recipe for his all-time favorite dessert: Bay Leaf Panna Cotta with Strawberries, Balsamic and Black Pepper. He also shares how to tell when the mixture is fully bloomed and how to plate the panna cotta like a pro.
You can find these exclusive recipes, all the ingredients to make them and expert advice from Chef Cosentino at KitchenAid/AspenDinner.
We're giving you everything you need to recreate the flavors of the festival and tips for hosting an Aspen dinner in your own home. Because a meal this inspiring is meant to be shared.
So join in and Have Dinner With Us! We can't wait to see how you bring Aspen to life. Share your photos, videos and thoughts from your experience on Facebook, Instagram and Twitter with #HaveDinnerWithUs for a chance to be featured on our site.