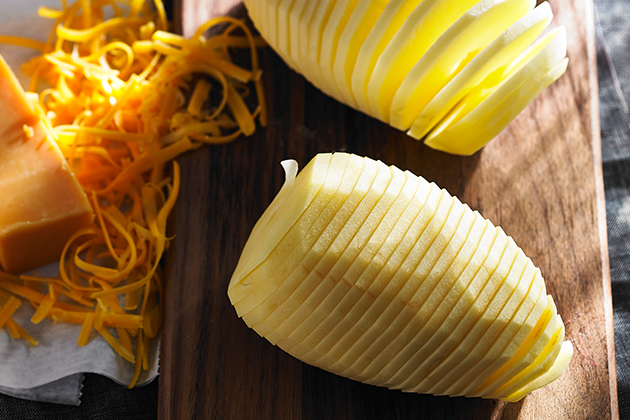 Hasselbacks with Cheddar Cheese
Makes 6 servings
INGREDIENTS
6 medium yellow potatoes
6 tablespoons butter
2 cloves garlic, minced
1 teaspoon chopped fresh herbs such as rosemary, thyme or parsley
1 teaspoon salt
1/4 teaspoon freshly ground black pepper
1 cup shredded Cheddar cheese
4 slices bacon, crisp cooked and crumbled
DIRECTIONS
Preheat oven to 400°F
Grease large rimmed baking sheet. Bring large saucepan of salted water to a boil.
Attach Spiralizer Attachment to KitchenAid® Stand Mixer. Center one potato on fruit and vegetable skewer; attach to Spiralizer. Attach peeling blade and spiral slice small core blade and position at end of potato. Turn stand mixer to speed 4 and process until blade reaches end of potato, keeping potato in one piece. Repeat with remaining potatoes.
Carefully add potatoes to boiling water with slotted spoon; cook 4 minutes. Remove with slotted spoon and drain on paper towels10 minutes. Arrange potatoes on prepared baking sheet, separating potato slices slightly. Melt butter in small saucepan over low heat; add garlic, herbs, salt and pepper. Brush some of butter mixture over potatoes.
Bake 30 to 35 minutes or until potatoes are fork-tender and edges are crisp, basting with butter mixture every 10 minutes. Sprinkle with cheese and bacon; bake 5 minutes or until cheese is melted.

Print
*The Contributor of this post has been compensated by KitchenAid for this post, but this post represents the Contributor's own opinion.*