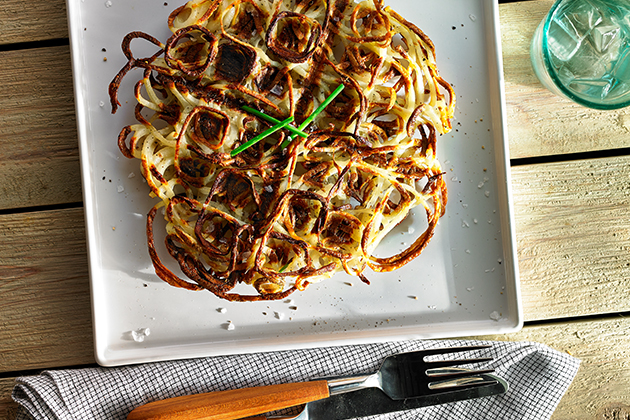 Hash Brown Waffles
Makes 2 servings, one 7-8 inch waffle
INGREDIENTS
2 medium-sized russet potatoes (approx. 4 inches x 2 inches)
1/2 teaspoon kosher salt
1/4 teaspoon pepper
Non-stick cooking spray
DIRECTIONS
Preheat KitchenAid® Waffle Baker.
Attach Spiralizer Attachment to KitchenAid® Stand Mixer. Trim ends from potatoes. Center one potato on fruit and vegetable skewer; attach to Spiralizer. Attach peeling blade and fine spiralizing blade and position at end of potato. Turn stand mixer to speed 4 and process until blade reaches end of potato. Repeat with remaining potato to yield 2½ to 3 cups of spiralized potatoes. Toss potatoes with salt and pepper.
Spray waffle maker liberally with non-stick cooking spray. Arrange potatoes on waffle iron and spray potatoes with cooking spray. Close lid and press down to compress hash browns. Cook for 20 minutes or until the outside of the hash brown is crispy, golden brown and the inside is tender.
NOTE: Double the recipe to make two waffles with the KitchenAid® Waffle Baker.

Print
*The Contributor of this post has been compensated by KitchenAid for this post, but this post represents the Contributor's own opinion.*