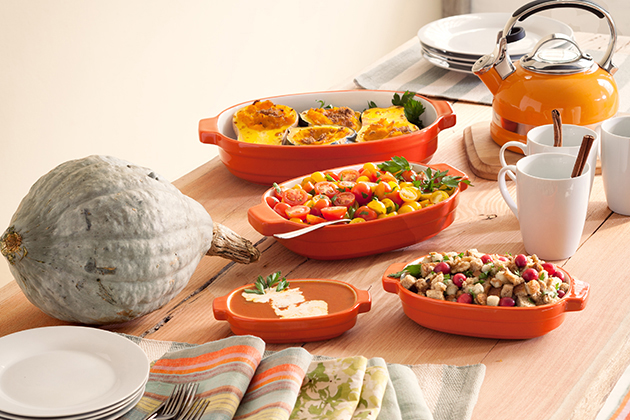 As a home-products designer, I'm a firm believer that hosting friends and family should be no-fuss and yet still a fabulous affair. One of my favorite ways to make guests feel special is by setting the table in an eye-catching, welcoming way that says I've been thinking about them and I want to celebrate having them in my home. All it takes is an appreciation of color, a bit of planning, and a little help from KitchenAid.
For this fall-friendly table setting—perfect for the beginning of the season right through Thanksgiving—I've taken two different approaches: full-on energetic and vibrant, and a slightly more muted, mix-don't-match look. The best part: they both can be put together in under 30 minutes!
What I love most about KitchenAid products is that while they're incredibly versatile, they never put function ahead of form. And since fall is the season for all sorts of baked goodies, from multi-layer lasagnas to colorful cobblers, I decided to use the beautiful KitchenAid® Nesting Ceramic Set in Persimmon—one of my favorite fall-foliage hues—to dictate my color palette.
For the first table setting, I wanted to play up the richness of the casseroles' orange hue by pairing them with friends in the same color family—table linens in a timeless tangerine chevron, a tile-inspired orange-and-fuchsia pattern, and a solid herringbone.
I kept the rest of the decorations simple, adding a squat, lumpy pumpkin and some colorful dried corn cobs tied with twine for a shapely bit of contrast and an organic look. I chose dinnerware and utensils that wouldn't steal the spotlight from all that incredible color—plain white dishes, bowls, and cups, plus some sleek-lined silverware with wooden handles. And the teapot? I couldn't resist an extra bit of pop and some added height on the table, so I included the KitchenAid® 2-Quart Kettle in Mandarin Orange on a wood cutting board repurposed as a trivet.
The second table setting, with its happy jumble of patterns, might seem more complicated, but it's really very easy. Using the casseroles once again as my foundation, I selected some striped napkins in alternating orange, pink, ocean, turquoise, grey, and merlot—the color combination, while unexpected, is actually on the muted side, so it doesn't steal the spotlight from the bakeware. Picking up on the striped napkin's color palette, I added some indoor/outdoor placemats and solid linen napkins in ocean, and a delicate floral napkin in shades of green and ivory.
I retained the white dinnerware and wood-handled utensils from the first table setting, but swapped out the decorations: here, a single, unusually shaped grey gourd does the trick, but you could also arrange an uneven number of smaller gourds of different heights in the center of the table.
As you can see, this fall table setting works beautifully in a buffet setup, where all the table linens can be layered for a sophisticated look, and guests can choose their favorite combination. But you can also do a traditional preset table; simply alternate the napkins used at each place setting, and you'll have a wow-worthy effect that guests will swoon over.
*The Contributor of this post has been provided with product free of charge by KitchenAid for this post, but this post represents the Contributor's own opinion.*