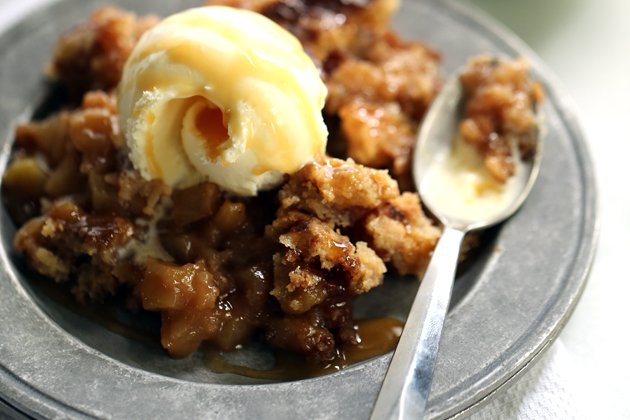 Can I be honest? I don't particularly love Halloween. I mean, I love that my children love it. They enjoy putting their costumes together and going trick-or-treating. So I guess I should say I don't love the large quantity of candy that's sitting around my house come November 1 and for weeks afterward. Sure it's delicious and a great afternoon pick-me-up, but I truly don't need that temptation available at my fingertips!
So I've taken it upon myself to put a spin on a favorite fall dessert and created a Halloween Candy Apple Crisp. Friends, dare I say this is the best apple crisp ever? Not only the best I've ever created, but hands down the best to ever cross my lips. And believe me, my husband is the world's biggest apple crisp fan so we enjoy it often.
And what are the secrets to this amazing apple crisp? Well, I'm so glad you asked!
First, forget the slices. No more apple slices! Instead, it's all about the dice. And the best way to achieve a uniform dice? With a KitchenAid® 14-Cup Food Processor. This food processor has a commercial-style dicing kit that is absolutely awe-inspiring. I diced six apples in about 30 seconds. I was having so much fun using it, I was sad I didn't have any additional apples to send through the chute when all was said and done. I instantly perked up when I was able to put every part of the dicing kit and the other food processor parts directly into the dishwasher for a super speedy clean-up.
Not only are diced apples easier and less messy to eat, but they also are the same size as the candy that I've included in my crisp which makes everything cook more evenly. Diced apples dotted with chocolate caramel candy pieces. What a delightful sight! I made and served this crisp in my KitchenAid® Ceramic Nesting Casserole Dish. The dish is the perfect depth and the color is nothing short of Halloween perfection. It also retains heat longer than standard bakeware which means your apple crisp will be perfectly paired with a scoop of ice cream without having to rewarm it in the microwave.
And let's talk about the candy component of this recipe, shall we? Use a cup of your favorite Halloween candy. I chose to use Rolos as we had an abundance of them in our stash and really, how can you go wrong with adding chocolate and caramel to an apple crisp? I simply stirred them in with the apples. However if you're using a large type of candy, you'll want to chop it into bite size pieces. I can't wait to try Twix or Kit Kats next!
The key to any great apple crisp, in my humble opinion, is the crisp itself. More specifically, the ratio of crisp to apples. My Halloween Candy Apple Crisp has double the crisp of what you'd typically find, which means the top is actually crisp instead of emerging from the oven more soggy than crunchy.
So go all out this Halloween and hit as many houses as you can on your trick-or-treating route. You've now got a delicious way to make that mountain of candy disappear. Enjoy!
Halloween Candy Apple Crisp
INGREDIENTS
6 large Granny Smith apples
1 cup Halloween candy, chopped to same size as apples, if necessary
1/2 cup orange juice
1/2 cup sugar
1/4 teaspoon cinnamon
1 1/2 cups flour
2 cups sugar
3/4 cup butter, cut into small pieces
1 teaspoon cinnamon
1/2 teaspoon salt
DIRECTIONS
Preheat oven to 350 degrees.
Peel and core the apples. Using your KitchenAid® 14-Cup Food Processor and commercial-style dicing kit, dice apples and pour into greased 3.5 quart casserole dish from the KitchenAid® Nesting Ceramic 4-Piece Casserole Set.
Stir Halloween candy into apples and pour orange juice over mixture.
In a small bowl, stir together 1/2 cup sugar and 1/4 teaspoon cinnamon. Sprinkle over top of apple mixture.
In a large bowl, stir together remaining ingredients and spread evenly over top of apple mixture. Bake for 1 hour or until bubbling and top is golden.

Print
*The Contributor of this post has been compensated by KitchenAid for this post, but this post represents the Contributor's own opinion.*