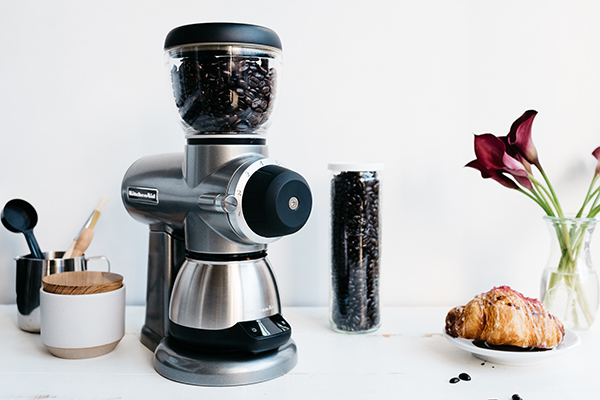 I have a keychain that says, "I only get out of bed because of coffee." And while that's not the only reason, it is definitely my favorite morning ritual. Whether it's pulling a shot of espresso or making a cup of pour over, every day begins with that familiar sound of my KitchenAid® Burr Grinder grinding away.
Before my Burr Grinder came into my life, I was literally grinding everything by hand. Which, believe me, gets old really fast. Not only does my Burr Grinder grind everything with ease, it also delivers consistent and precise results every time. What I love about it is how easily I can select the coarseness of my grind, by simply turning the dial from setting 1 to 8, or anything in between (as well as half stops) for my preferred brewing method.
It's amazing what a large impact the coarseness of the grind has on the quality of your brew. In simple terms, the right grind size will maximize extraction. Each method of brewing requires a specific grind size, weight, temperature, and brewing time. Freshly grinding your beans is also equally important, as the oils that give a coffee all those great notes evaporate shortly after grinding.
This is where my KitchenAid® Digital Scale Jar comes in. It allows me to not only take advantage of the ease of grind size selection for my Burr Grinder, but it also makes it super simple to only grind as much as I need for the perfect brew by measuring the weight of the grinds.
While I could go on for days about all things coffee,
today I'll share my favorite grinding tips for KitchenAid's line of craft coffee brewers: the Precision Press Coffee Maker, the Siphon Coffee Brewer, the Custom Pour Over Brewer, and the Pro Line® Series Espresso Maker. Each of these machines require a specific grind size and weight to produce the best brew.
KitchenAid® Precision Press Coffee Maker
For the Precision Press Coffee Maker, you'll want a coarse grind, which will range from setting 1-3. The classic French press-style brewing requires a coarse grind to extract a bold, full-bodied cup of coffee. To be safe, I'd start with setting 2 and go from there. If you find that your coffee is too sour, acidic or salty, it's likely under extracted, which means that the grounds are too coarse and/or the brew time is too short. Try adjusting your setting to 2.5 or 3 to combat this issue.
If you find it's still sour, acidic or salty, increase your brewing time. Conversely, if your coffee tastes bitter or hollow, it's likely over extracted, meaning the grounds are too fine and/or the brew time is too long. This problem can be overcome by adjusting your setting to a coarser setting like 1.5 or 1. If it's still bitter or hollow, try decreasing your extraction time. This is assuming you've got the right temperature, which, thanks to the built-in thermometer in your Precision Press Coffee Maker, you don't have to worry about.
KitchenAid® Siphon Coffee Brewer
Now that you've got a good understanding of the under- or over-extraction principle, it's easy to apply it to all of your favorite craft coffee brewers. For the Siphon Coffee Brewer, you'll need a medium-coarse grind, which you'll get from a setting of 3 to 5. The Siphon's vacuum technology brews a complex yet velvety cup of coffee. The same rules apply here if you find your coffee is over- or under-extracted.
KitchenAid® Custom Pour Over Brewer
For pour over, you'll want a medium-fine grind. Set your Burr Grinder to setting 5-7. To brew 4 cups of coffee, you'll want 34 grams of coffee, so be sure to use your Digital Scale Jar to grind the exact amount for a clean and bright cup of coffee.
KitchenAid® Pro Line® Series Espresso Maker
Finally, for the perfect double shot, you'll need a fine grind. Set your Burr Grinder to setting 8 and measure out 14 grams using the Digital Scale Jar. You'll need 14 grams to make the perfect double shot. For a quick guide to the correct settings and weights for the espresso maker and other KitchenAid® craft coffee brewers, reference the simplified guide I've created below! Happy brewing!
*The Contributor of this post has been compensated by KitchenAid for this post, but this post represents the Contributor's own opinion.*