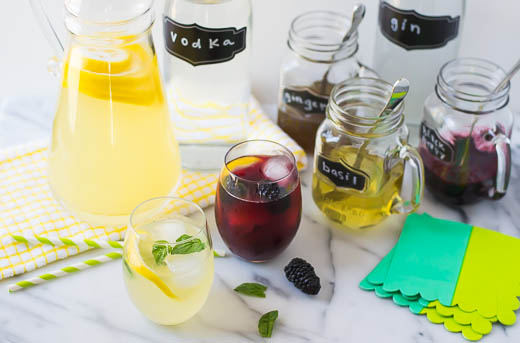 I am the daughter of an entrepreneur and an entertainer. When my sister and I opened our first lemonade stand, it was my dad who suggested we price ourselves below the neighborhood competition and my mom who provided the cute serving pitcher and matching ice bucket. I like to think that both of them have rubbed off on me.
While lemonade will always be a nostalgic childhood drink, as an adult I have found it to be the ideal beverage for summer entertaining. A pitcher of freshly squeezed lemonade served beside different flavors of simple syrup and a few "grown-up" additions such as vodka and gin creates a fun, festive atmosphere and allows guests to customize their drinks. It's ultra-refreshing, interactive, and can be made in advance. Plus, with a DIY grown-up lemonade bar, the hostess can enjoy the party, instead of being stuck playing bartender!
Our grown-up lemonade bar begins with a pitcher of freshly squeezed lemonade. This is not the place for a powdered mix—the lemonade is the anchor of all the drinks your guests will create, and the taste of a mix cannot compare to the real-deal. Fortunately, the KitchenAid® Citrus Juicer Attachment makes preparing freshly squeezed lemonade quick and easy. First juice the lemons, then mix with water and a simple syrup (a solution prepared by heating sugar and water together on the stove), then stir the liquids together and let chill. Voila! Freshly squeezed lemonade that's fit for the finest lemonade stand.
Once we have our fresh lemonade base, the customization begins. I prepared three different flavors of simple syrup for guests to stir into their lemonades: basil, blackberry, and ginger. Each tastes fabulous in the lemonade, and they are also fun to mix and match (blackberry basil and double ginger were my favorites).  The syrups can be prepared and refrigerated a week in advance, making them an excellent make-ahead entertaining option.
Preparing the simple syrups is as easy as simmering each ingredient (ginger, basil, or blackberry) on the stove with water and sugar, then letting them steep. The amount of sugar and length of time will vary by ingredient, but the process is the same: stir; simmer; drain; try to resist devouring the entire batch before guests arrive. For best results, be sure to use non-reactive cookware, such as the KitchenAid® Stainless Steel 8-Piece Set.
For presentation and serving, pick up a few inexpensive glass mason jars for the flavored syrups and clear bottles for the alcohol. I selected vodka and gin because these are my two favorites to mix with lemonade, but feel free to make your own selection. Label each jar and bottle with craft store chalkboard stickers and place the lemonade in a large clear pitcher with fresh lemon slices.
When party time arrives, set out the lemonade and fixin's, then direct guests to create their own grown-up lemonades. Guests will love trying different combinations, and kiddos can enjoy the non-alcoholic versions.
For your next summer party, keep the drinks a breeze and go for the squeeze with a fun, fresh grown up lemonade bar.
Grown-Up Lemonade Bar
Makes 6 cups lemonade
Makes 3/4 cup simple syrup each
INGREDIENTS
For the fresh lemonade
1 cup granulated sugar
5 cups water, divided
1 1/2 cups freshly squeezed lemon juice (5 to 8 lemons, depending on size)
Additional lemon slices, for garnish
For the basil simple syrup
1 cup sugar
3/4 cup water
3/4 cup basil leaves
For the ginger simple syrup
5 ounces fresh ginger root (peel only if you would like to reuse the ginger)
1 1/2 cups water
3/4 cup granulated sugar
For the blackberry simple syrup
1 1/2 pounds fresh or frozen blackberries, thawed if frozen
1/2 cup granulated sugar
1/4 cup water
DIRECTIONS
For the fresh lemonade
Combine the sugar and 1 cup water in a small saucepan. Bring to boil over high heat and stir to dissolve sugar. Allow to cool to room temperature, then cover and refrigerate until chilled.
Juice the lemons with a KitchenAid® Citrus Juicer Attachment. In pitcher, stir together the chilled syrup, lemon juice, and remaining 4 cups water. Garnish with lemon slices and serve chilled over ice.
For the basil simple syrup
Combine the sugar, water, and basil leaves in a small saucepan. Bring to a simmer over medium heat, stirring occasionally, until the sugar dissolves. Remove from heat and let sit for 30 minutes at room temperature. Strain and chill.
For the ginger simple syrup
Cut the ginger into thin, round slices, then slice it into small pieces. Place the ginger, water, and sugar in a medium saucepan. Bring to a boil over medium-high heat, then reduce the heat to a simmer. Allow the mixture to simmer for 30 minutes, then remove from heat and let cool. Strain the syrup through a fine mesh strainer into a small, sealed container.
Note: If peeled prior to simmering, the leftover cooked ginger will be candied and can be used as a mix-in for cookies, cakes, or even ice cream.
For the blackberry simple syrup
Bring the blackberries, sugar, and water to a gentle boil over medium-high heat in a medium saucepan. Reduce the heat and simmer until the berries are falling apart and the sauce has thickened, 20 to 25 minutes. Strain the syrup through a fine mesh sieve. Refrigerate at least 2 hours or overnight. The syrup will thicken as it chills.
Print
*The Contributor of this post has been compensated by KitchenAid for this post, but this post represents the Contributor's own opinion.*