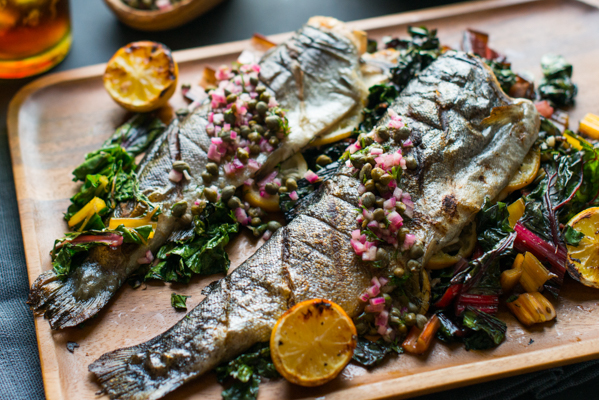 There's always something special about Memorial Day food because it symbolizes many things to different cooks. For some, it's a long weekend to enjoy a much-needed family get-away time and to celebrate the transition from Spring to Summer. It's the farewell to Spring and the start of greeting and welcoming Summer around the corner. And for the majority of us, Memorial Day represents outdoor grilling and cooking fantastic meals under the sun.
Besides the traditional grilling dishes of burgers and bbq, a wonderful way to celebrate the last days of Spring are incorporating a seasonal menu that's both fresh and healthy. On this occasion, we decided to ditch the go-to burgers and bbq chicken for something a little more seasonal and most importantly, colorful. Also, to make it even easier, we created a menu that's all cooked on the grill. There's no stovetop pots and pans to wash, it's that easy when we pull out our KitchenAid® Grill.
Swiss chard in a plethora of rainbow colors peaks at the markets during this season and a wonderful way to enjoy it is straight off the KitchenAid® Grill. While the rainbow chard is still tender and crisp, it cooks up quickly on the grill to perfection. All it needs is a kiss of olive oil, salt and pepper and grilled till tender. To make it even more fantastic, healthy and fun, we're serving up two rainbows on the grill. In fact, it's a double rainbow meal that can't get any more simple, delicious and perfect.
The second rainbow to devour is beautiful rainbow trout. When you're craving fish off the grill, rainbow trout can't get any more perfect. It's sweet and nutty with a tender, flakey flesh and when it comes off the grill, the flavors intensify and everyone is cheering from the sidelines. And best of all, when it's served alongside the rainbow chard what you've just created is a magical platter full of colorful goodness that's fresh, seasonal and healthy.
To tie the beautiful freshness of this double rainbow feast is a simple, yet perfect citrus caper relish. All it takes is a spoonful of this bright and flavorful relish to add that additional layer of flavor and texture to both the grilled rainbow trout and rainbow chard. To make it even more flexible, you can add different types of citrus juice to the caper relish. Try substituting orange juice, mandarin juice or lime juice instead of the lemon juice. Or better yet, use a combination of different citrus juice to heighten the flavors of the relish. The rainbow trout just gets better with any combination of citrus love.
One of the added benefits to this simple dish off the grill is that it can easily feed a crowd. All you need to do is to prep the swiss chard and caper relish the day before. When everyone arrives on Memorial day for the big gathering, grab your fish and gather with your friends around the KitchenAid® Grill and chat away while you grill all the rainbow trout and rainbow chard in one big swoop.
Voila! You now have a menu to feed a crowd and make Memorial Day grilling a little less stressful. Because isn't that what this long weekend is about? Eat and celebrate with the ones you love and bid a farewell to Spring and wonderful welcome to Summer.
Grilled Rainbow Trout and Rainbow Chard with Citrus Caper Relish
Makes 2-4 servings
INGREDIENTS
For the citrus caper relish
One – 4 ounce jar capers, drained
1/2 small red onion, minced
Zest 1 medium lemon
1 tablespoon fresh lemon juice
2 tablespoons olive oil
1 large clove garlic, minced
2 tablespoons minced fresh dill
1/2 teaspoon kosher or sea salt, or to taste
Fresh cracked black pepper to taste
For the grill
2 medium rainbow trout (about 1 pound each), cleaned and head removed
2 medium bunches rainbow chard
2 lemons, sliced
8-10 sprigs fresh dill
Olive oil, for brushing
Kosher or sea salt, to taste
Fresh cracked black pepper, to taste
DIRECTIONS
Combine the citrus caper relish ingredients in a bowl. Adjust seasoning to taste and set aside in the refrigerator until ready to use.
Heat your KitchenAid® Grill on high heat. If using a grilling fish basket, have it set aside ready to use.
Rinse and pat dry the rainbow trout. Lightly oil the fish and stuff each fish's cavity with a few lemon slices and sprigs of dill. Season the outsides of the trout with salt and pepper. Set aside.
Rinse and pat dry the rainbow chard. Lightly oil the chard and season with salt and pepper.
Oil the hot KitchenAid® Grill with a paper towel that has been liberally oiled. Place a single layer of the rainbow chard on the grill. Grill each side until the leaves as slightly crisped, using the stems to grab onto with tongs and help turn the chard. Continue grilling until all of the chard is cooked. Set aside.
Scrape the KitchenAid® Grill clean and re-oil it or oil the grilling fish basket if you are using one. Grill the trout until each side is golden browned and the skin is crisped, about 3 minutes on each side.
Slice the chard, using just the leaves and the stems that are tender. Discard any tough stem pieces. Create a bed of the rainbow chard on a platter. Lay the grilled rainbow trout on the chard, and then spoon the citrus caper relish over the trout. Serve warm.
Note: Even on the best-maintained grills, fish can often stick to the grill. It is often easier to grill whole fish using a grilling fish basket. If you don't have a fish basket to use, make sure you start with a very clean grill. Heat the grill, rub the grates with oil, and then immediately grill the fish. Making sure not to turn the fish too soon, carefully work a spatula under the fish when you are ready to turn it. If you have a fishmonger who will debone the whole rainbow trout for you, those will work great in this recipe too.
Print
*The Contributor of this post has been compensated by KitchenAid for this post, but this post represents the Contributor's own opinion.*