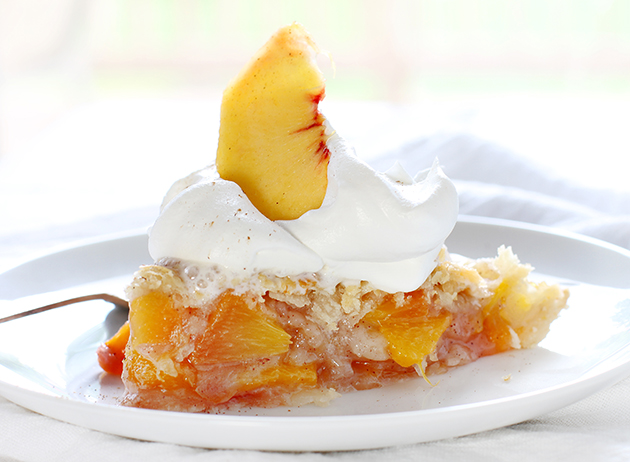 Grilling a light, flakey and irresistibly delicious Peach Pie is made easy with the KitchenAid® Grill!
Grilling the perfect pie starts with a great recipe. After finding the perfect peach pie and adjusting the recipe for grilling, I decided to use store-bought pie crust. I made this choice for two main reasons:
The overall bake time for this grilled pie was about 2 hours, so utilizing the convenience of a pre-bought crust was a big plus! You can, of course, make yours from scratch.
Store bought pie crusts have come a long way. They really are delicious and reliable. I have made the pie with pre-made and homemade crust and no one can tell the difference!
If you want to make your own pie crust be sure to use the recipe and tips listed here.
A few tips to make sure your Grilled Pie is amazing:
I placed an oven mitt next to the grill. I was tempted (more than once!) to reach in and grab the handle of the skillet, but thankfully my oven mitt was sitting off to the side. Seeing it reminded me to be safe while grilling.
I have made this pie with ripe peaches (juicy and soft) as well as firm peaches. Both worked really well and tasted amazing, but my family preferred the consistency of the firm peaches.
This grilled pie can be changed up to fit your favorite flavors. Try using 3 cups of peaches and 2 cups of blueberries, or all strawberries, or even a mixed berry! Once you have the basic recipe and technique down, the options are endless.
Start out by cutting your peeled peaches into thin slices, then set aside.
Take one of the pre-made pie crusts and press it into a greased KitchenAid® Professional Hard Anodized Nonstick Skillet. Score the bottom gently.
Prepare the filling and then pour it into the skillet. Drop the butter over the top.
Press remaining pie crust over the peach filling and start to press edges together with your fingertips.
Brush egg over the top of the pie and then cut the top several times to vent.
Cover pie in foil and place on the grill over low heat. Bake for 1 1/2 hours (turning once) and then remove foil. Continue baking for 30 minutes or until crust is golden brown.
Carefully remove from grill and allow to cool for at least 15 minutes before cutting into pie.
Serve with whipped cream or ice cream for an amazing summertime dessert that keeps your kitchen cool and your family happy!
Grilled Peach Pie
Makes 12 servings
INGREDIENTS
1 (15-ounce) package pastry for a 9-inch double crust pie
1 egg, beaten
5 cups peeled and sliced peaches
1 tablespoon fresh squeezed lemon juice
1/2 cup all-purpose flour
1 cup granulated sugar
1 teaspoon ground cinnamon
1/4 teaspoon salt
2 tablespoons cold butter, diced into small cubes
DIRECTIONS
Line the bottom and sides of a 9-inch oven-safe skillet with one of the pie crusts.
Place the sliced peaches in a large bowl, and sprinkle with lemon juice. Mix gently.
In a separate bowl, mix together the flour, sugar, cinnamon, and salt. Sprinkle over the peaches and mix gently.
Pour peach filling into the pie crust and then drop dollops of butter on top. Cover with the other pie crust, and press the edges together with your fingertips, sometimes called "fluting" the edges, so they are sealed.
Brush the egg over the top crust. Cut several slits in the top crust to vent steam.
Cover pie with a foil tent and secure the edges.
Heat grill to 350 degrees. (On my KitchenAid® Grill all of the burners are set to low for 350 degrees.)
Place the skillet on the grill rack. Cover and grill for 1 1/2 hours or until filling is bubbly. I checked the pie 3 times and the temperature ranged from 350-450 degrees throughout that time.
After 1 1/2 hours, remove foil and bake for another 30 minutes, allowing crust to turn golden and flakey.
Allow pie to cool for at least 15 minutes before cutting into.
Optional: Serve with whipped cream and sliced peaches sprinkled with cinnamon.

Print
*The Contributor of this post has been compensated by KitchenAid for this post, but this post represents the Contributor's own opinion.*