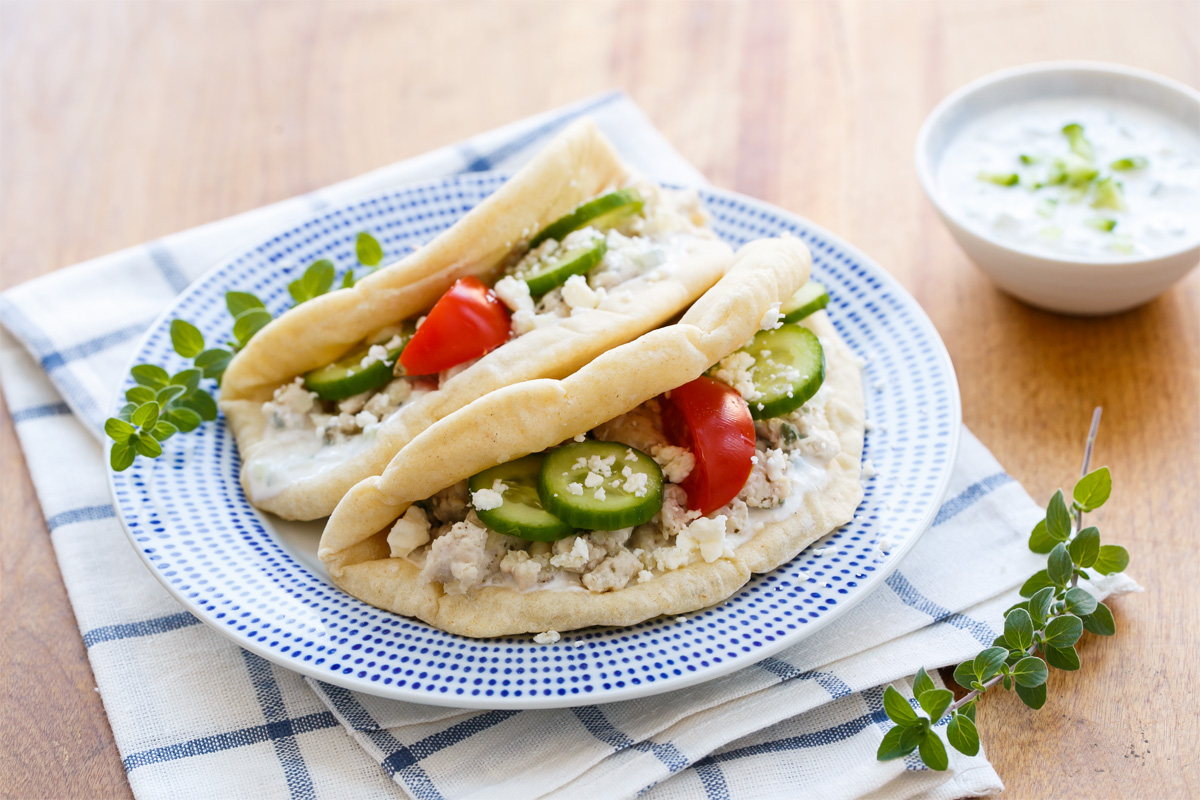 I like to call these Greek, or gyro, tacos–although I'd argue that a gyro is essentially a Greek taco. These tacos pack seasoned meat and vegetables inside a soft, fluffy flat bread. I personally find the pockets in pita bread maddening (my filling is always breaking through) so instead I like to use the pita as if it were a tortilla, folding it around the filling taco-style. If you find your pita bread too hard to do so without cracking, wrap them in a clean, damp tea towel or paper towel and microwave for 30 seconds to soften them.
I love making tacos and other dishes with ground turkey instead of beef, or lamb (which is what gyros traditionally contain). Turkey is lighter and less fattening and yet still full of flavor. However, over the years I've found pre-ground poultry often carries a slightly off-putting flavor. I'm not sure why (additives and preservatives, most likely) but after a few too many weird-tasting batches of turkey tacos, I've pretty much stopped buying it entirely.
Using techniques that I learned from the Craftsy Make the Most of Your Stand Mixer class, I'm using my KitchenAid® Food Grinder attachment to grind the turkey for these tacos. In less than 30 minutes I can make my own ground poultry from fresh cuts of my choosing; no mystery meat or unknown preservatives included. You can also control the relative leanness of your meat–use only breast meat for a more lean grind or mix in thighs for a slightly fattier (and more flavorful) blend.
Tip: Be sure your meat is good and cold before cutting it into strips and running it through the grinder (the coarse plate is ideal for taco meat). You can even freeze the meat for 15 minutes or so before grinding.
One large turkey breast will give you approximately 2 pounds of ground turkey meat, enough to make two batches of tacos. Add in a thigh or two (remember, fat equals flavor) for 3 pounds or so of freshly ground turkey.
Chances are you won't need all 3 pounds in one go. Divide any meat you are not using within 1-2 days into one-pound airtight bags and freeze for up to 3 months. With this grind-and-freeze method I can spend 30 minutes grinding a few pounds of meat at a time, and then freeze the excess to have on hand in the future.
Greek tacos can be served with an assortment of fresh veggies (tomatoes and cucumbers are my favorite), as well as crumbled feta cheese and yogurt-based tzatziki sauce.
Once you've mastered grinding your own meat using the KitchenAid® Food Grinder attachment, might I suggest breaking out your dough hook next and making your own pita bread? Trust me, it's well worth it.
For more techniques and recipes for the Food Grinder attachment and beyond, hop on over to Craftsy and learn to make the most of your Stand Mixer. Be sure to share your take on this Greek Turkey Tacos recipe with us on Instagram using #MadeWithKitchenAid for a chance to be featured.
Greek Turkey Tacos
Makes 4 servings
INGREDIENTS
For tacos
2 tablespoons olive oil
1/2 large onion, chopped (about 1 cup chopped)
2 garlic cloves, minced
1 pound freshly ground turkey (a mix of breast and thigh meat)
1 tablespoon chopped fresh oregano or 1 1/2 teaspoons dried oregano
1/2 teaspoon finely chopped fresh rosemary or 1/4 teaspoon dried rosemary
1/4 teaspoon dried marjoram
1 teaspoon kosher salt
1/2 teaspoon freshly ground black pepper
8 5-inch or 4 8-inch pita breads, warmed
1/2 medium cucumber, halved and sliced
1 tomato, diced or cut into small wedges
1/2 cup crumbled feta cheese
For tzatziki sauce
1/2 cup plain greek yogurt
1/2 medium cucumber, diced into 1/4-inch cubes (about 1/2 cup diced)
1 garlic clove, minced
1 tablespoon red wine vinegar
2 teaspoons extra virgin olive oil
1/2 teaspoon chopped fresh mint or 1/4 teaspoon dried mint
Kosher salt and freshly ground black pepper, to taste
DIRECTIONS
To grind your turkey meat, attach the KitchenAid® Food Grinder attachment to your Stand Mixer and make sure the coarse plate is being used. Cut the chilled meat into strips and run it through the Food Grinder.
Preheat olive oil in a large skillet set over medium-high heat. Add onion and garlic and sauté for about 3 minutes or until softened and fragrant. Add ground turkey along with oregano, rosemary, marjoram, salt, and pepper and cook until turkey is no longer pink, about 5 to 7 minutes, stirring to break up any large chunks.
Meanwhile, to prepare tzatziki sauce, stir together yogurt, cucumber, garlic, vinegar, olive oil and mint in a bowl. Add salt and pepper to taste.
To serve, warm pita bread in the oven or microwave (wrap in a damp tea towel or paper towels to soften). Spoon filling down the center of pita. Top with sliced cucumber, tomato, feta cheese, and a heaping spoonful of tzatziki sauce.
Print
*The Contributor of this post has been compensated by KitchenAid for this post, but this post represents the Contributor's own opinion.*